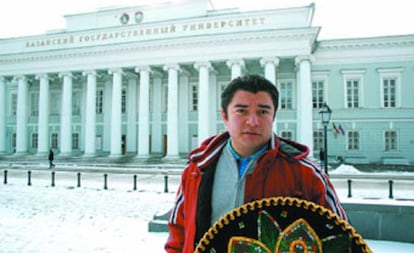 The case of Héctor Alejandro Cabrera Fuentes is approaching decisive instances. The Mexican scientist was accused in 2020 of espionage in the United States, after being pressured to take photographs and collect strategic information for the Russian Intelligence Service. Cabrera pleaded not guilty and has been incarcerated in a Florida jail for almost two years. Two people from his close circle, however, confirmed this Wednesday that the scientist is about to change his statement to negotiate a reduced sentence compared to the 10 years in prison he faces if the trial progresses and a jury finds him guilty. . The hearing to rectify his statements and acknowledge that he acted as a "foreign agent" on US soil is scheduled for February 15.
The story of Cabrera Fuentes has been full of bizarre twists and turns since he was arrested on February 17, 2020. Born in 1985 in El Espinal, a small municipality in Oaxaca, one of the poorest states in Mexico, the investigator managed to forge a successful academic career as a world-renowned biologist. He received a scholarship to train as a microbiologist at the University of Kazan (Russia). He was awarded by the then President Dimitri Medvedev with the award for the best master's thesis. Doctor with honors from the University of Giessen (Germany). Lecturer of the European Society of Cardiology. Hired by the National University of Singapore as one of the principal investigators for a study on cardiovascular disease. For the 10,000 inhabitants of his hometown, where he became a symbol and promoter of science and education, many times at the expense of his own pocket, Cabrera Fuentes is a hero.
For the United States, however, he is a spy. His arrest took place at the Miami airport just before taking a flight to Mexico City, after being watched for days by US counterintelligence agents. Cabrera Fuentes told the Police that he had spied since 2018 and that on his last mission an official from the Government of Vladimir Putin asked him to identify a vehicle and photograph the license plate of an FBI element. The scientist followed the car and his wife helped him take the photo, which was discovered in the folder of deleted files on his phone and in a WhatsApp chat.
The investigation revealed that Cabrera Fuentes had another wife and two daughters in Russia at the same time. The Russian family of the scientist lived in Germany, but they had returned to resolve immigration and administrative procedures. Afterwards they could not leave their country of origin, as read in an FBI report. According to this version, the promise of the mysterious Russian official was to help him overcome bureaucratic obstacles in exchange for collaborating with the intelligence services. "We can help each other," he told her. Neither his relatives nor his friends knew of this double life, although the researcher's marriage after a Muslim ceremony was portrayed in press articles from Tatarstan, the Russian region where he studied. For the inhabitants of El Espinal, the plot is difficult to believe and "they are lies." "I can't believe that Hectorcito is a spy," said his uncle Javier Fuentes, in an interview with this newspaper two years ago.
"It has been quite difficult, nobody prepares you for situations of this type," said Nancy Cabrera, the scientist's sister, in a conversation with EL PAÍS a month after the arrest. "Héctor is an extraordinary man, he did not sit around waiting to get what he wanted, since he was little he wanted to go far," she added. The family said they were full of doubts about the espionage allegations and the revelations that he had another marriage. "He hurts not knowing that part of his life, but maybe he did it to protect us," he lamented.
The case has been delayed by the pandemic, which broke out on the mainland a month after the arrest. In October of last year, the judge gave Cabrera Fuentes an ultimatum to define before January 19 if he maintained his innocence and went to trial or if he changed his statement. The scientist's lawyers, however, asked for an extension. The journalist Laura Sánchez Law of the newspaper Millennium announced this Wednesday that the investigator was going to plead guilty. The logic of the American Justice is to avoid unnecessary lawsuits if the parties reach an agreement before.
Change of plea hearings usually mean that the defendant admits guilt to one or more charges against him in exchange for a reduced sentence. It is not equivalent to a trial because in this case, the judge can accept or reject the agreement reached by the Prosecutor's Office and the accused. José Manuel Castillejos, a friend who maintains communication with the scientist by email, says that Cabrera Fuentes is going to rectify his declaration of innocence to prevent the trial from taking longer and that he is calm and is waiting to follow the recommendations of his lawyers to Find a way out of your situation. Hazael Matus, another close friend and mayor of El Espinal until December 31, confirms this. "He hopes they give him two years in jail," says Castillejos.
EL PAÍS has contacted Cabrera Fuentes's lawyer, but it is most likely that his defense will establish a position until the hearing is held in two weeks, when it is possible that it will be clearer what his future will be, unless it is postponed again. At the peak of tensions between the superpowers, the story of the microbiologist who ended up as an informant for Russia and how a small municipality in Oaxaca ended up caught up in the intrigues of a spy novel, three decades after the Cold War, is about to be written. next chapter. "He is fine and confident that he will soon get out of this," adds Castillejos.
subscribe here to newsletter of EL PAÍS Mexico and receive all the informative keys of the current affairs of this country

elpais.com
George Holan is chief editor at Plainsmen Post and has articles published in many notable publications in the last decade.