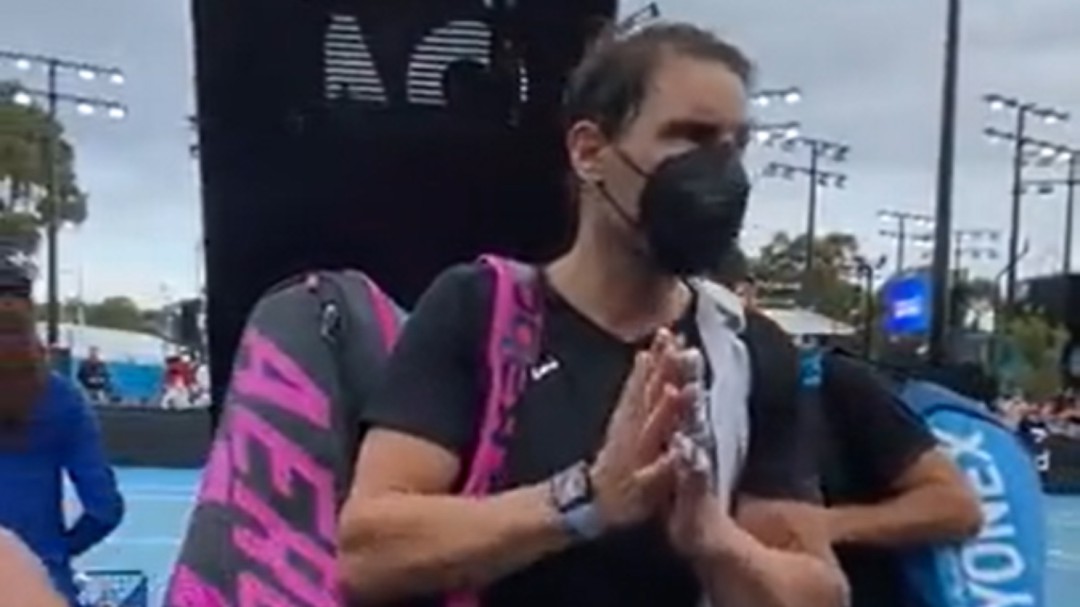 Rafael Nadal has left another gesture for history, and they are already going a long way. The best Spanish tennis player of all time has always shown his greatness both on and off the court, and this time he has been no less with his fans in Melbourne (Australia). The Mallorcan could not sign autographs to the followers who came to see him because the COVID protocol prevents it.
Given this situation, Nadal has apologized to all of them for more than half a minute, a gesture that has been applauded by many fans. Many users of the social network Twitter have given their opinion on the image left by the Spanish tennis player. "As not admiring Nadal who has written part of tennis history, he is so humble that he apologizes several times for not being able to sign autographs," they have written. "He apologizes and other 'stars' do not even look at the faces of children who ask for autographs. How great is Rafa Nadal, he goes beyond sports," added another follower.
Nadal, who returns after having overcome COVID recently, has returned to the official competition after five months of recovery and after having overcome the coronavirus with a victory together with Jaume Munar in the doubles category of the Melbourne tournament (Australia), ATP 250 category and preparatory for the Australian Open, against Argentines Sebastián Báez and Tomás Martín Etcheverry (6-3, 3-6, 10-4).
"This is a true athlete, he abides by all the rules, bravo," added another user, alluding to the situation of Djokovic who will play the Australian Open despite not having communicated whether or not he is vaccinated against the coronavirus. The world number 1 will defend the Australian Open title after he has received a medical exception not to get vaccinated against COVID. "I have had a fantastic quality time with my loved ones on this vacation and today I am heading to Australia with a medical exception. Come on, 2022," said the Serb on his Instagram.
Another of Nadal's gestures
A few months ago, Nadal left another of those gestures that are remembered. It is an emotional congratulation to a follower of his who turned 90 on October 5. "Today is a very special day because he has a birthday. I send him a very strong hug and wish him happy birthday and the best," congratulated the Spanish tennis player in a recorded video that he sent to a grandfather who has followed him since the beginning.
The video, posted on Twitter by the granddaughter, thrills from beginning to end when seeing the excited face of the birthday boy who only has words to thank him. "Thank you very much for taking care of me and fulfilling my mission," he says through tears. "Eternally grateful to Rafael Nadal and to all of you who have helped make his 90th birthday unforgettable. I hope you understand, that I will leave the video in private," wrote his family.



cadenaser.com