Hans Zollner (Regensburg, 55 years old) is the voice and face of the theoretical scheme that Pope Francis wants to apply to the fight against child abuse in the Church. The German Jesuit is one of the world's leading experts on this matter and is a man of the Pope's utmost confidence in this matter. He is a psychologist, president of the Institute of Anthropology for Interdisciplinary Studies on Human Dignity and Care at the Gregorian University and is also today a member of the commission that the Pontiff created upon his arrival to deal with a crucial issue for this papacy. Zollner is cautious with the Spanish situation, he observes it from a certain distance, he explains. But he is in no doubt about what the next step should be: an independent commission of inquiry to shed light on the past 70 years.
Ask. Is there reason to think that in Spain there have been fewer abuses than in France, Germany or Ireland, where the investigation commissions have estimated them at hundreds of thousands?
Answer. There is no reason. I don't expect any surprises for Spain. We now have some awareness of the dimensions of the problem of the last 70 years in many parts of the world. And it is no different in comparable European societies.
Ask. Wouldn't there then be substantial differences to the French conclusion, where it was ruled that there were more than 300,000 cases?
r The proportion will not be very different. It would be a big surprise if it was bigger or smaller. With a certain margin, in the last 20 years we have always had investigations that place between 3% and 5% of priests accused, not convicted, of abuses committed in the last 75 years in various parts of the world. Most of the accusations refer to periods between the 1960s and the 1980s. And in all countries there is more or less the same number.
P. What relevance do press reports have in this fight?
r We have always said it, and not only because Stand out [película de 2015 sobre la investigación de abusos en EEUU de The Boston Globe] or THE COUNTRY. The work of journalists is relevant if it is objective, verifiable and with due respect for people. But without the media presence the Church would not have moved.
P. How can countries be equated?
r Everyone is comparable. The important thing is how you react to the problem. The Anglo-Saxon countries have reacted 40 years ago. In the Mediterranean world it now arrives, also in France. The time between the abuse and the news of the abuse is short. But in Spain, the main media have been talking about this for only three years. One could also ask where the attention of society and the media was before. The Church is not outside of that cultural context, it does not live outside of society.
P. The culture of transparency is also not the same in Germany as it is in Spain.
r Clear. One thing that struck me in 2018, when we were preparing the abuse summit, was when a day was dedicated to responsibility [rendir cuentas] and we realized that this word does not exist in Roman languages. It can be translated as a noun in German, but not in Italian or Spanish. If you don't have such a word, you lack the possibility to express certain concepts, discuss them and put them on the table. Responsibility it can be explained in those languages, but without the complexity of the English or German word. There is something missing in these cultures, the awareness that if you do something and do not fulfill a duty, you have to take responsibility, accept that you have failed or have been negligent.
P. Should Spain create an independent commission to investigate the abuses of the last 70 years?
r I have always maintained that it is a better solution than a commission only within the Church or led by the Church. But Germany, in Munich where the Archdiocese paid for a law firm, the result was highly critical of the Church. I mean, it worked too. They were independent lawyers who did not show the work to the cardinal, archbishop or vicar general before publication. Independence means no interference. And if that is guaranteed, the results can be the same.
P. The president of the Spanish Episcopal Conference, Cardinal Juan José Omella, said that in Spain it was not necessary to do so and that it is enough to investigate case by case.
r I am convinced that sooner or later the numbers will be seen. The French Episcopal Conference has done very well, but they did not explain the method well. For every victim who reports, there are another seven or eight people who will never report for various reasons. It is not true that in that investigation he had not contacted the victims individually. They went all over France listening to them, and it is something that was also done in Munich. It would be better if Spain made a commission because then the standards would also be comparable.
P. Why are there resistors?
r I understand that those responsible are afraid of the prospect of large numbers, but they themselves already accept that the estimated numbers of possible victims will not be very different from those of France or Germany.
P. What kind of commission do you think should be made in Spain?
r I would recommend that they are not politicians who do it. I hope he is truly independent. People of recognized esteem without determined political interests or piloted by parties, to have a result without prejudice. If it is too politicized, the result will not be taken into account.
P. Shouldn't it be the Church itself that takes the lead, instead of closing in on it? Why is a commission necessary?
r This is what I always say and I say here too: if the Church does not do her duty, others will do it.
P. Why can't the Church reach a certain level of investigation?
r The Church has always had a transparency problem on this issue for a [cuestión de] defense of the institution. And that goes for others too. If I have to be judged as a professor, as a university, I cannot be the judge. And there is a cultural problem within the Church that prevents it from living that transparency and accountability. The image of the Church corresponds little to reality. They are images of an immaculate Church that must be protected. But those who must be protected are the victims. Justice must be given to these injured people. And only then can we reach credibility. Hiding what people know is not credible.
P. When EL PAÍS delivered this dossier to the Spanish Church, the only response was that rigor was lacking and that many of the abusers had died.
r There may be some truth strictly in those words. The same thing happened in Cologne, which did not accept an investigation similar to that of Munich citing legal or canonical reasons. But the Church cannot be measured only with legal responsibility. So many cases of abuse by the Spanish Church will have prescribed…, there is no possible legal process. The Church, however, must give signs and symbols that the wounds of so many victims or families who trusted in the Church will be repaired, or there will be that will.
P. The Episcopal Conference, what can it do? In Spain they say they are not competent.
r It is a body that has no executive power over the bishops or the dioceses. But we have seen in other countries like France, Germany or Austria that an entire episcopal conference decided to go the same way. As the Portuguese has done now. It is not impossible. An agreement must be found, which will surely not be the maximum of transparency, but it will allow progress.
P. Is there no hierarchy? Why is what the Pope says sometimes not heeded?
r The Church appears to be a hierarchical institution, but it is not. And it is seen in these cases. The Pope says to do something, but many times the bishops do not respond. There are cardinals who contradict the Pope… If there were more unity and coherence it would be better. But unfortunately it is not so. And in Spain, in addition, there are very strong cultural differences that also affect.
P. Do bishops have too much power?
r Clear. Now there are already bishops who accept that having everything under their control is too much and they do not manage to follow everything that, according to the law of the Church, is concentrated under their power. But here too there is more freedom possible if they wanted. The Vatican gives schemes, but within those limits there are many possibilities: involving women, asking questions… A bishop can organize his curia by calling in external experts or distributing his power effectively. You don't have to be a monarch.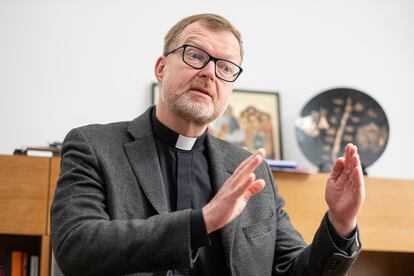 P. Do you think that a commission is not made for fear of compensating the victims financially?
r Sure, obviously. Compensation, if it can be called that, because it is an ugly term for suffering of this type, in other countries has ruined some dioceses. It will cost something, of course. If you have money, you are always afraid of losing it. With money the Church does a lot of good and unfortunately we will have to stop doing some of these things when money is lacking.
P. After three years of the synod and all the new regulations, has the approach changed much or is there a lot of theory and little practice?
r In some places, this procedure, accountability, is applied very clearly. When there is a bishop who does something not provided for in canon law, he is accused and removed from his office. In Poland, in 10 months, 10 bishops have been dismissed for negligence or cover-ups. The problem is that the law is applied differently in each country.
P. Is there legal certainty?
r No. And it is a problem of our internal law of the Church. There is no published jurisprudence and it is difficult to compare motivations for accusations or processes to reach conclusions or verdicts.
P. How should a dossier like the one delivered by EL PAÍS to the Pope and the Episcopal Conference be investigated?
r If a priest or bishop is accused, they must do a preliminary investigation, if there are no reasons not to do it, such as the abuser's death. You have to know if it is credible, but they must talk to the victims. But this does not replace the procedure of the State.
P. Are reforms lacking to make everything more effective?
r I don't just believe in the law. There are laws that prohibit you from killing other people and it keeps happening. The law gives the picture, but the important thing is that we assume it because the most vulnerable people must be protected. And the Church for 2,000 years has dealt with that category which includes children and victims of abuse.
P. Hasn't it been done?
r Look, above all it is an examination of conscience. Know what my responsibility is. If I see errors and sins within myself and sincerely repent, I will clearly confess. What we want in the individual confession, must be demanded in the institutional one. And then a commitment that clarifies the will to amend and repair the damage. It is the path to follow within the Church. And the French bishops have that spiritual dimension and I admire it. They are not just words, they are touched by that reality to reach their conclusions from the research presented.

elpais.com
George Holan is chief editor at Plainsmen Post and has articles published in many notable publications in the last decade.