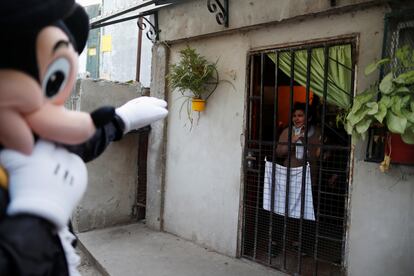 20 months after the first case of covid-19 registered in Argentina, the youngest children are the ones who have the most difficulties in recovering from the effects of the pandemic, according to a survey released Tuesday by Unicef. Half of those under six have some type of eating disorder, four out of ten have sleep problems and 25% have communication difficulties.
The fifth Rapid impact survey for covid-19 It also shows that, unlike the minors in the household, adolescents are much better off today than in the first months of the year. The international organization links this improvement to the face-to-face return to schools, seen as positive by more than 90% of the young people interviewed. The fear of contagion fell from 41% last May to 19% in October and the states of depression and anguish are also much lower.
The situation of children and adolescents is closely tied to that of adults in households and UNICEF warns that 62% of them have seen their income reduced compared to what they had before the pandemic. The increase in state aid – which today reaches more than half of families with children and adolescents – is insufficient in some cases even to buy food. According to the latest official statistics, 54.9% of minors in Argentina live in poor households.
Faced with the deterioration of the economic situation, aggravated in vulnerable households headed by women, more and more adolescents are forced to enter the labor market. One in three works or looks for work, according to data compiled by the international organization.
On the other hand, with the return of adults to their workplaces, the care of the little ones has also fallen back on some adolescents. 8% of children are left in the care of a minor brother or sister, while 12% are left alone.
"It is important to distinguish that the majority of adolescents have been able to return to a more normal emotional state and the youngest have not," said the representative of Unicef ​​in Argentina, Luisa Brumana, in the virtual presentation of the survey to the media. Brumana highlighted the need to support the work that is being done in mental health directed not only to this specific population but also to those who are in charge of them.
The Unicef ​​survey was conducted by telephone to a sample of 2,460 households with children and adolescents in Argentina. New questions regarding violence and abuse were incorporated into this measurement. 1% of the women surveyed declared having suffered some type of sexual abuse in the last six months, while almost 6% suffered gender-based violence.
Subscribe here to the EL PAÍS América newsletter and receive all the informative keys of the current situation in the region.

elpais.com