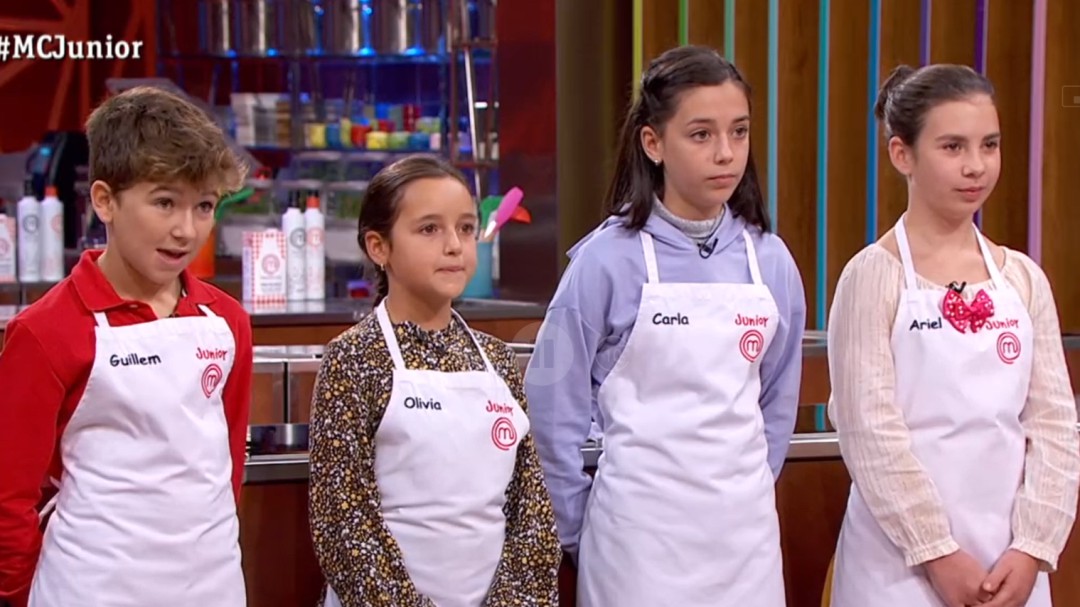 Guillem was crowned this Thursday as the champion of the ninth edition of Masterchef Junior after beating Carla, Ariel and Olivia in a high-altitude final. All this thanks to a menu through which he has tried to honor both his land and his family, thus surprising a jury who saw in Guillem one of the main candidates to take the final victory. Mainly Jordi Cruz, who acknowledged feeling identified with the young man from Barcelona.
The program began with a first test in which the finalists had to reproduce a Martin Berasategui dessert to get the first jacket that opened the doors of the final duel. While Carla, Ariel and Olivia lagged behind due to the impossibility of following in the footsteps of the Basque cook, Guillem prevailed over his companions forcefully and took the first ticket to the grand final. A first test in which Jordi Cruz surrendered in front of an applicant with whom he said he felt very identified: "You are my winning horse and I have not made a mistake choosing you. In you I see a little cook and I see myself identified with you".
Carla and Guillem take the two jackets of the grand final
With Guillem classified for the grand final, Carla, Ariel and Olivia played the second jacket in an outdoor test in which they had to reproduce the dishes proposed by chefs Oriol Castro, Mateu Casañas and Eduard Xatruch. After arriving in Cadaqués, the cooks challenged them to reproduce an ensalada of endives and gorgonzola, some sardines marinated with raspberry, beets with pistachio and a crab with avocados and truffle roe. Also some razor clams with mushroom and pine nut vinaigrette, a red mullet with suquet puree and a banana dessert with yogurt and cocoa biscuit.
All this in front of the attentive gaze of some of the contestants of Masterchef Celebrity 9. While Olivia and Ariel were hesitant throughout the test, Carla showed a serenity that helped her to carry out her dishes with a solvency that astonished chefs. For the same reason, and given the high level shown throughout the test, the young woman took the second jacket that opened the doors to the grand final. Once there, and as usual, the applicants had to conquer the jury with a complete menu.
Guillem beats Carla and becomes the winner of Masterchef Junior 9
Guillem appeared in the grand finale with a menu through which he wanted to pay tribute to his land and his family. A menu that began with a red prawn tartare, continued with some cheek cannelloni and ended with a Catalan cream foam with hazelnut ice cream. Meanwhile, Carla began with a salad of pickled partridge and balsamic vinegar foam.
It was followed by a honeyed vegetable rice with octopus, lime mayonnaise and beer crisp as the main course and a tree dessert with amaretto ganache, cherry cream, crunchy chocolate and cotton candy completed the feast. Two menus that were approved by the jury, who assured that they were not typical of 12-year-old children: "You have made it very difficult for us." However, and after deliberating for several minutes, Jordi Cruz, Pepe Rodríguez and Samantha Vallejo-Nágera recognized Guillem's technique and crowned him as the new Masterchef Junior champion.



cadenaser.com