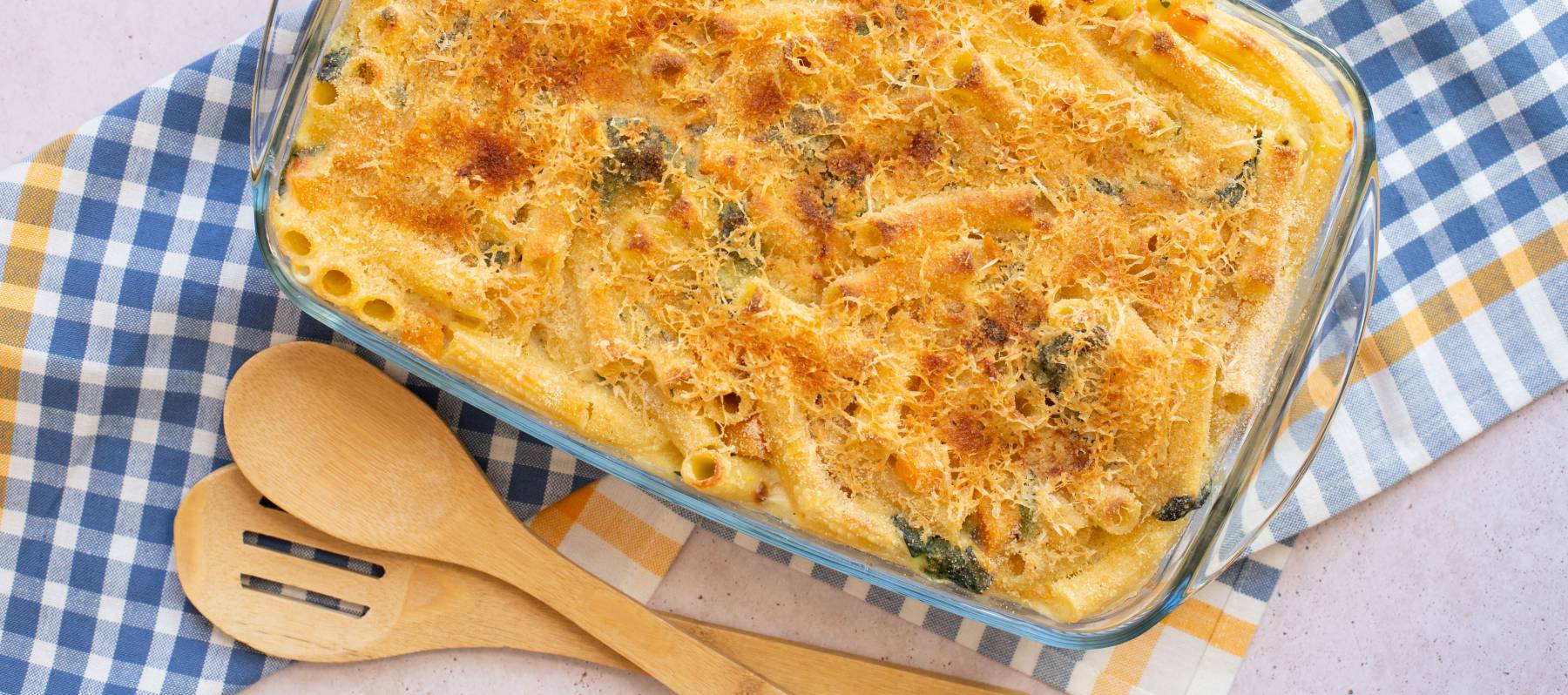 Pasta. Bechamel. Gratin. I bet your stomach rumbles reading those three words in a row. Any gratin dish, and especially pasta, is the blessed glory in these cool days. Macaroni au gratin, mac 'n' cheese or, without going any further, lasagna, in a traditional, vegetarian, light version, in the style of David Muñoz or whatever you want, are classics of this genre.
This recipe also includes onion, pumpkin and spinach, which add flavor, texture and color to the dish. If you want to make it even more forceful, you can also add some golden bacon cubes. As for the bechamel, you will see that with the quantities of the recipe, a sauce that is not very thick comes out: this is to prevent the pasta from turning into a mazacote after baking. You can prepare it 100% with milk, mix broth and milk or use a vegetable drink.
Regarding pasta, according to my personal criteria based on my home experience and nothing else, I recommend choosing short, dry and tube pasta. That is to say: penne, rigatoni, maccheroni, mezze maniche, lumache or similar. Although if you want to use fusilli or farfalle, for example, I will not be the one to prevent it. On the contrary, I advise against using long and thin pasta since it is very likely that it will overcook easily.
Difficulty
The one of not passing the cooking paste.
Ingredients
For 4-6 people
½ onion
200 g of fresh spinach
500 g pumpkin
1 l whole milk
80 g of flour
100 g of butter (80 g for the béchamel sauce and 20 g for the gratin)
500 g of short pasta
100g grated cheese (Pecorino and Parmesan work very well)
50 g breadcrumbs
Olive oil
Sal fina
Black pepper
Nutmeg
Preparation
Prepare the béchamel: in a saucepan, melt 80 g of the butter and add the flour. Cook over medium heat while stirring until the mixture turns golden brown and smells toasty. This step is important because if the cooking is insufficient, the béchamel will have a predominantly flour flavor.

Add the milk little by little without stopping to stir until it has thickened. Season with salt and pepper and add nutmeg. Reserve covered.

Heat the oven to 220 ºC. Bring plenty of salted water to the boil to cook the pasta. Cook the pasta for three minutes less than indicated by the manufacturer.

Meanwhile, cut the onion into brunoise (small cubes), the pumpkin in approximately 1 x 1 cm cubes and the spinach in large pieces.

Heat a frying pan over medium heat with a splash of olive oil. Sauté the onion for two or three minutes.

Add the pumpkin, season and cook until soft. Add the spinach and cook one more minute.

Add the vegetables to the béchamel sauce and mix. Add the pasta and mix again.

Pour the mixture into a tray or tall oven safe dish. Sprinkle with the bread and grated cheese. Add a few pieces of the remaining butter on top. Bake until well gratinated, with grill if possible.
If you make this recipe, share the result on your social networks with the hashtag #RecetasComidista. And if it goes wrong, complain to the Chef's Ombudsman by sending an email to [email protected]

elcomidista.elpais.com