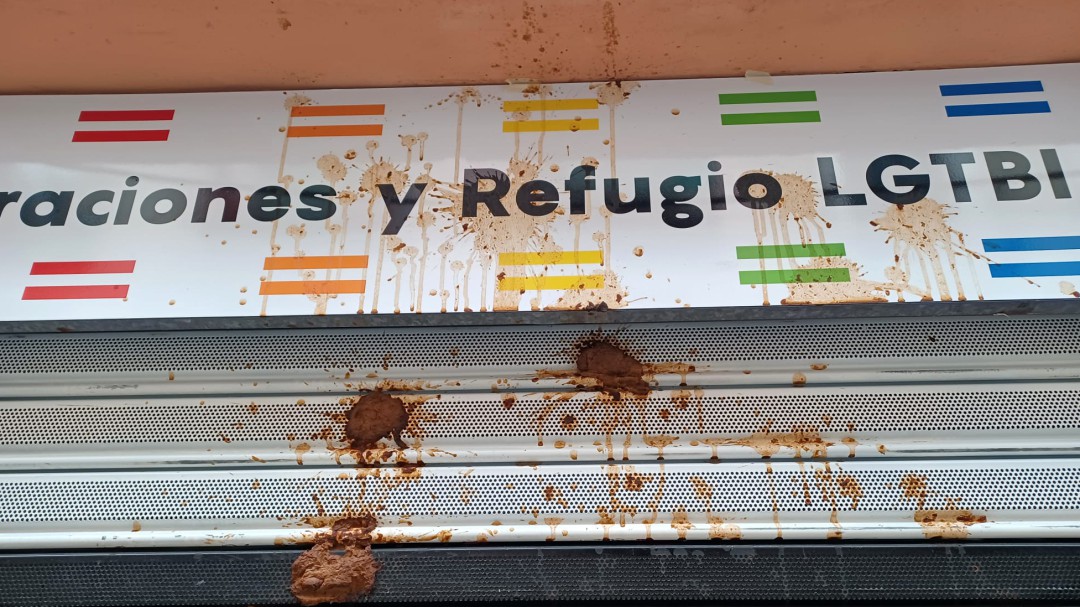 The premises of the Kifkif association, which defends the rights of LGTBI migrants, has been vandalized in the last hours. As the organization assures through its Twitter profile, the headquarters of the entity has dawned covered with excrement and graffiti that incite hatred.
"Our headquarters in Lavapiés was found this morning covered in excrement, shortly after graffiti that incited hatred was spilled on it. We filed a complaint with the police and we will take all measures to protect our team," the organization said in their social networks.
"We will not let ourselves be defeated by these attacks and we will continue working. Our organization celebrates its 19th anniversary this day. We appreciate the solidarity and affection of our neighbors in the neighborhood, who have helped us in this unpleasant situation," they report on Twitter.
Jorge Beltrán, head of the health and HIV area of ​​Kifkif, has assured Cadena SER in statements that it is the second attack that the organization has received in recent days. "Last week our direct care office woke up with several graffiti with the word Vox. He also left us a comment attacking a couple," he said.
The vandalization of the façade of the entity has been a detriment for which they have spent a good part of the day carrying out cleaning tasks: "Today the façade of our office has appeared with all the blinds full of excrement: walls, ceiling … furthermore, as it is a porous blind, it has become our window and the posters that were included in it ".
Beltrán has stressed that from the organization they plan to denounce because "you cannot consent" to such an attack on an association that claims to be a place of shelter in the neighborhood and in the capital. "In kifkif we have always been a safe space, we have never had problems and we want to continue being that space that has cost us so much to build. We hope that this will not happen again. We can only be unstoppable. We will not allow this to make us back down , and less on our 19th anniversary, "he said.
Networks turn to Kifkif
Despite the attack received by the organization, social networks have covered Kifkif after the vandalization of the facade. The publication in which they denounce the state in which the place has dawned has reached thousands of interactions on Twitter and, among them, various shows of support.
"Madrid is tolerant, Lavapiés is diverse. Let's preserve it, let's continue fighting against hatred. All the support," replied journalist Íñigo Aduriz.
Various political parties have also shown their support for the organization, as has been the case with United We Can in Madrid: "All our support for Kifkif. Thank you for the work you have been doing for years to defend the rights of LGTBI migrants and refugees."
Also the deputy of the PP in the Assembly Carlos Segura, president of the central district party, has shown his support for the organization: "All my support for the entire Kifkif team. Hate is no reason. I reiterate all the support and congratulate for that work in silence that you do daily with all the LGTBI people who flee their countries. Madrid is freedom. "



cadenaser.com