"I was happy. The night before she couldn't sleep because of the emotion, as if the Three Wise Men were coming. She was five years old. In the morning, they sent me to buy the blades: I bought two". It is easy to feel chills running up your legs when listening to the testimony of Asha Ismail, today president of the NGO Save a Girl. Save a Generation, based in Spain. Ismail was born in Kenya, one of the countries where female genital mutilation is still carried out in rural areas.
It is a practice that has nothing to do with any religion nor is it written in the sacred books; It is based on beliefs that have been passed orally from mothers to daughters, always between women. In fact, the arguments about its benefits vary from region to region, from Yemen to Guinea Conakry or Cameroon, and even the types of excision are different and cause different damage, some permanent and painful for life. Today, Ismail has a 32-year-old daughter and two granddaughters, and he can utter relief in one short sentence: "For them, this is history."
Asha Ismail's words are essential, once again, to understand the need to continue working for women currently undergoing excision, in this case, through the lChain project for intervention in cases of female genital mutilation and forced marriage, which in Spain he has carried out his organization, with funding from the European Union. The program – coordinated by Terre des Femmes, and in which associations from Germany, Italy, France and Belgium have participated – aims to offer tools to professionals who work with women at risk of suffering mutilations or forced marriages, as well as to train people who have suffered and wish to participate in raising awareness in their communities. Its first results have just been presented, this week, in an act in Madrid, sustained by the memory of the pain itself.
"When I came back, I did get a little scared, because as soon as I entered they took off my underwear and my grandmother grabbed me by the arms, while she opened mine with her legs, immobilizing me," continues Asha. "Then the lady came. They started. I remember the sound of the blade cutting me. I screamed, although no tears came out, and a rag was stuffed into my mouth, because screaming is a sign of weakness. For me, they cut me for forever and finally, when they were done, they started sewing. Because what they did to me was what is called infibulation, which consists of cutting the labia majora and minora and the most visible part of the clitoris, and then sewing everything up, in such a way that only a small hole remains open for the needs (the pain is so hard to describe). Then they covered it with a homemade herb, so that it would stick, heal and stay closed".
And he continues: "Then, they tie you from the waist to the big toes, to prevent movement. That day, I rejected the pain, but I didn't know that what had been done to me was permanent damage. That my problems added up as I grew older. There are complications, infections, the period and finally the moment when I had to get married, when they open you up and penetrate you at the same time. I got pregnant and during this pregnancy I wanted to have a child, a boy, with all my strength, so that he wouldn't go through what I had gone through. After the birth, the nurse told me: 'You're torn like an old rag.' Knowing that a girl, I cried for her: what was waiting for her? Since then, I began to contact mothers like me, who agreed with me… and so I began to try to get mothers to reject these practices".
200 million children under the age of 18 are victims of genital mutilation in 30 countries, according to Unicef ​​calculations
For two decades, Asha Ismail has lived in Spain, where she also felt the imperative to continue her campaign. Women from different countries in Asia and Africa came to Europe, who have not stopped feeling the threat to themselves or their daughters. Women who, on an innocent vacation trip, can fall into the hands of the lady or grandmother who wants to enforce the traditions to the letter. Women without a court are not clean, they believe, or they will not get a husband or any other explanation related to the honor or appearance of a certain moral behavior. Thus, case by case, adding up to the 200 million children under 18 who are currently victims of genital mutilation in 30 countries, according to Unicef ​​calculations.
To show such a wound, in the act of presenting the program of save a girl, the Guinean director and actress Aïcha Camara spoke about her short film about two girls trying to escape from the family conspiracy against their bodies. In this framework, the exciting short film Mariamaby Mabel Lozano, with the narration of Ibrahim Bah, who, against the opinion of his own mother, saved his daughter from mutilation, perhaps thanks to an instinct followed since childhood, when he visited his sister, in the house of the Ms, suffering and happy at the same time, because he had fulfilled his family duty. "Avoiding it is an act of love," insists Bah, trying to convince those who are afraid of breaking traditions.
There are no recipes: just listen to it
through the program Chain, a social and professional intervention manual has been prepared that was born with the premise of "not imposing European customs and, instead, putting the emphasis on listening", according to its coordinator Ángela Hidalgo-Barquero. It is a tool aimed at social workers, doctors, health personnel and agents of the security forces, but also at migrant women who wish to add this knowledge to their traumatic experiences.
"I approached the program because in my country, Mali, I have seen many women (and myself) who have gone through this. They did it to me when I was very little (I was two years old) and I don't remember anything, but the damage is there for life. In my case, I was lucky because they only cut part of my clitoris. In addition, in my family, as in almost the entire city of Bamako, excisions are hardly practiced anymore. But in the towns yes and now we can go there to report. Training also means getting to know women's bodies, learning about reproduction", says Koumba Sylla, mother of two girls aged three years and six months.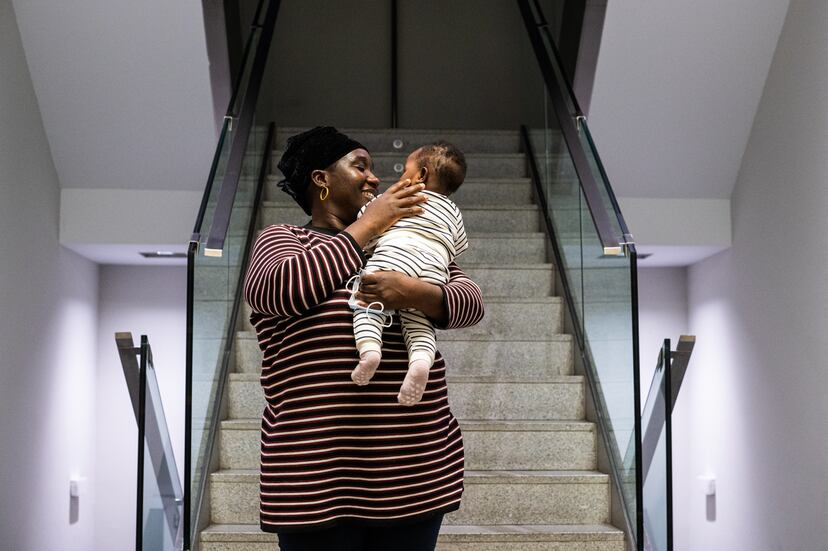 Koumba is one of eight people (seven women and one man) from seven countries (Bangladesh, Nigeria, Mali, Somalia, Senegal, Congo and Morocco) who attended the Save a Girl courses. Save a Generation not only to understand and eradicate mutilations and forced marriages, but also to accompany other groups around them.
"These types of guides would not be necessary if European professionals had relevant training in their careers," says social mediator María Gascón, author of the manual. "We do not intend to provide a recipe book, but just give some procedural guidelines. There are no recipes, but we do want to convey that the result of an intervention can be reparative or revictimizing", she emphasizes to make it clear that there are obvious risks in approaching victims without empathy or ignoring their contexts.
For example, by dryly using inappropriate words, such as "mutilation", which do not correspond to the affection that women usually feel towards the people who pushed them to do it or who intervened, because among them are their mothers and others. loved ones, in whom they place their trust. "That harshness of the terms contradicts the intention of the families. Without empathy, it is not possible to understand why a woman does that to her daughter, much less discover what she needs or what problems are behind her, "says Gascón.
Recognizing contradictions that could be ours is a task that requires training. Added to this complexity is the fact that these practices maintain a paradoxical relationship with the assumptions of gender violence, according to the mediator, since they do not meet the conditions (here, the perpetrator is not a man but a woman), and neither are the intentions the same, because their mothers or grandmothers want the good of the girls. There was a time when clitoridectomies were performed by men, and more specifically by Victorian doctors, well into the 19th century in Europe, in cases related to nerves or uterine disorders that led to masturbation.
By the way, the guide exposes the medical specificities about the three types of mutilation – clitoridectomy, excision and infibulation – and their different consequences. It also contains an approach to the possible actions in the European legal field, under the umbrella of the Istanbul Convention on violence against women, and in relation to the crimes of injuries in which these cases would be framed, within the Spanish Penal Code. Finally, the mediator María Gascón warns: "Professionals have to be very careful when making a complaint, because if we are not sure that such a risk exists or is substantiated, the complaint can cause more harm to that girl. and to his family."
You can follow PLANETA FUTURO at Twitter, Facebook and Instagramand subscribe here to our 'newsletter'.



elpais.com
George Holan is chief editor at Plainsmen Post and has articles published in many notable publications in the last decade.