To change the gender inequality that still prevails in much of Latin America, it is important to address systemic problems, especially those related to education, working conditions, and access to opportunities. According to the Economic Commission for Latin America and the Caribbean (ECLAC), a key element for understanding gender gaps in well-being points to the use of time and the distribution of unpaid work within households.
Only in 16 of the countries in the region for which data is available, the unpaid work time of women over 15 years of age is almost double that of men dedicated to these same activities, according to the agency. Although this scenario makes visible the growing female participation in different markets, it also warns about the acuteness of multiple problems within even more disadvantaged communities, such as native peoples, rural environments and the indigenous population.
This panorama has also been confronted with the negative effects at the economic level after the pandemic. Only in Guatemala, a country where tourism represents 6.2% of its Gross Domestic Product (GDP), thousands of businesses associated with this sector have closed their doors permanently, also undermining remittances, another of the main sources of income. income of the country.
Within this challenging context, the work of initiatives such as Mercado Global, a non-profit organization based in Brooklyn, which seeks to transform the lives of indigenous women and their families in Central America, is particularly noteworthy, based on a study punctual and a focused action plan, where education and fair, sustainable and ethical trade are vital drivers of change.
For about two decades, Global Market has worked to confront the systemic problems of poverty faced by indigenous women in Latin America, who have not had enough economic and educational opportunities to achieve an independent financial situation. This under two fundamental ideas:
1. That indigenous women, instead of being victims of poverty, lack of education, racism and misogyny, can be some of the best rural entrepreneurs, through working together through the sale of handicrafts and domestic products, to internationally renowned retailers in the fashion market.
2. That the work of social change is so important and complex as to leave it only in the hands of the non-profit sector, which is why Mercado Global considers it effective to address the problems that people face, from the different ways of achieving a positive impact, through what they do in their day to day.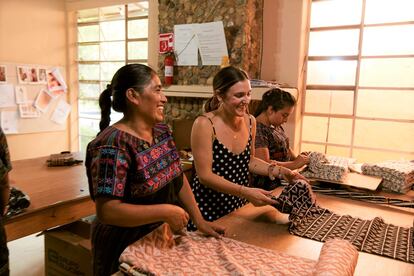 Sow education, reap freedom
In less than two decades, Mercado Global has achieved substantial changes within the homes of associated artisans and entrepreneurs. An example of this can be found in the program launched in 2003 around Lake Atitlán in Guatemala, started with just a few dozen artisans and which today serves almost a thousand women throughout the region. The continuity of this initiative is expected to extend to Honduras and Mexico in 2022.
And that's not all. Thanks to the sales of its products and the donations of different foundations, companies and individuals, the positive impact of Mercado Global can be clearly outlined. Currently, 99% of the children of associated artisans are studying, compared to 35% of children in the entire region. Likewise, three-quarters of its artisans have access to a necessary diet, while half of Guatemala's rural population faces chronic malnutrition.
Behind this joint effort are thousands of individual stories that articulate and strengthen substantial change. Such is the example of Petronila, who after working for a year as an associated artisan took action and was elected as president of the Mercado Global cooperative within her community.
Later, when a Global Market Field School was opened nearby, with fifteen state-of-the-art industrial sewing machines, Petronila managed to inspire and pass on her experience to other women, thanks to an initiative of free weekly sewing classes for all women. women from their community, with an emphasis on supporting widows and single mothers.
"I want women not to have to depend on a man: they can depend on themselves. (…) With our work we can support our families. My children go to school. Every quetzal counts. Sometimes my husband doesn't have money and I can give it to him. I can help. ", Says Petronila, who like thousands of women in Latin America are finding their true power, becoming leaders not only in their own homes, but within their communities.

elpais.com