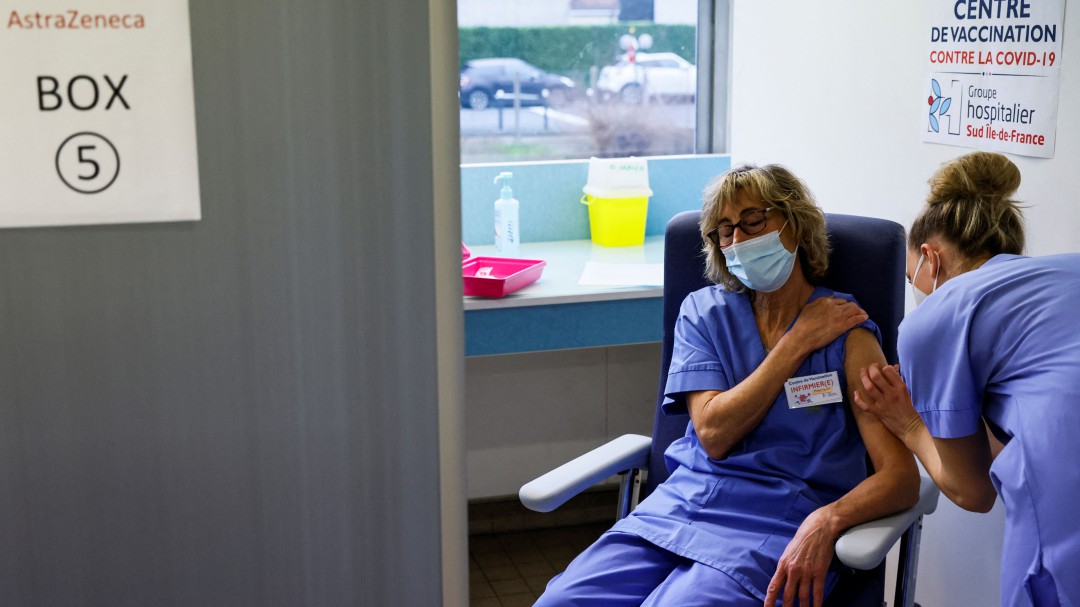 France will force health workers and firefighters to inject the booster dose of the COVID-19 vaccine to prevent the spread of infection outbreaks that are already appearing in some hospitals and that this causes staff shortages to attend to the patients.
The Minister of Health, Olivier Véran, stressed this Saturday, in an interview with the France Inter station, that the vaccination against the omicron variant must be accelerated, which is "much, much, much more contagious" than delta, and that it could be the majority in France within two weeks.
"Those who are not vaccinated will be contaminated and there will be serious cases," he warned after insisting that the objective of generalizing vaccination is "to avoid a very strong surge in hospitals." In this regard, he recalled that there are already 52 million people vaccinated in the country, but about five million remain unimmunized.
His department estimates that between 7 and 10% of infections are currently omicron and that, given the speed of spread, that percentage will rise to 25-30% in one week and more than 50% in two.
Spotlights in hospitals that jeopardize care
The minister explained that because of this dynamic, several sources of infection have already been declared in hospitals in the Paris region and that justifies the extension of the obligation to vaccinate health workers and firefighters with the booster dose to starting January 30 to prevent the situation from spreading. "We do not want to find ourselves, as in Scotland," he argued, "with 25% or 30% of health workers who cannot work because they are contact cases, and are in quarantine," he said.
At the end of a Defense Council chaired by Emmanuel Macron, French Prime Minister Jean Castex announced this Friday that in January his government will take a bill to Parliament to convert a health certificate into a vaccination certificate. This means that tests can no longer be used to validate the certificate, which in France is imperative to have a drink in a bar or restaurant, but also to go to the cinema, a show or a stadium. Having overcome COVID-19 less than six months ago would still be a reason to have a valid certificate.
Véran has advanced that during the parliamentary debate it will also be examined whether being vaccinated will be imperative to take long-distance transport, such as a train, a bus or a plane.
Mandatory vaccination to work
It also considers "a legitimate question" the possibility of imposing the health certificate to work. In that case – he pointed out – in addition to the vaccination, there would be the possibility of validating it with a negative test, as has happened until now.
Asked why the obligation of vaccination is not established in a general way, his answer is that he is "convinced that the health certificate is more effective than a system of fines." The reason is that the refractory would be willing to pay fines every week and not get vaccinated, while the certificate obliges them to do so in order to have a social life.
Vaccinate children ages 5 to 11
The head of Health indicated that "if everything goes well", the vaccination of all children from 5 to 11 years old, on a voluntary basis, may begin in France "on the 22nd in the afternoon." The campaign has already started for children with a disease that poses a risk in case they become infected with coronavirus, or who live with immunosuppressed people, but for the rest, all the opinions of different levels of experts have not yet been received.
Véran explained it because on the question of vaccination "France is a country that doubts more than others like Spain." In this regard, he noted that a year ago in Spain 70% of the population declared themselves willing to be vaccinated, while in France the percentage was 37%.



cadenaser.com
George Holan is chief editor at Plainsmen Post and has articles published in many notable publications in the last decade.