– Do you want to go to the hospital?
– No, all I want is to get to Germany
Khalid, 47, points with pain at his only kidney, which is working at 70%. He is hiding in a hole in the forest along with three other Syrians, Kassem, Nassir and Abdelrahman. It is the Polish part of the Bialowieza Forest, shared with Belarus and whose 150,000 hectares of lushness have made it a favorite place of passage for the thousands of migrants who illegally cross the border between both countries these weeks. The four come from Damascus and escape from a country that last March celebrated 10 years at war. It is his fifth day of walking through the forest, trying to guide himself with the mobile GPS towards the Netherlands and Germany, his final destinations.
Nassir, 25, does not directly complain because he barely has the strength to speak. He is the worst in the group, staring at the ground, big dark circles and a bandage on his head. "The Belarusian soldiers beat me at the border," he says. "When they see migrants in the forest, they also release our dogs," adds Kassem, the youngest (24 years old) and smiling of all. Khalid also has wounds on his hands. "It is from the branches, moving forward at night," he explains. No one asks for medical help for fear of arrest and because the motto here is to move forward, always move forward, until they meet with relatives who already crossed the border in 2015, when a million people arrived in the EU.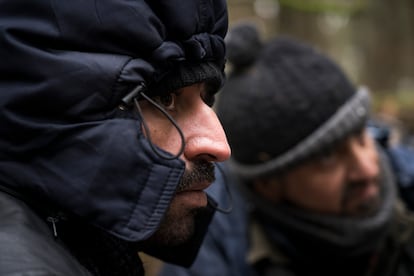 Khalid often asks a question: "Madmun? " It means "trustworthy" in Arabic and — after weeks of purely commercial exchanges, scams and inflated prices from the mafias — it's what you want to know about a person or organization every time a name comes up. Old dog, check the information several times and remember up to three times the most important things to reach the destination.
Join EL PAÍS now to follow all the news and read without limits
Subscribe here
He is the only one who wants to get to Germany. The rest go to the Netherlands, where relatives from the 2015 wave await them. "I am leaving now because of the destruction and the economic situation in Syria. He is much worse than then, "Khalid responds. Kassem, who was in Lebanon (the second country, after Turkey, with the most Syrian refugees), was stopped at that moment by "the sea and the danger". "I was afraid to go across the sea, so I didn't go on. But in Belarus, I continued, "he adds.
The region they now pass through, Podlaskie, on the north-eastern border with Belarus and Lithuania, is the coldest in Poland. There is not a day in this day and age when thermometers do not drop below zero degrees at some point. It is daylight, but all four are already frozen. They are warm, but not with thermal materials. Abdelrahman, 47, and Kassem cover their heads with the hood of their coat; Nassir wears her naked. Abdelrahman doesn't even have gloves.
They come from the Damascus area and met already in Minsk, the point of entry by plane for migrants who buy a package that includes flight, visa and accommodation in Minsk through tourist agencies in Baghdad, Erbil, Damascus, Beirut or Istanbul. It is the new migration route created by Aleksandr Lukashenko's regime to launch a "hybrid attack" – as NATO and EU leaders have defined it – against a Union border.
They spent 11 days on the Belarusian side of the border, during which they tried, unsuccessfully, to sneak into Poland three times. Going through this part of the forest is exhausting. Huge logs of oak, hornbeam and spruce – a type of conifer abundant here – block the path every few feet and slip as soon as they lose their bark. Because of how it is managed, fallen trees are left to decompose.
Stagnant water
The four refugees have been drinking stagnant water and rationing food for the past three days, which lasted until the day before. Today they have run out, but supplies arrive. They are brought by Kasia Wappa, a member of a network to help migrants who have trained residents in the border area as the problem grows. Running out of food, the Syrians contacted the network through a third party.
After more than an hour of location submissions via mobile phone and searching the forest, Wappa finds them. When she appears, carrying a heavy backpack on her shoulder and accompanied by two other strangers, the group of Syrians shows neither enthusiasm nor fear. It seems more like a mixture of suspicion and fatigue, lying in the hole not knowing if they are waiting for Godot.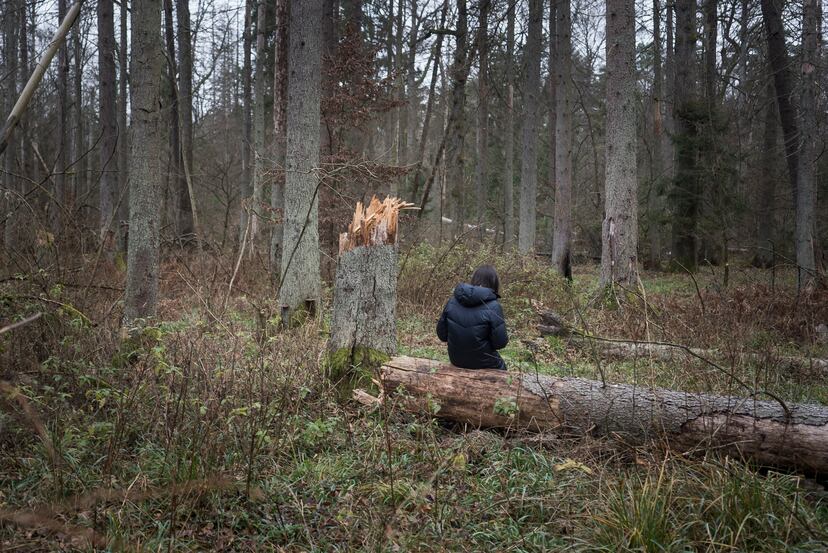 Khalid receives the first cans of preserves as if it were the most normal thing in the world. Wappa smiles, jokes, and gives the cast an air of Santa Claus handing out presents to the children. He hands them dry pants, cans of tuna, figs, sweets, two loaves of bread, externally charged batteries, and cigarettes, among other things. The four of them begin to relax. Some rictus unfreeze and the conversation flows more, between whispers to avoid being heard by any of the more than 20,000 soldiers, policemen, border guards and members of a paramilitary corps of reservists and volunteers that Poland has deployed on its border with Belarus.
In a couple of moments, some noise calls for caution and everyone ducks down. They are false alarms. Wappa recommends that you recline even more: the hole is only about a meter deep and from a few meters you can see a hood sticking out. The place, moreover, is not far from a local road.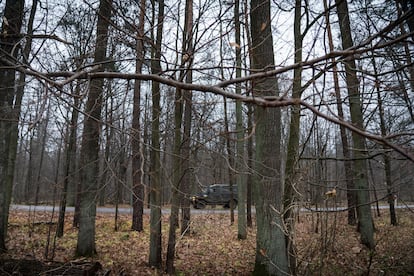 Let's rewind about two hours ago. Wappa is at home and receives the alert. He only knows that there are four Syrian men at one point in the forest and that they are not "too bad" because they have not asked for medical help, only food and drink, he says.
She goes over a list of things they need in concentration and puts them in a backpack. He prepares a thermos with tea – "they always appreciate it," he says – and goes to one of the storage houses that the network has. It is an old converted room with shelves and cabinets in a makeshift warehouse. There are mountain coats arranged by size, katiuskas, gloves, sleeping bags and many diapers. Also packages of six stacked water bottles and easy-to-transport foods, such as flavored drinkable yogurts, chocolate, energy bars, cans of tuna… The aid is bought with private donations that come from different parts of Poland, says Wappa.
The Polish-turned-local activist drives to the area, parks her car at the entrance to the forest – at a point that does not arouse too much suspicion from the security forces – and begins the search.
On the way, he finds remains of the passage of other migrants. He inspects them in search of clues that will allow him to fit some pieces into the puzzle of the route: if the clothes are for men or women, if there are children's or baby clothes, if they look like a large group of people … In a closed black backpack Abandoned by a tree, she finds a sleeping bag, damp jeans, a sweater, and a kufiya, typical Middle Eastern handkerchief. Also a plastic bag with garbage. It is a way to help the following. Everything seems to indicate, says Wappa, that he left her behind because a mafia intern came to pick him up. He no longer needed her on his way.
Follow all the international information at Facebook and Twitter, o en our weekly newsletter.



elpais.com