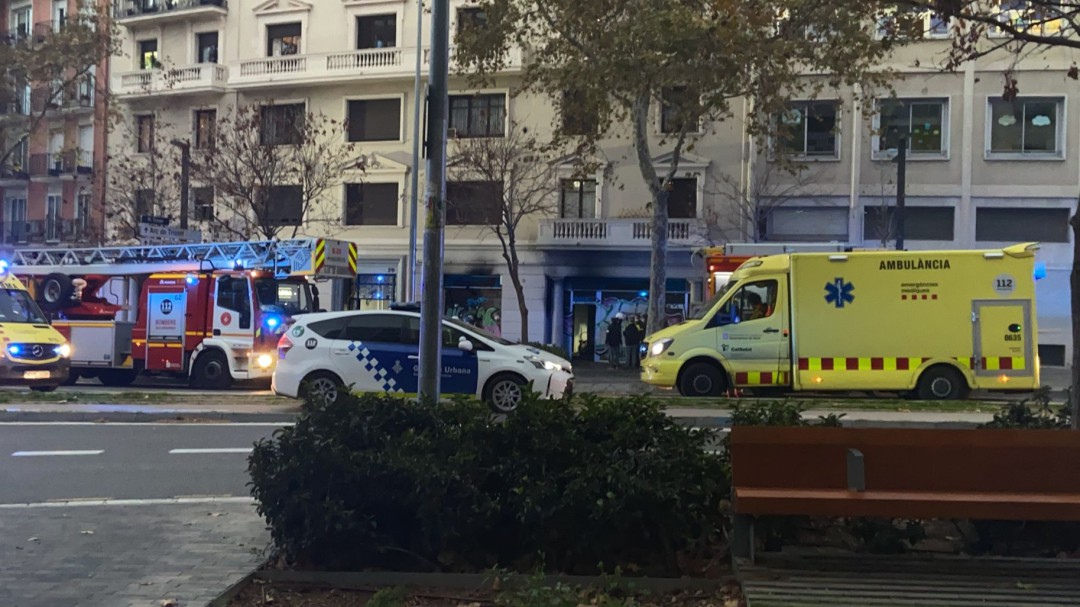 A fire in a building in the Plaza de Tetuán in Barcelona has claimed the lives of four people early this Tuesday, two of them are underage children (a baby and a three-year-old child). The Barcelona City Council confirms to the SER that the fire, which started around 6 in the morning, has affected the premises on the ground floor of the building, the former headquarters of a bank that was currently occupied by eight people.
Eight units of the Barcelona firefighters have traveled to the scene of the fire. As reported by the chief of the fire brigade operation, when they entered the premises they found the four fatalities unconscious due to smoke inhalation and they have not been able to do anything to save their lives. The other four people who lived on the premises were trapped in a courtyard and have needed oxygen assistance. Inside, the firefighters have also found clothes, blankets and mattresses.
The Mossos d'Esquadra are investigating the origin of the fire since the firefighters have not found any clear indication of the beginning of the flames. The Mossos they went to the premises alerted by a fight.
The mayor of Barcelona, ​​Ada Colau, and the Minister of the Interior of the Generalitat, Joan Ignasi Elena, have traveled to the place of the fire. The mayor explained that "it was a precarious house", because it was not a space to live as it was an old bank office, and has not given details of whether they had been offered an emergency floor. He added that it was not a type of family that asked the administration for help, although the social services of the city council had contacted them.
Minister Elena has lamented the tragedy and explained that, for the moment, all the hypotheses are open. The Minister has pointed out that, for now, there is no evidence that the fight and the fire are related.
The Deputy Mayor for Security of Barcelona, ​​Albert Batlle, has remarked that "it was known that there were problems of coexistence" and that, apparently, the Catalan police not only intervened at dawn this Tuesday but in previous situations, according to what he has learned from what the neighbors have told them. "That this has to do with the fire seems that at the moment it is ruled out by the services that are intervening," he explained.
Neighbors have explained that the four deceased they had lived on the premises for a year. Another neighbor explained that his wife woke him up around 5:45 am because "he smelled burning", and that when he opened the patio door, a lot of smoke had entered his home. The couple has left their apartment and has called the emergency room to warn that there was a fire in the premises, and the man has come down to help the people who were in the premises "but were trapped by the fire."



cadenaser.com