They have lived with us for about 12,000 years, but we have not managed to domesticate them. Rather, they are the ones who have taught us to love them. Worshiped as magical animals and even gods in ancient Egypt, they have also been mistreated and slaughtered for sheer entertainment throughout history. Elegant, detached, what is the true nature of cats? Can we proud humans learn something from them? That is the theme of Feline philosophy, recent book by thinker and political scientist John Gray, conceived as a tribute to these animals and as a plea against the illusory human superiority. Cats are selfish without ego. Although they can be recognized in the name that their owners have given them, it is not uncommon for them to ignore it and not answer their calls. Loving when they feel like it, they have evolved, but there are hardly any genetic differences between wild and domestic animals. Feline philosophy is none other than living in accordance with nature itself. A sign of inferiority to humans, who have built elaborate philosophical systems? Perhaps not, since, Gray reminds us, "philosophy attests to the precariousness of the human mind." After all, "people philosophize for the same reason they pray."
A good connoisseur of cats, Gray argues that "happiness is that state in which they are installed by default when practical threats to their well-being disappear", while humans seek happiness by fleeing from themselves. Of course, cats cannot philosophize because they lack the capacity for abstract thinking, but if they could, Gray thinks they would take it as a game.
Naturally, the author cannot exhaust a book of almost 200 pages in these disquisitions, and he also applies himself in reviewing the life and work of philosophers and writers who have loved felines. For example, Schopenhauer, who was found dead on the couch with his animal.
We are facing a miscellaneous book in which everything fits. The story of Mèo, the cat adopted in Vietnam by CBS journalist John (Jack) Laurence, who followed that war as an informant, or that of Gattino, the feline collected in Tuscany and lost in the United States by the writer Mary Gaitskill. Gray cites books such as Colette's The Cat, and writers who enjoyed the company of these animals such as Patricia Highsmith, Doris Lessing, and the Russian philosopher Nikolai Berdiáev. It also looks at the story of Samuel Johnson, 18th century British writer and lexicographer, owner of the Hodge cat, whose friend, Christopher Smart, wrote the most famous poem in English literature dedicated to a cat, Jeoffry, his only companion during the seven years spent in a madhouse. Since 2020, Jeoffry has had his own biography, demonstrating that the English do not believe too strongly in anthropocentrism.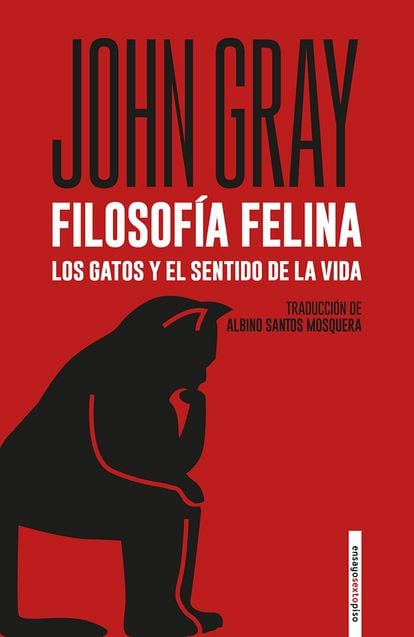 John Gray
Translation of Albino Santos Mosquera
Sixth Floor, 2021
180 pages. 14.90 euros
You can follow BABELIA in Facebook Y Twitter, or sign up here to receive our weekly newsletter.
Sign in to continue reading
Just by having an account you can read this article, it's free
Thanks for reading EL PAÍS



elpais.com