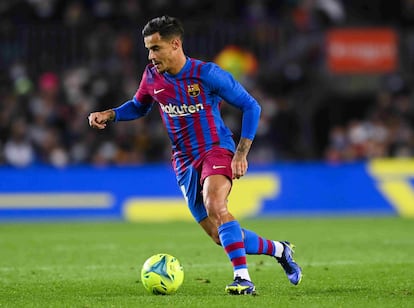 Convinced cruyffista, Xavi understands wingers as a necessity in their line-ups, players who widen the field and who must seek one on one to finish the plays with a center if they reach the baseline or with a shot (or last pass) if they draw the diagonal. "We want wingers because it is key to the positional game. We want to open the field because if you generate on the outside, you have more space on the inside ", the coach resolved before taking on Benfica.
In his debut against Espanyol, Ilias as the starter and Abde as a replacement were the bets rescued from the subsidiary for the right side while he handed the left to Gavi, less deep because on that side he had the ascents of Alba. "Ilias is sanctioned from the Youth League and Abde is a youth and has not been at the club for two years so we cannot register him, "said Xavi. Neither will Ansu Fati be there, and it remains to be seen if Sergi Roberto, Dest and Dembélé recover. "We will be guided by the feeling of the players because they are ready," agreed the coach. So Coutinho (Rio de Janeiro, Brazil; 29 years old) asks for the time in the game now or never because he has run out of extra Barça lives.
In the morning and without cameras or eyes to judge him, Coutinho is an excellent player. "In training it is amazing, he does what he wants," explains a source from the dressing room. "When he doesn't feel the pressure, things come out because it isn't demanded and because he doesn't always think about making the most difficult play," adds a worker from the Ciudad Deportiva. But the same does not happen when the 14 is put on the back. "Mentally he is not there and that is appreciated in the games because it costs him a lot", point out the same sources; "He does not choose well and there are few times that he starts out strong and fades as the minutes go by."
Perhaps that is why the last time he played a full game was more than a year ago, then in the classic against Madrid in October 2020, while the last time he had two consecutive and complete games as a Barça player was in January 2019 A trend since he arrived at Barça, since he has only completed 19 matches of the 102 in which he has participated; or, what is the same, 18.6%. Poor and innocuous figure for the most expensive signing in the club's history – it cost 120 million fixed plus 40 in variables – and figures that have led him to receive several pitas from the Camp Nou and that he was in charge of reproaching three years ago when celebrating a both Manchester United with eyes closed and fingers in ears. The beginning of the end for a shy boy without the mentality of a leader, perhaps because he was always very protected by his family environment and took refuge in his older brothers, Leandro and Cristian.
Coutinho's degradation at Barcelona has been constant, only successful in his first year, then with Valverde on the bench, because in 22 games he scored nine goals (one every 165 minutes) and seven assists (every 211). It dropped to a goal every 304 minutes and a goal pass every 669 in the 2018-19 academic year; remained low profile in the 2020-21 season with one target every 264 and one final delivery every 396; and now he adds a goal in the 513 minutes he has played for no assistance.
"Sensitive and immature"
In between is the transfer to Bayern Munich, where they performed better – 11 networks, including two in the historic 2-8 to Barcelona, ​​and nine passes in 38 games – but insufficient for the Bavarian club to make an offer. "He is a very sensitive boy, maybe a little immature. That is why he has to feel very comfortable, that everything is in his favor so that he can perform on the field ", describes a Barcelona employee. Conditions that he only found in Liverpool because Klopp likes chaos, the constant movements of his forwards to prevent rivals from setting the marks and generating spaces that the second row must take advantage of, as Coutinho did. "Football owes him one," they lament in the locker room; "It is a ten as a person, spectacular." But with that, goals are not scored, nor is it justified how much the club paid, nor is it attracting buyers.
Through the corridors of the Sports City, no one dares to say that his best version will arrive. "I've always trusted Coutinho," Koeman said. Now Xavi awaits his break and his dry finish. Having lost the battle to make Neymar forget, he may have one of his last chances against Benfica.
You can follow EL PAÍS DEPORTES in Facebook and Twitter, or sign up here to receive our weekly newsletter.



elpais.com