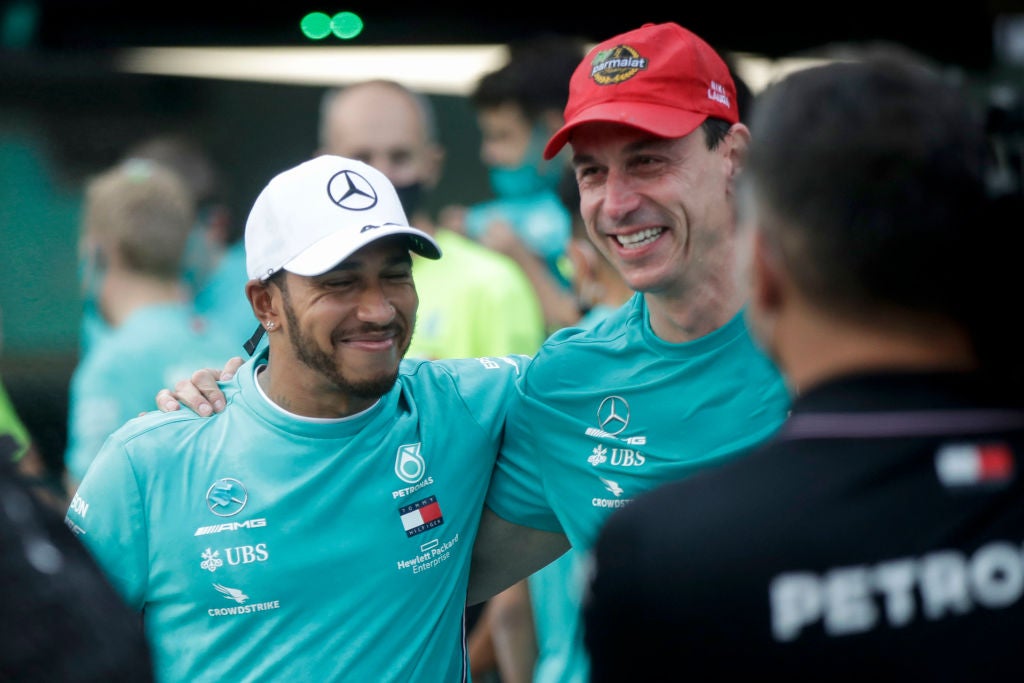 F1 driver George Russell's message to Williams after Mercedes move
Lewis Hamilton's return to social media for the first time since the 2021 F1 season finale, in a team promo video for the Chinese New Year, has fans speculating that the British racer will also return to the grid for next season – calming some fears of retirement . Now it's the turn of his new team-mate to be in the spotlight, with George Russell joining Mercedes for this year – and Red Bull advisor Helmut Marko questioning whether he really has the race pace to cope at the highest level.
For Red Bull themselves, their No1 driver and reigning world champion Max Verstappen faced rumors of an exit earlier in the week, amid claims he could jump ship to rival Mercedes. Red Bull of course denied as much, suggesting too much had happened between the teams for that to be feasible. All teams are now gearing up for the new campaign in their new cars, with more testing to come in the weeks ahead.
Here's the very latest news as the new season prepares for the opening weekend in Bahrain on 20 March. Follow all the F1 news updates below:
1643963885
Red Bull tease 'launch like no other' for 2022 F1 season
Red Bull have teased the prospect of a launch like no other for their car for the 2022 F1 season.
"Red Bull Racing has always sought to break the mold and this year we continue to push the boundaries by disrupting the traditional car launch," read a team statement.
"This season Red Bull Racing will let their fans curate and host the story of the 2022 season launch, on their own social channels.
"In a season of change, we are giving the wheel to the people that matter. Red Bull Racing are putting fans at the heart of the virtual RB18 unveiling.
"Together with Christian [Horner]Max, Czech [Perez] and the wider team, up to 5,000 fans will broadcast the launch on Wednesday 9 February.
"Via 'The Paddock', Red Bull Racing's digital loyalty platform, fans were given the opportunity to host the 2022 season launch on their social channels, to deliver a multi-channel fan-first experience.
"Red Bull Racing has always been at the cutting edge of technological innovation on track, now the team are bringing the same ethos to their marketing approach away from the circuit, as we become the first Formula 1 team to launch a car in this new generation ."
jack ratborn4 February 2022 08:38
1643963657
Lewis Hamilton retirement would be 'very damaging'
Former F1 driver Karun Chandhok insists it would be "very damaging" if Lewis Hamilton withdraws following the controversy at the Abu Dhabi Grand Prix.
"Ultimately only he knows what's going on in his head," Chandhok told the Express.
"In my opinion, I think it would be very, very damaging for the sport if he walked away.
"Essentially he would be walking away because he didn't think the sport was fair or credibly run.
"That would be extremely damaging for the reputation of the sport and the FIA.
"For the sake of the sport, I hope he doesn't walk away at this point."
jack ratborn4 February 2022 08:34
1643904241
F1 set to compromise and run just three sprint races in 2022
Formula 1 owners Liberty Media are set to compromise and run just three F1 Sprint events in 2022.
Sprint races were run for the first time in 2021, as part of the Silverstone, Monza and Interlagos weekends, as part of an effort to increase track time and excitement in the sport. The format meant shifting qualifying to Friday evenings so that a second, shorter race could take place on Saturdays, with a small amount of points given to the drivers who finish on the podium. The final order of the sprint race then set the grid for Sunday's Grand Prix.
F1 had wanted to bump the number of sprint races up to six for the new season, but concerns from teams over the increased costs involved in running their cars more often means that sticking with three is now the most likely option according to Autosport.
Dan Austin3 February 2022 16:04
1643903281
Albon to race under full Thai flag after WADA u-turn
Alex Albon will be able to run under the Thai flag on his return to F1 with Williams after the World Anti-Doping Agency opted to reinstate Thailand.
The nation was sanctioned after being found to have been non-compliant over anti-doping efforts, meaning the Thai flag would not have flown nor would its anthem have been played had Albon made it onto the podium in 2022.
But the u-turn means there are no longer any restrictions on Thai symbols in sporting championships, and dual British-Thai national Albon's arrangement will be the same as it was during his previous stint in F1 with Scuderia Toro Rosso and Red Bull Racing.
Dan Austin3 February 2022 15:48
1643902412
Alpine restructure staff in effort to move up grid order
Alpine are restructuring their technical staff in an effort to move up the Formula 1 grid order, according to CEO Laurent Rossi.
Team principal Marcin Budkowski left the team in January and a replacement has yet to be announced, though ex-Aston Martin boss Otmar Szafnauer has been heavily linked with the position.
Pat Fry is being promoted from technical director to chief technical officer, while Matt Harman fulfills the vacated role.
Rossi said: "We are considerably strengthening Alpine F1 Team by having Pat and Matt at the helm of engineering in Enstone.
"Pat is one of the most experienced engineers in Formula 1, while Matt's drive and expertise will prove critical in extracting the full potential of our race cars, thanks in particular to his unique expertise combining chassis and engine development."
Dan Austin3 February 2022 15:33
1643901325
F1 cars 2022 release dates – full list
The 2022 Formula 1 season is just around the corner with the first race penciled in for 20 March in Bahrain.
It was a quite remarkable conclusion to a year which had it all – excitement, overtaking, drama, controversy and incredible performances.
Now F1 fans are ready to watch it unfold once again and are awaiting the unveiling of the 10 team cars for the 2022 season.
But when will the teams reveal their shiny new equipment for the upcoming season? Here is all you need to know.
jack ratborn3 February 2022 15:15
1643900721
F1 sprint races could be scrapped amid row with teams over money
Formula One sprint races could be axed from the calendar this year amid a row over money.
F1's CEO Stefano Domenicali, and motorsport boss Ross Brawn wanted to double the number of shortened-format rounds – first introduced at last year's British Grand Prix – from three to six in 2022.
But F1 is locked in dispute with a number of the grid's front-running teams, understood to be Mercedes, Red Bull and Ferrari, who want to see the cost cap set this year at 140million US Dollars (£103m) – effectively increased to cover off the additional races.
jack ratborn3 February 2022 15:05
1643899448
New F1 rules likened by Ferrari to MasterChef
Piero Ferrari has liked the new F1 regulations to MasterChef.
Their vice-chairman, 76, who is the son of company founder Enzo, told La Gazzetta dello Sport: "To my friends who ask me to explain what has changed in the rules, I tell them it's like MasterChef.
"They gave us the ingredients and then there is someone who cooks a delicious dish and someone less so.
"The rules have not been changed, they have been rewritten. I read them, but I really struggled to understand them."
jack ratborn3 February 2022 14:44
1643899314
Haas set to unveil livery tomorrow
Haas will become the first team to reveal its 2022 F1 car livery in a digital event tomorrow morning at 11am.
The American-owned team has traditionally revealed a concept livery before fully unveiling its cars at pre-season testing each season since joined the sport in 2016, and looks set to do the same again.
A Russian-flag themed livery was run in 2021 after the team signed Nikita Mazepin and accepted a title sponsorship from his oligarch father's fertiliser company Ural Kali, and a similar design is likely to return again this year.
Dan Austin3 February 2022 14:41
1643898344
Hakkinen: Hamilton will retire when title shot fades
Lewis Hamilton will only retire from Formula One when Mercedes are no longer able to provide him with a winning machine, according to two-time world champion Mika Hakkinen.
Hamilton's immediate future remains clouded in uncertainty following the controversial conclusion to last season's title race.
The 37-year-old has not spoken publicly since the immediate moments after the Abu Dhabi Grand Prix on December 12.
It is understood Hamilton is awaiting the outcome of the FIA's inquiry, launched after race director Michael Masi was accused of bending the rules to allow Max Verstappen to triumph following a late safety car period.
Masi's own position is under intense scrutiny and there is a growing feeling that the Australian will not be in his post for the opening race in Bahrain on March 20. Hamilton's plans could hinge on Masi's future.
Hamilton's Mercedes team will launch their new car – its first of Formula One's new technical era – at Silverstone on February 18 with the opening winter test starting in Barcelona five days later.
The Silver Arrows have won the past eight constructors' championships but their imperious form might not continue in the sport's new era.
And Hakkinen has questioned whether Hamilton will see out his two-year deal, worth almost £40million-per-season, if Mercedes are not at the front.
"Lewis' journey in Formula One has been really long and there are so many elements which will come into his opinion as to whether to continue," said Hakkinen, who won consecutive titles with McLaren in 1998 and 1999.
"Lewis has the confidence. He has been winning, he has been on the top of the podium, and everyone has been looking at him like, 'Wow, you are great'.
"He is thinking that it must continue this way, so this is going to be a very interesting year for him.
"The regulations in Formula One have changed dramatically. It is going to be a completely new machine and the chances are that the designers might not find an optimum machine. If that happens to Lewis it is going to be really hard for him to accept.
"If you have been at the top of the mountain and suddenly you have to climb back up the mountain because you don't have the best car, it is going to be emotional for him to control.
"There are a lot of question marks surrounding Lewis. We don't know whether he is coming back, but let's hope he is."
Lawrence Ostlere3 February 2022 14:25

www.independent.co.uk
George Holan is chief editor at Plainsmen Post and has articles published in many notable publications in the last decade.