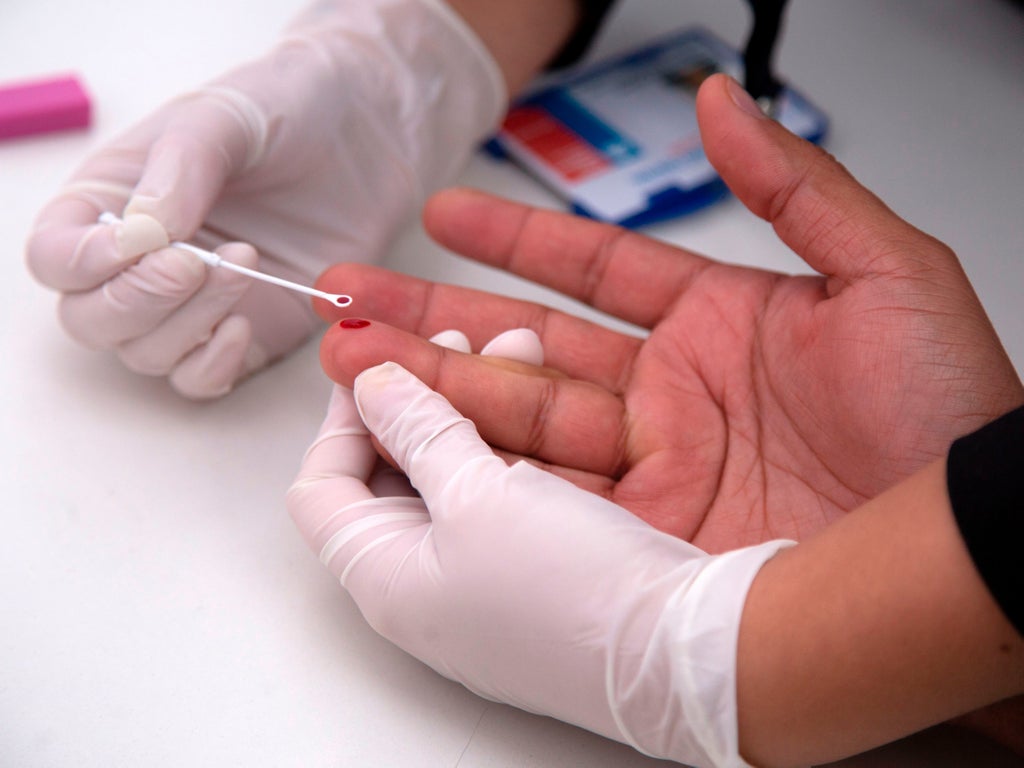 An "exceptionally" virulent variant of HIV has been detected in the Netherlands, where it has been circulating for several years, scientists say.
The variant, believed to have emerged in the late 1990s, has infected 109 people in the country, according to a research paper published in Sciences.
Without treatment, the variant, known as BV, appears capable of accelerating a patient's usual progression to advanced complications related to HIV and AIDS.
This is because it causes a decline in protective T cells twice as fast as other variants, the scientists said.
At the time of their diagnosis, the 109 people with BV were vulnerable to developing AIDS within two to three years, compared with six to seven years for people infected with other variants of HIV, according to the research.
Those infected with BV also developed higher viral loads at a faster rate, suggesting that the variant may be more efficient at transmission than other variants.
However, Professor Jonathan Stoye, a virologist at the Francis Crick Institute, said the variant "doesn't appear to have spread widely or infected more people than we would normally see with other variants".
He added: "There are always trade-offs between the speed of virus replication and transmissibility. It has to be able to replicate at high levels to transmit, but that doesn't necessarily mean it's going to dominate.
"There are no rules or we don't know the rules that will tell us whether a given virus with a given set of properties will actually succeed in the evolution game. Whether it will grow and outperform other variants, we don't know."
People infected with BV were present in all regions of the Netherlands, but with a different distribution relative to people without BV, the newspaper said. VB individuals were more frequent in the south and less common in Amsterdam.
Despite BV's increased virulence, it remains vulnerable to current drugs, the researchers said. After receiving treatment, those infected with BV showed CD4 counts similar to those of people infected with other variants.
CD4 cells, a type of T lymphocyte responsible for protecting the body against opportunistic infections, are attacked by HIV. Antiviral medicine helps prevent the replication of HIV and restore the level of CD4 cells in an infected person, which means that they can no longer transmit the virus and can live a normal life.
"If people with BV had not started treatment earlier than others, lower CD4 counts would have been expected at the start of treatment, which could cause higher morbidity and mortality," the researchers said.
The researchers tested BV samples dating back to a patient who was diagnosed with HIV in 1992. However, it wasn't until 10 years later that the variant started showing up in other people.
Professor Stoye said it was not clear from the research why VB appears to be more efficient at replication than other HIV variants. "I would like to know why all the changes that have occurred in this virus make it grow better, but there is no clue for that question."
There are more than 750 mutations in BV compared to other HIV variants in circulation in the Netherlands, the newspaper said.
Given BV's ability to replicate rapidly in infected people and progress to advanced HIV, the variant is "worrisome," the scientists said.
"Without treatment, advanced HIV is expected to be achieved in just nine months from diagnosis for people with BV, compared to 36 months for people without BV, in men diagnosed at the age of 30 to 39 years. ", they wrote.
"In settings with less awareness and follow-up, where diagnosis often occurs later in infection, the chance of getting to advanced HIV before diagnosis would be even higher."
Professor Stoye said BV "could be more serious" in those countries where there is "less early diagnosis" and limited access to antiviral treatments, pointing to the example of southern Africa. "But I don't think we can predict if it will somehow spread through these kinds of populations."
Referring to coronavirus, Professor Stoye said BV was proof that viruses don't always evolve to become milder. "There has been a general opinion that the coronavirus will get milder and milder, but I don't think that's true.
"Viruses can go up or down in terms of virulence."

www.independent.co.uk
George Holan is chief editor at Plainsmen Post and has articles published in many notable publications in the last decade.