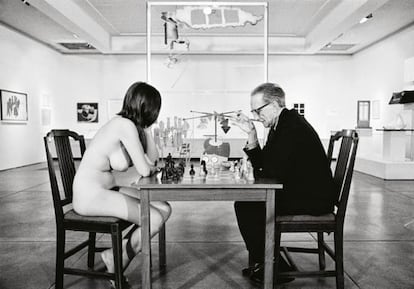 The photograph that accompanies this text shows a 19-year-old woman playing chess with the 76-year-old artist Marcel Duchamp. It was 1963 and a retrospective of the father of surrealism and conceptual art had opened in Pasadena, near Los Angeles, who had retired from the scene almost 40 years earlier to dedicate himself exclusively to chess. Julian Wasser, photographer of Time, suggested that a friend of hers, Eve Babitz, sit down without clothes and play a game in front of the author of the Naked going down a ladder. She said yes, and days later the couple staged a legendary snapshot of the art world.
Eve Babitz died at 78 on Friday at UCLA hospital. His younger sister, Mirandi, has confirmed that the death was due to complications related to Huntington's disease, a disease that affects the nervous system. In the cited photograph, Duchamp was five years away from knowing death, but Babitz was just going to become one of Los Angeles's leading chroniclers during the 1960s and '70s.
That does not mean that it has been unknown before. Babitz grew up in the Hollywood Hills among celebrities on the west coast of the United States and intellectuals in passing. Mae, her mother was an artist, and Sol Babitz, her father, was a violinist for the 20th Century Fox studio orchestra. Igor Stravinsky was her godfather, reasons enough why she hated concerts since she was a child, the author said. His first jobs were designing album covers for Atlantic Records of Buffalo Springfield, The Byrds and Linda Ronstadt. And in his love life he met other names of the same caliber. Among her lovers were Jim Morrison, Harrison Ford, Annie Leibovitz, Ed Ruscha and Steve Martin, among others.
Babitz made a name for himself by taking on role, with irony and a sense of humor, celebrity encounters and meetings. Success came in 1971 when Joan Didion recommended Rolling Stone publish one of these essays full of hedonism, which were later edited and published in several books that became introductory texts for all newcomers to the inhospitable city. "It's something when someone can make you see beauty where you previously only saw ugliness," writes Babitz. Among them Eve's Hollywood, Slow Days, Fast Company Y Sex and Rage.
In one of the stories of Eve's Hollywood, where he mixes reality with touches of fiction, he describes how he spent hours in a room at the Chateau Marmont, drinking bourbon and eating potatoes, with a wealthy oil heir while Los Angeles faced the Watts riots, in August 1965, when a black man 21-year-old was arrested on suspicion of drunk driving, which started six days of violence. In another, a chronicle about the taquitos in Plaza Olvera, an ancient culinary tradition, argued that sometimes all a girl who feels lonely in town needs is to eat Mexican food with lots of hot sauce. "In eastern Arizona the food is beginning to collapse," he says.
All the culture that goes with you awaits you here.
Subscribe
In 1997, Babitz left a Sunday lunch and got into his VW Beetle. While driving he tried to light a cigarette. The match fell lit on her skirt, which caught on fire, causing third-degree burns to the middle of her body. His legs and feet were saved thanks to some Uggs boots. He rolled onto the grass of a Pasadena hill to extinguish the fire. Not knowing what to do, he returned to the car and drove to his sister's house, who immediately called an ambulance.
The incident put him in financial bankruptcy. Her friends donated work and other objects for an art auction in her honor, but the accident took away her desire to write and withdrew her from public life. Shortly after he went to live in a retirement home and his political positions began to move to the right until he ended up being a Trump sympathizer.
Babitz did not achieve as widespread a fame as Didion, but he did achieve enough fame to achieve a rediscovery nearly 20 years since that tragic cigar incident. This began with a nostalgic profile in Vanity Fair in 2014. Longing for the past, especially for the 1970s, is largely responsible for the return of the author, who saw new interest in her work before she died, especially among millennial readers. His books were republished and the production companies bought rights to adapt his adventures to the screen. Hulu is working on a series about these. All of this brought him an unexpected bonanza as his six books sold four times more than when they originally came out.
This new impulse led her to publish in 2019 a new collection of essays written between 1975 and 1997. She titled them I used to be charming (I used to be lovely), a phrase she said to a nurse at the health center where her wounds were treated. It is also the main essay in his latest collection. "The thing is, this wasn't the first time I'd been naked and embarrassed in Pasadena," she wrote in a wink to her encounter with Deschamps 34 years ago.
Of that morning at the Pasadena County Museum of Art, which Babitz recalled for Esquire in a 1991 text, he said that "of all the things that happen between men and women, that has been the strangest of all in my life. experience. And it got stranger still. There were drivers in the next room moving pictures and they couldn't help but be stunned, "Babitz recalled.

elpais.com
George Holan is chief editor at Plainsmen Post and has articles published in many notable publications in the last decade.