[ad_1]

María Emilia Cardoso has been in Africa a lot but hardly on the Internet. She sits next to Pedro Barbosa, who is showing her on a tablet how she can search for pastry recipes. She is 81 years old and he is 22. Both participate in one of the sessions of i am digital (I am digital), the digital training program for adults designed by the Ministry of Economy and Digital Transition of Portugal, which aims to bring a million Portuguese considered "info-excluded" closer to the virtual world. María Emilia Cardoso, who lives alone in Lisbon and does not have a computer or smartphone, sums up the goal in her own way: "So that people don't die stupid". There are equally important side effects in reverse. "We are going to teach the basics on the internet, but we are also here learning life experiences like María Emilia's," underlines Pedro Barbosa, a graduate in Sports Management, who felt fully identified with the official initiative after having introduced by his counts his own grandfather in the new world.
One of the Lisbon classrooms of the Santa Casa de Misericordia, a charitable organization that manages the lottery and bets, welcomed this Wednesday 14 volunteers like Barbosa, who dedicated themselves to teaching basic operations (writing an email, creating a profile on a social network, do searches, read newspapers…) to 14 other people like María Emilia Cardoso. Almost all the students were retirees living alone or with other elders. In Lisbon, according to a study by the organization, there are some 35,000 residents over the age of 65 in these circumstances. In a pandemic, few were able to circumvent the forced physical isolation with escapades towards the digital because they lacked the knowledge to do so. "If they are not trained, they are further away from the world," says Edmundo Martinho, president of the Santa Casa de Misericordia in Lisbon.
Before the Great Seclusion, there were around 2.3 million people (23% of the population) in Portugal who had never surfed the net. "We were in 19th place in the European Union," explains André de Aragão Azevedo, Secretary of State for the Digital Transition. The pandemic accelerated the migration of people and companies to the virtual: today only 16% of the population lives outside the Internet, but it is still far from the objectives set by the program, which aims to train a million people before end of 2023. To do so they need to have 30,000 volunteers, who will be in charge of exercising the beneficiaries in individual sessions. "It's very important personalize training and adapt it to each of the people to be trained, that is why it is done one by one. And it also has a very interesting component of intergenerational solidarity, with older students and younger teachers," says Aragão.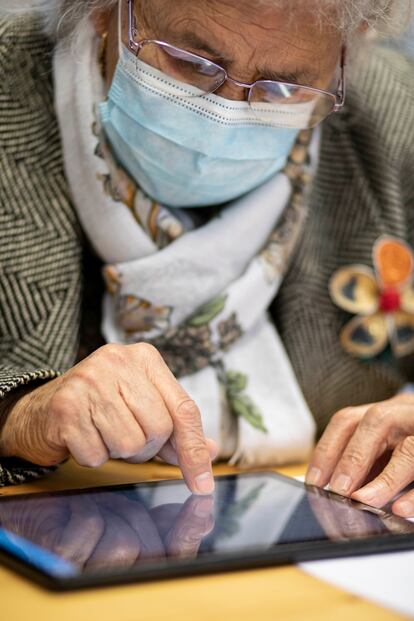 48% of the students are over 65 years old, while 43% of the volunteers are under 35. Two examples are Mariana Almeida, 22, and Mariana Sosa, 25. The first studies Social Education and the second works as a social worker with the elderly. Get to know first-hand the doors that training can open for them, from checking the bus schedule to making a video call. "It prepares them for this digital life and prevents them from becoming outdated," he comments alongside Manoel Veloso, a 77-year-old retired carpenter who has signed up for the course with his wife and who this afternoon learned to write an email and use WhatsApp to communicate with a son residing in Belgium.
This initiative of the Portuguese Government, which has been distinguished by the European Commission as a "good practice", belongs to the Action Plan for the Digital Transition, which aspires to make a technological leap that leaves no one behind. "In our logic we think that this change has to start with people. We started in schools with investment in computers, platforms and teacher training", explains the Secretary of State. In 2019 there were five students per computer. The goal for the end of this year is for each student and each teacher to have their own equipment and a connection kit, which guarantees internet access in those places with access difficulties. Technology can be double-edged: it widens and shortens the gap between territories and generations. "We want our plan to be a very strong instrument of territorial cohesion," says Aragão.
Join EL PAÍS to follow all the news and read without limits.
subscribe
The second large block is aimed at the active population. "It is the generation of digital natives, but it is one thing to be able to handle a smartphone and another to have the digital skills that companies demand", observes Aragão. According to business organizations, specific training is designed for some 200,000 people until 2024. And there is also a minority program of intensive and highly specialized technological training, conceived as a direct bridge between the university and the company, which integrated 500 people last year in the labor market and that this exercise intends to double the figure. The final philosophy of the entire Portuguese strategy is to change the country's economic model: abandon the old economy of low wages and low-skilled workers for another of value-added productions and better wages.
Follow all the international information in Facebook Y Twitter, often our weekly newsletter.
Exclusive content for subscribers
read without limits


[ad_2]
elpais.com
George Holan is chief editor at Plainsmen Post and has articles published in many notable publications in the last decade.