Spaces for dialogue on the complex relationships between facts, ideas, symbols, arguments, texts, logics and technological means are scarce. There are many signs that we find of social behaviors of polarization, wanting to be part of segregated groups with particular visions of the world, supported by their own explanations and without any intention of being contrasted.
The Internet stores a wide range of ideas and concepts, processed according to certain algorithms, which filter the information offering the one that is most in line with our browsing data. "The same term entered by two different people in a search engine does not yield the same quantity, nor the same results for one and the other, but rather it will adapt them based on what it knows about each one, personal tastes, beliefs, ideological orientation…", explains Eli Pariser, co-founder of the platform Avaaz.org.
The same term entered by two people in a search engine does not return the same results for both. It adapts to the tastes, beliefs, ideological orientation of each
We know that facts by themselves do not arouse enough curiosity and, on the other hand, that news needs to be "sold", to be consumed, competing with entertainment messages and fake news. Hence, the concern is more to present attractive content than verifiable content.
We inhabit an environment ripe for fake news. The confirmation bias and our participation in bubble social networks facilitate the consumption of hoaxes.
All of the above continues to be a brake on the best and most ethical human development and an obstacle to the work of educational institutions. Schools dignify themselves by promoting inquisitive attitudes and ways of learning, committed to the ethics of truth. As Professor William Ayers affirms, only "the moral and ethical is what gives meaning and life to schools and classrooms, from Monday to Friday, from morning to night".
Research works, such as that of Joseph Kahne and Benjamin Bowyer, highlight the power of education in this field: "Young people (15 to 27 years old) who have had a good training in media literacy are considerably more likely to to qualify as true publications based on evidence than, to qualify as such, publications that contain erroneous information; even when both are in tune with their political positions". The study Evaluating Information: The Cornerstone of Civic Online Reasoning, by the Stanford History Education Group, insists on this potential: "We have never had so much information at our fingertips. Whether this generosity will make us smarter and better informed or more ignorant and narrow-minded will depend on our awareness of the problem and our education."
This conviction is what leads, in the 2020/21 academic year, the José Manuel Blecua Public Secondary Education Institute in Zaragoza to work in the classrooms of the third year of Compulsory Secondary Education (ESO) and the second year of the Learning and Performance Improvement Program (PMAR) a media and informational education project, which they call Eraser Made in Blecua. An initiative led by Professor Ana Beatriz Moliné, whose general lines we already reported in the previous post.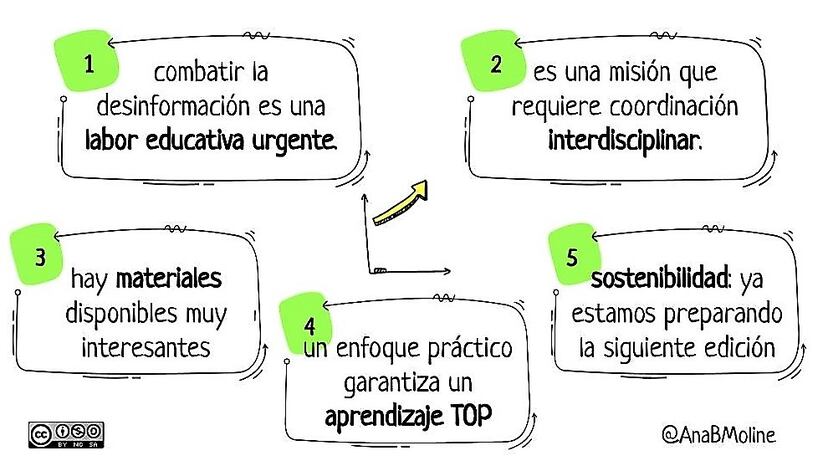 The 'Made in Blecua' booklets
The project Eraser Made in Blecua is based on a website and uses a training platform and material ad hoc, made by the Drug Addiction Help Foundation (FAD). It is complemented by some workbooks prepared by Ana Isabel Aguilera and Ana Beatriz Moliné, professors at the José Manuel Blecua Secondary School.
It contemplates six phases (Call, Training, Analysis-Investigation, Reflection and collective debate, Creation Y Evaluation) and covers four training modules. From the project website you can access the complete development and support and expansion material.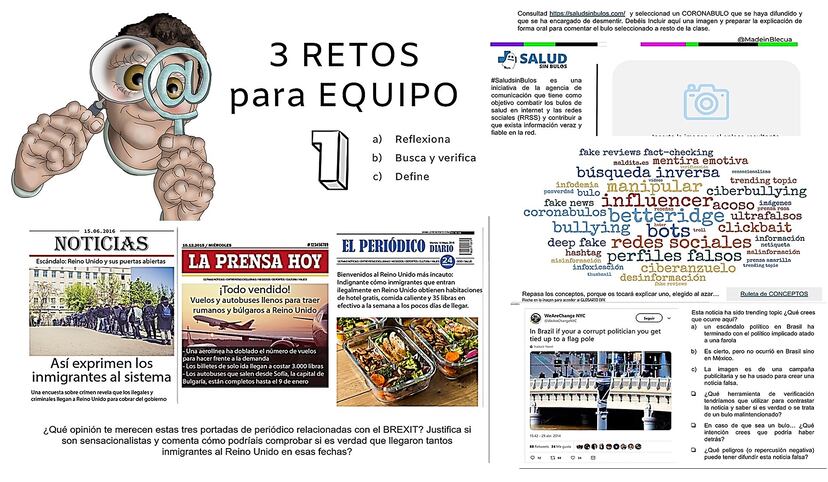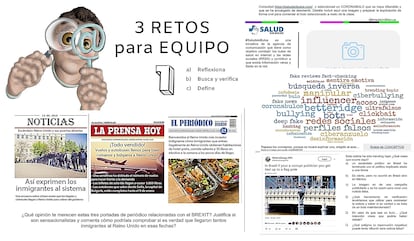 Most students were surprised to learn that you could do a reverse image search on Google and instantly detect when they were first published, or tools like TinEye to find out if a photo has been manipulated or used out of context.
"Is there really a buloteca?". yesThey were enthusiastic about solidarity associations such as Maldita.es. They especially liked the hoax finder and the toolbox. They found them very useful not only for their day to day; they gave them the opportunity to contribute to a better society. And they reached out to other fact-checking platforms as well (fact checking), such as Newtral.es, Verifica.cat, verifica.efe or VerificaRTVE.
All of this provided a basis for collective discussion of the interests that may have led a broadcaster to distort and disseminate certain images and messages.
In subsequent modules, news identification tasks are proposed. Clickhunter (Cyberbait strategies, designed solely to increase and direct traffic to certain websites). They analyze their headlines, detecting the use of imperatives, if they tell the outcome of the news and challenge the reader to verify its veracity, if they make use of incoherence or use an image that has nothing to do with the content, if they intend to create a certain suspense …
From this moment, they begin to become aware of the need to build a sequence of critical thinking (stopping to reflect, investigating whether the source is a reliable source, collecting and evaluating evidence). At the end of the process, a sensitive issue emerged: "Do we believe fake news more easily when they are carried out by unpopular groups, appeal to elemental instincts or deal with burning issues such as covid…?"
In a more advanced module they are asked to be the ones to generate the information. "Imagine that you are the Community Manager of the Student Association of your neighborhood and you have the mission of creating an Instagram or Twitter profile". They are also invited to go one step further. "Manage the information that is disseminated on your website, on your YouTube channel and on the Twitter and Instagram account. It produces a type of information adjusted to each format: a photo on Instagram, the cataloging and description of a YouTube channel and content, an article on the web or in a blog". They place themselves in the shoes of a news editor. They know how to verify information, now they have to learn to generate it responsibly.
The entire project unfolds as a sequence of investigation and analysis of real news, through a proposal in which each student assumes a fictional role, putting into play critical and active verification behaviors and attitudes. It is exciting for a teacher to see how this process changes the attitude of students towards the information they handle on the networks.

elpais.com
George Holan is chief editor at Plainsmen Post and has articles published in many notable publications in the last decade.