Juan Manuel de Prada (Barakaldo, 51 years old) and Elizabeth Duval (Alcalá de Henares, 22) are united by their love of literature, and both are currently studying at university in Philology. For almost everything else, they are — apparently — incompatible characters. De Prada, corpulent, sidelines, feels lost in the capital and is a columnist in conservative media. Duval, petite, with a nose ring, lives in Paris and writes for the left-wing press. He will sit down on Christmas Eve with his parents and brothers to eat lamb and nougat, lit by the tree and the nativity scene. She will celebrate that night with her partner and her two cats in an undecorated Parisian flat. They will not be recreated in typical meals: "If anything, oysters or scallops in a French snack", he laughs. In this Christmas meeting at the end of November, between two cans of beer and some chips in the Mercado de la Paz, Duval —trans— and De Prada —catholic and contrary to gender theory— talk about politics and literature. But far from a heated debate, a colloquium of understanding arises between them.
What moment of this year would you highlight in Spanish politics?
Duval. Leaving the confinements was a relief. Luckily for a moment, this is over.
De Prada. I am concerned about the stigmatization of the unvaccinated. That they talk about passports or that Health does not pay for their illness, seems to me to be fascist debates.
Duval. It should be encouraged that the largest possible population is vaccinated for public health. But do not speak of the unvaccinated as if they were monsters. They may have their reasons for not doing it and you have to try to hold those people accountable.
De Prada. It happens with ideological anger. There are many people who think that Spain can build without those of Vox, Podemos or Catholics.
Duval. From Podemos, sometimes when they talk about the republic, they say: "And how do we then do so that it does not become a republic of the rights?"
De Prada. That is unfeasible, it is a dissociation.
Are we living a dictatorship of political correctness?
Duval. That people give their opinion in a slightly tacky way does not impose any tough government on opinion.
De Prada. What has made our time different is that the media have become the new clergy. There are people with prejudices about vaccines, but the media prevents the debate because they tend to establish very clear categories.
Duval. Together with social networks they are building a kind of Manichaeism.
De Prada. In which either you totally accept what Pfizer tells you or you're a flat-earthing moron.
Duval. Especially social networks, where a debate is reduced to 30-second cuts in which people give the best punch to the other. The media acquire a role as spaces for the sentence, not for reflection.
De Prada. If Liz and I lived a century ago, people wouldn't have the notion of us that they have today. The media turns you into a caricature. You stop being you and are simply the trans girl or the Catholic boy.
Duval. Pasolini outlines in the Lutheran letters an absolute rejection of the notion of tolerance, which hides the inability to see in the other something more than their difference. It is a hypocritical notion that the progressive media mainly sin.
De Prada.It is also tempting. Signifying yourself for something, while caricaturing you, can give you more relief.
Duval. It is a double-edged sword.
Is this political polarization reflected in the literature?
De Prada. It is inevitable, but today, the reader demands more of the writer to speak.
Duval. It demands that their work be an exact reflection of what they conceive to be their ideology. Not that it defends the text, but the alleged arguments in it.
De Prada. The writer has had to come down from the hill to give his readers a voice and his has been mediated by the ideological discourse demanded by those readers.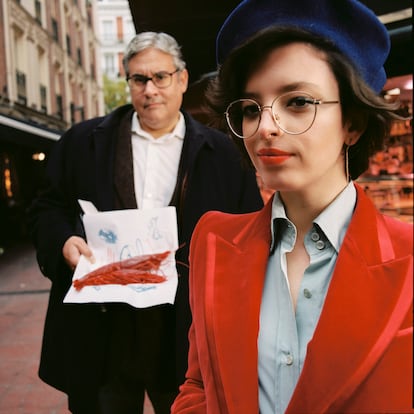 Does a culture of leisure prevail to the detriment of a "great literature"?
Duval. It is not that mass-pleasing serialized literature did not exist at the time, but rather that mass culture has increased exponentially. It is normal because of the socioeconomic system in which we live. It may not produce any access to beauty or make anyone smarter. But it is the product of a society that has become so democratized that it works like this.
De Prada. It worries me. There has always been that distinction between high culture and low culture. But the so-called popular culture were genuinely popular expressions, like romances …
Duval. Or the troubadours …
De Prada. It emerged from the village. On the other hand, the so-called mass culture is not genuinely popular. It takes advantage of the cultural limitations of the people to slide an established discourse from other areas. The publishing house that published In Search of Lost Time was one of the great French. Today, Proust probably could not publish that novel in the Planeta publishing house.
Duval. Perhaps I would try a smaller label … Although there is also the phenomenon of large publishers that buy small publishers and distort their catalog.
De Prada. They destroy them. There are writers who 25 years ago were considered very entertaining, but nobody considered them important. These categories have been completely blurred.
Duval. The other day, in a talk, a woman came up to me and said: "oh, are you a writer? what gender?". I didn't know what to say to him. His expected response was: horror, romantic, science fiction …. This categorization is very absurd and was not present before. I could not answer that literary fiction because it would have looked at me as …
De Prada. It is that the writer is a writer.
Despite your antagonistic view on gender theories, you agree on many things …
De Prada. Our societies are not homogeneous. We have to live with people with opposite ideas. Here it has been shown that we share a lot. It is the wonder of the human being. A French Dominican said that the Church is uncompromising in principle because it believes and compromises in practice because it loves. Surely Liz and I are not going to agree on this issue but we are going to be able to love each other in the sense that there are many other issues on which we not only agree but also have common passions: literature, philosophy … And we can establish an environment of coexistence.
Duval. It seems to me a very nice argument.
At the end of the meeting, De Prada asked Duval for his novel After the trans. She made a note of his mailing address. We want to think that this gift will arrive on the 24th shortly before De Prada starts singing Christmas carols.
Credits
Makeup and hairdressing Ricardo Calero for Salón 44, Chanel Shu Uemura Art of Hair and Helena Liébanas @COOL for Bioderma and GHD
Photography assistants Pablo Leono and Juan José Martínez
Thanks La Paz Market: Calle de Ayala, 28B, 28001 Madrid. Telephone 914 35 07 43 (mercadodelapaz.com)
Sign in to continue reading
Just by having an account you can read this article, it's free
Thanks for reading EL PAÍS

elpais.com
George Holan is chief editor at Plainsmen Post and has articles published in many notable publications in the last decade.