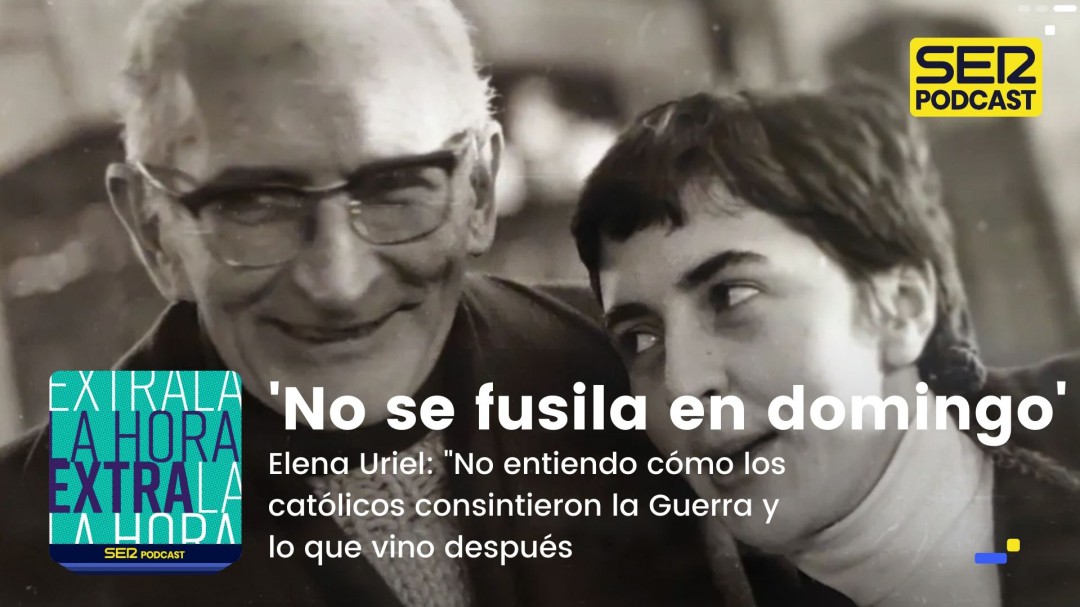 There are millions of protagonists of the Spanish Civil War, a few acquaintances, too many anonymous and behind each one a story to tell, for sure. Pablo Uriel, a young man who was caught recently graduated in medicine by the coup, wanted to write his own, that of many around him, in the middle of the war.
It is not shot on Sunday It is how his daughter, Elena Uriel, has titled her father's story, that amount of typewritten sheets of family documents that she has been able to collect. Edited by Off route, the book testifies to a landscape still unknown to many, where the sides are less at odds than they might have us believe, and where the two Spains are confused. A story to which Elena Uriel contributes her own illustrations.
This work tells an important part of the recent history of our country through the eyes of one of the millions of Spaniards who suffered the war, your father. When and how did you begin to know that story?
I didn't know my father's story directly until I was 14 or 15 years old. Until then I did not even know that there had been a civil war. When I was 14, one day, my father told me "read this to see what you think." Lots of typescript. While I was reading them, I thought: it cannot be, my father, a man who I have always said had neither past nor future, that he was asexual. It had no history. When I read what he had experienced, I could not believe it, frankly. What interested me at first was the story of my father, I did not see the historical significance of the Civil War that, later, when I grew up, I understood.
So in your house, as in that of so many Spaniards, there was silence around the Civil War.
An absolute silence. It is now, now that I reflect a lot, in recent years. There was total silence and I think it was to preserve our safety. Because I am convinced that my father, if he had told that my uncle Antonio had been killed, in the institute where I was studying could have said so. In front of the photo of Franco that we had in class, where we sang Face to sun. They could have said that my father claimed that Franco was a murderer, that he had killed his brother.
And, on the other hand, it gave me the feeling that my father's soul was a little dead. He was an affable person, but with a very tired soul.
When did your father start typing his story?
This book is the work of years of looking at her letters, papers that my mother had saved. My father began to write something about his experience in the Civil War in October 36, when he was imprisoned in the Zaragoza prison, at the General Military Academy. When he finished his medical degree, he was given a 36 year medical diary at the faculty, which is very beautiful, full of references from universities in the world where medicine was studied. On a couple of pages of that diary, there are short writings from cell 14.
He began there to say that what he missed most in prison was loneliness, because there were five or six of them in a very small room. There my father began to need to write down what was happening to him. He always had a need to tell. I have known it now, that I have been finding papers.
Why did you decide to call it I don't know shoot on Sunday?
At first it had no title, it was his memoirs, his pages. Then we put My civil warBut when the first publisher became interested in publishing it, they told us that it was not a very book title, that it was more historical. So, starting to look, my father had titled one of the chapters 'It is not shot on Sunday'and I think it very well summed up a feeling my father always had.
My father never understood bad people, because he was a very good person. But, above all, he did not understand how Christian people, in the Spanish case Catholic, Apostolic and Roman, could consent to what happened during the war.
In fact, he was almost more critical of the Church than of the fascist camp.
Yes, he was agnostic, we have never been believers. He did not understand how with those beautiful ideas that Christianity has, because he has them, of empathy, of sharing, of turning the other cheek, of always helping his brother, that all men are the same … that they do not fulfill. They did not fulfill it then and they still do not fulfill it many times today. That abyss caused him a lot of pain.
"My father did not understand how Christians, Catholics, Apostolics and Romans could consent to what happened during the war. The gulf between what Christianity preaches and what it fulfills caused him a lot of pain"
Your father would have wanted to enlist in the Republican side, but it was his turn in the national one. How did that experience convey you?
Well that's one way to sum it up. My father finished his degree in July 36, as a doctor, and all happy he was going to make a substitution at Rincón de Soto, in La Rioja. It lasts 10 or 15 days, because the coup d'etat comes right away. My father is mobilized yes or yes, because he is in Zaragoza. There you were not given a choice in which side you wanted to fight. You were one of the military rebels yes or yes.
Then he becomes a national soldier, we have the role in which they mobilize him, because he was in Zaragoza. They take him to military health, because he was a doctor, and a few days later the military detained him. Once all the young people have been mobilized, the military begins to screen. Who were from the left, who were affiliated with unions … My father was affiliated with the student union, another student of the union.
So all the suspects on the left or because of some personal mania, which happened a lot, they put them in a military prison. So my father works as a military soldier for a few days and then goes to a military prison as a military soldier of the nationals, but in prison.
I don't know if because my aunts moved heaven and earth or because they didn't have any hobby, they didn't shoot him. But in the Military Academy of Zaragoza, according to my father, only 20% of those who entered survive. The rest are killed.
They released my father from prison, but he was still a national soldier and was sent back to the health barracks. There he did not sleep an eye, every time he heard someone approach, he thought they were going to take him away, as they did with his brother Antonio, that they released him and after a few days they came for him and shot him in a pine forest. So my father went to the front, because the front seemed safer than the rear.
Do not shoot on Sunday is a story of war and there are, as in any war, battles, shootings, deaths and injuries. It distills fear in many passages, as is logical, but also, in many others, it gives the feeling of reading someone who managed to be happy in that context, a group of people who knew how to overcome and celebrate.
Yes, we are seeing that now as well. In Spain 300 people die every day, thousands in other countries, and here the great thing is going to the discos. It seems incredible, but, seen objectively, humans are wonderfully stupid and wonderfully wonderful. But stupidity is widespread.
And then there is survival. My father was lucky that he, in a way, fought under the white flag. He was a medic and had something to do in war, if he hadn't gone madder and more desperate still. He had one function and he had no other. Then there were no communications that there are now, my father did not know what was happening. After the war, he spent years reading to understand what had happened in these three years in which he was miraculously surviving.
"The stupidity of the human being is generalized. Now, as in the war, thousands of people die and the great thing is to go to the discos"
Another thing we like about the book is that, as Ian Gibson signed in the foreword, it is far from Manichaeanism. It shows the worst and the best of the human being, greed, envy, but also how they help each other. Not everything was white, not everything was black, there were many grays.
Yes, I am convinced, I hope I never experience it in a war or in this world battle against a virus, that you also see a lot of what you say. There are good people in general, there are more good people than bad. In general, normal people help each other as much as we can if possible. Berlanga also told it, many of the things that my father narrates, Berlanga also captured in The Heifer.
Do you think that the war is already being counted today or is it still missing?
There is still much to tell, especially since during the first 40 years there was only one version, monolithic and overwhelming. There was a lot of fear and nobody spoke. And for the next 40 years, terror, arbitrary and savage, had been so well built that still another 40 years later it has cost. It is dating now.
In the new edition of the book, pick up a letter that your father sent to the WHO asking for a job, in which he already shows a much more critical, darker vision of the Spain that came later. He says "I am not spiteful, I do not indulge in any feeling of revenge, but I always trusted that the lasting triumph of a situation based on so much blood so arbitrarily spilled would not be possible; This trust, shared by so many Spaniards, has been persistently disappointed. The end of the Second World War was an ardently desired occasion, which inexplicably happened with no consequences other than the consolidation of an unjust state of affairs and one more disappointment for the Spanish ". How did he face the future?
With sadness. My father was always a very friendly man, but you could see his sadness. He saw gray. He was a happy person, who did many things, but the war came, he was caught so young and it killed his soul. Then came the gray color and fear. Those of us who have lived under Franco know what it is. We couldn't talk.
My father used to see how in the public institute, where his daughters studied, the Face to sun and went to mass. It made my father sad. He tried to get us out, he tried looking for a translator position in Switzerland, but they didn't give him one because they asked him at the WHO why he wanted to come to work here and he tells the truth. This is the only time he regretted telling the truth.
How the history of your family has marked you
It is a privilege to be able to tell the story of my father, especially so that young people understand it and see that things are not always as they have been told to us. I am meeting some very interesting people 80 years later. This joint work with my father has marked me a lot, but very well. Because I'm an agnostic, I don't think so, but my father is still there and I talk to him a lot.



cadenaser.com