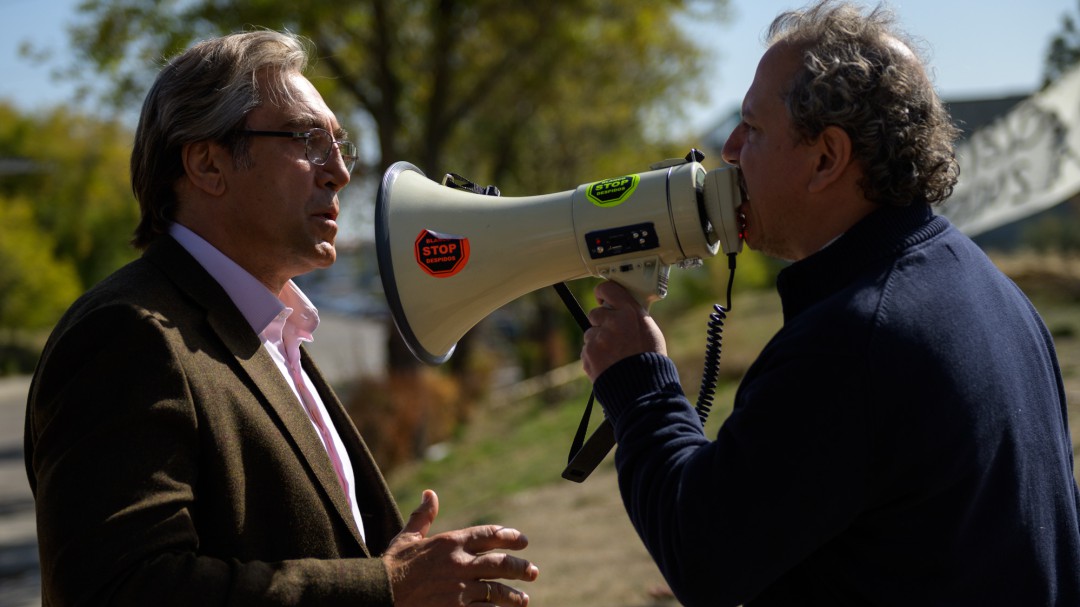 Political commitment has marked the harvest of Spanish cinema this year. The four nominees in the Forqué speak of existing cracks in our society. 'The good boss', the comedy by Fernando León de Aranoa, is an example of this. A portrait of the squalor that emanates from labor relations, toxic bosses and the destruction of the union struggle that Spain has experienced in recent decades. 'The good boss' also shows something perverse, how the capitalist system takes over any rebellious movement.
Javier Bardem He has been the best actor for his role as a brother-in-law businessman in the film León de Aranoa. Nobody like him to portray that specimen that abounds in towns and provinces of Spain, fills it and empties it. What Bardem does is an authentic interpretive barbarity, he modulates his voice, until he approaches a slight stutter. The actor has been one of those absent from the gala since he is with Fernando León promoting the film in the United States, where he will represent Spain at the Oscars.
He has also won two awards'Maixabel', a film by Icíar Bollaín about the wounds of ETA's violence and coexistence. Blanca Portillo She has won the Forqué for best actress for her role as Maixabel Lasa, the widow of Juan Mari Jáuregui, murdered by ETA. "Almudena Grandes used to say that there is no love without admiration, I deeply admire you, therefore I love you. Nothing can give us actors greater happiness than abandoning you to tell a story and I have been able to tell an incredible woman, Maixabel Lasa is an angel ", said the excited actress, who was competing with Penélope Cruz, Marta Nieto and Petra Martínez . Maixabel has also won the prize in values, for his portrayal of the Basque conflict from the perspective of betting on dialogue without rancor.
Surprisingly the best documentary has been for '100 days with the Tata', a documentary in which Miguel Ángel Muñoz records himself and his grandmother and has surpassed great documentaries in these awards such as' Who prevents it ', by Jonás Trueba that won a prize in San Sebastián or' Buñuel, a surrealist filmmaker 'which was, no less than at the Cannes Film Festival. Latin American cinema also revises its own ghosts. The Mexican director Tatiana Huezo does it in 'Noche de fuego', which has won the Forqué for best Latin American film. A fierce look at violence against women in his country, something he insisted on when collecting the award. "To women who suffer violence and to others so that we can live in peace."
For a few editions, producers have also awarded the best series of the year in Spanish fiction, given the unstoppable rise of these productions and the hybridization between television and cinema in our industry. 'Hierro' has won two out of three, the award for best series. The Movistar thriller created by Pepe and Jorge Coira wins the award for a second season shot again on El Hierro. The best actress, Candela Peña, for her portrayal of judge Candela Montes in the series Hierro, which will no longer have more seasons. "It is the first time that I come to the Forqué, only last year because of Rosa and Filomena's wedding, she did not let me come. I think you don't like me very much, "Candela said.
Javier Chamber is crowned as the best actor for 'Venga Juan', the series created by Diego San José in which he plays a politician with half hair, caught in a corruption case. A tender and wild performance that has also given the actor the opportunity to direct several chapters of the series. All in a gala out of tune, wanting to be set in the eighties with musical performances such as those of Alaska, Los Secretos, Gurruchaga or Los Morancos.
Complete list of winners
Best fiction feature film: 'The Good Patron', by Fernando León de Aranoa
Best Male Performance in Film: Javier Bardem for 'The Good Patron'
Best Female Performance in Film: Blanca Portillo for 'Maixabel'
Best documentary feature film: '100 days with Tata'
Cinema in Education and Values ​​Award: 'Maixabel', by Icíar Bollaín
Best fiction series: 'Hierro', by Pepe and Jorge Coira
Best Male Performance in a Series: Javier Cámara in 'Venga Juan'
Best Female Performance in a Series: Candela Peña for 'Hierro'
Best Latin American film: 'Noche de fuego', by Tatiana Huezo
Best Cinematographic Short Film: 'El Monstruo invisibe', by Javier and Guillermo Fesser



cadenaser.com
George Holan is chief editor at Plainsmen Post and has articles published in many notable publications in the last decade.