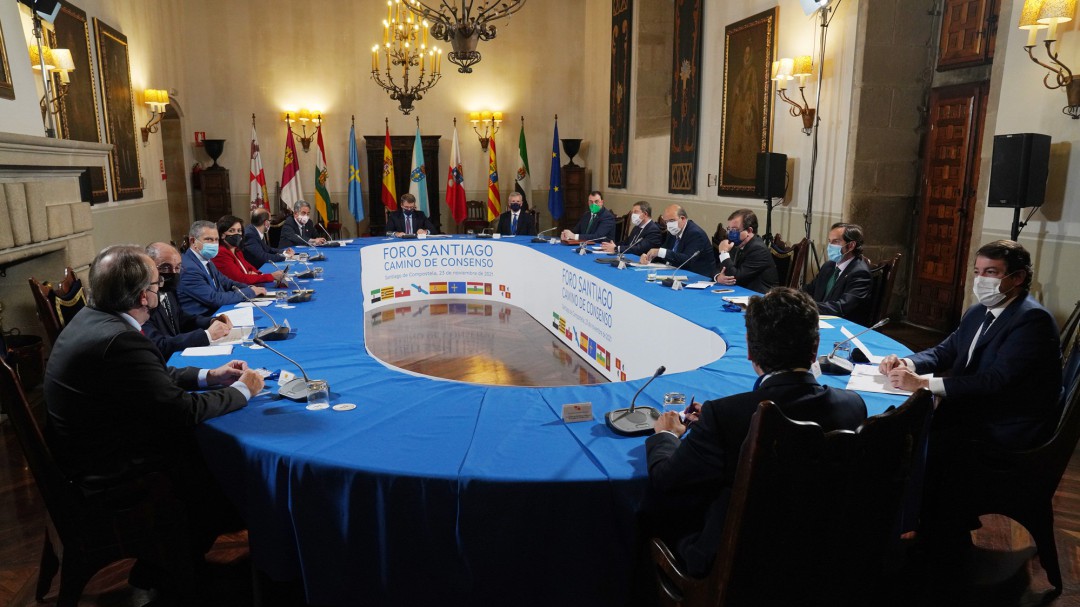 Eight regional presidents of three political formations —PSOE, PP and Regionalist Party of Cantabria— meet this Tuesday in Santiago de Compostela to try to establish a common position on regional financing.
The presidents of Galicia (Alberto Núñez Feijóo); Aragon (Javier Lambán); Castilla y León (Alfonso Fernández Mañueco); Castilla-La Mancha (Emiliano García Page); Extremadura (Guillermo Fernández Vara); La Rioja (Concha Andreu); Cantabria (Miguel Ángel Revilla), and Asturias (Adrián Barbón) were summoned at 10 in the morning at the Hostal de los Reyes Católicos.
They reject privileges
The objective is to ratify an agreement adopted on previous occasions and to reissue the one reached in September 2018 in Zaragoza between Galicia, Asturias, La Rioja, Castilla-La Mancha, Castilla y León and Aragón.
It was already demanded then in the manifesto initialed between all of them that privileges for any autonomy should not be included. In this appointment of Santiago de Compostela, the list of participants increases, with the sum of Cantabria and Extremadura.
Population dispersion
The eight communities to take part agree on the need to prioritize the dispersion of the population in the new regional financing model, which is pending renewal since 2014, when it expired.
The Xunta de Galicia, host of this meeting, defends that the system finances people, and not territories, and calls for transparency and multilateralism, the principle of sufficiency, equity, financial autonomy and joint responsibility.
That is not a front
The socialist autonomies (Castilla La-Mancha, Extremadura, Aragon, La Rioja and Asturias) have insisted on not converting this call into a front, for which they have claimed that the matter does not end up becoming a partisan confrontation. The Government of Alberto Núñez Feijóo has responded, in turn, that the objective is to give visibility to common challenges.
Revilla: "Equity for all Spaniards"
The president of Cantabria, Miguel Ángel Revilla, said this Tuesday upon arrival at the meeting that it is a forum to unite "in defense of the criteria that are above ideology, which are pure common sense."
In this sense, Revilla has pointed out that the defense of the distribution of funds based on the cost of services is the criterion that Europe defends and that it seeks "something as elementary" as equity so that "all Spanish, live where they live", have access to quality healthcare, education, transport and infrastructure.
For this reason, he has insisted on a distribution of funds that prioritizes dispersion since "it is not the same to maintain villages with teachers, doctors and infrastructures" in an area of ​​dispersed and aging population than in a large city where this benefit is "much cheaper ", he has observed.
The example, he said, is that Cantabria spends more money per month on school transport than the Community of Madrid, despite the difference in population.



cadenaser.com