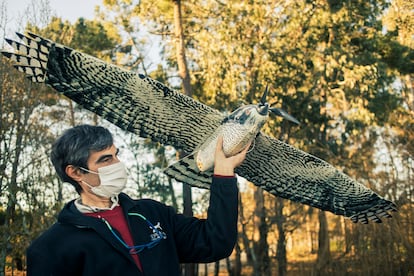 Organized crime is increasingly using high technology to commit their crimes and avoid arrest. The security forces too, but in their case to prevent one thing and make the other easier. The last step in this endless race has been taken by the Central Operative Unit (UCO) of the Civil Guard, which will acquire, for 108,000 euros, two unmanned aerial vehicles, popularly known as drones, with a peculiarity: both will look like bird to facilitate its camouflage, according to the documentation of the public tender initiated in June by the Ministry of the Interior and which has been recently resolved.
The company that will manufacture them, Aeromedia UAV, based in Oleiros (A Coruña), employs between 22 and 30 people. It was created in 2012 when "there was no legislation" to regulate the use of unmanned aircraft, its director, Aquilino Abeal, explains to EL PAÍS. The company has extensive experience in building drones for emergencies and also in robotic falconry, that is, in designing bird-like devices to scare away birds at airports or port fish warehouses. Aeromedia UAV has manufactured goshawk-shaped models to protect fish farms in Ecuador or scare away starlings from agricultural plantations in Extremadura.
The specifications of the contest called by the Interior do not specify what species of bird the two drones for the Civil Guard should resemble. Of course, the aircraft will measure a maximum of one meter in length and the wingspan will not exceed two meters. They will include two smart video surveillance cameras that allow car license plates to be recognized from at least 180 meters; people at 280 meters and light vehicles at 680 meters. A thermographic camera will make it easier to capture the human presence both day and night thanks to the contrast between ambient and body temperature. These images will be sent instantly to the agent controlling the drone from the ground.
In addition, these aircraft can be directed at a distance of up to 10 kilometers, they will reach a speed of 80 kilometers per hour and their electric motors will be silent to "operate near the targets without being recognized." The drones, with a maximum weight of 3.5 kilos, must have sufficient "robustness" to withstand bad weather and possible impacts, so they will be made of Kevlar (a light and highly resistant material with which they are made, for example, bulletproof vests) or other "superior".
They must also have a minimum flight range of 50 minutes and "the ability to take off and land on any type of terrain." Civil Guard sources point out that they will be used where traditional surveillance methods cannot be used, such as espionage of a meeting between suspects on a private estate that cannot be accessed by land.
What affects the most is what happens closest. To not miss anything, subscribe.
subscribe
In the last decade, all security forces, including local police, have used drones for various tasks. Aeromedia UAV has recently won another public tender, for 80,000 euros, to supply nine devices to the Customs Surveillance Service (SVA) of the Tax Agency and train officials in their handling.
Until now, Customs Surveillance had 17 of these unmanned aircraft, which it has been using since 2018. Sources from the Tax Agency point out that they are used "in operations to combat smuggling in general" and, in particular, "against drug trafficking and, very especially, the detection of marijuana plantations, given the exponential proliferation of these places that generate important sources of heat, which allows detection by thermal cameras that are integrated into the devices".
The last nine drones will go to Galicia, whose coasts and estuaries, very broken, make them especially useful to support the Customs Surveillance aeronaval means. Sources from this organization admit that the images they are obtaining with the drones have not yet been provided to the judges. "More than a means of proof, they are being used for police investigation, in follow-up and surveillance proceedings," they clarify.
But not everything is crime fighting. Aeromedia UAV collaborates with the Galician emergency agency of the Xunta and the firefighting services. César Ortega, the company's emergency manager, explains that the devices perform tasks that prevent agents from taking risks. Their cameras sometimes reach where the human eye cannot reach and allow them to continue tracking at night when aerial means cannot fly.
Ortega recalls the nightly rescue of a missing elderly woman in a rural area of ​​Galicia who was found thanks to the thermographic camera of one of her drones. The woman had fallen while taking a walk and remained hidden in the brambles just 15 meters from a path that search teams had passed several times. She was curled up and numb with cold. She couldn't speak, but she raised her hand when she heard the buzzing of the device and it located her by registering the contrast between the ambient temperature and that part of her body that had just been uncovered.
"In fires, the thermal camera sees through the smoke and gives the firefighting personnel a lot of information about the perimeter of the fire or the location of threatened cores," explains Ortega. For maritime rescue, the drones have a built-in public address system and floats. In Angola, the Galician company has carried out topography work in a jungle area plagued by anti-personnel mines.
The application of drones has been expanding since Aeromedia UAV was born. At first, their contracts were almost all with the audiovisual sector. Their aircraft, which will now be used by the Civil Guard and Customs Surveillance, previously flew over the heads of drug traffickers during the filming of television series such as farina or live without permission. Now they will do it on those of real criminals.
Exclusive content for subscribers
read without limits

elpais.com
George Holan is chief editor at Plainsmen Post and has articles published in many notable publications in the last decade.