On a plain that makes its way in the middle of an immense sea of ​​olive trees, in the region with the highest oil production in the world, the ATLAS center (Air Traffic Laboratory for Advanced unmanned Systems), in the Herrera area, in Villacarrillo (Jaén ), is already preparing to carry out the first experimental flights with pilotless air taxis, an area that is considered one of the most projected in the world within the international aerospace industry. There is only a lack of regulation and unification of European regulations, but the intention is that in 2022 air taxis will fly the skies of Andalusia, as they have already done in China.
The Herrera place is a privileged environment for having an airspace whose location, weather and orography are ideal for the development of experimental flights with airplanes and unmanned aircraft. The more than 3,000 hours of sunshine a year or the lack of rainfall have ceased to be an eminently tourist attraction for Andalusia. Its climatic conditions make this territory a strategic place to test and test with all kinds of drones: from the smallest to the large machines that in the future will transport goods and passengers through the air, clearing the roads. The community, where the aerospace sector has built solid foundations, has known how to take advantage of these circumstances to position itself as an outpost in Spain of the high-tech drone industry, second only to Madrid.
An example of this impulse is the start-up on December 1 of the adaptation works of El Arenosillo, in Moguer (Huelva) for the construction of the CEUS project, the Center for Research and Testing of Unmanned Aerial Systems. When it comes into operation in the first half of 2023, its landing and take-off runways and hangars will become a pioneering facility in Europe for experimentation with large drones. "In Andalusia there was an aerospace breeding ground with leading researchers and companies. The weather and the low density of flights are winners. What was needed is for everything to happen ", points out Antonio Gómez-Guillamón, president of the Andalucía Aerospace cluster and CEO of AERTEC, a company specialized in the aeronautical industry, aerospace and defense systems and airports.
CEUS, a project promoted by the National Institute of Aerospace Technology (INTA), dependent on the Ministry of Defense, with support from the Center for Industrial Technological Development (Cedeti) and the Ministry of Economic Transformation of the Junta de Andalucía, will allow testing flight and validation of autonomous flight systems. "It is a scientific-technical infrastructure unique in Europe due to its accessibility and exceptional characteristics," says Pablo Cortés, Secretary General for Business, Innovation and Entrepreneurship of the Board. International companies and States will be able to go to the CEUS to test their machines, assemble them, to have them certified and it will also serve to train the pilots. "They are ambitious projects with a high technological cost," says Cortes. "Its location with access to the sea and the low rainfall allows many types of flights to be made and to fly the necessary hours", he abounds.
Taxis over the olive trees
What CEUS will be for large drones – keys in the immediate future for the transport of large goods and passengers – is now a reality at the Center for Experimental Flights with Unmanned Aircraft-ATLAS. "It is not science fiction, it is going to be a real revolution in a sector that has great growth expectations," predicts Francisco Alarcón Romero, head of this center, which opened in 2014 and is a pioneer in Europe with facilities created specifically for its use as a research and validation center for this type of aircraft.
Urban air mobility is one of the great challenges of cities, which are facing a paradigm shift in the transport of goods and people. "Going towards more sustainable and intelligent cities, guaranteeing in turn the safe integration of all types of operations with highly autonomous drones (aerial robots) in urban environments through the use of advanced U-space / UTM services, is our main objective", Alarcón indicates, about the H2020 project of the European Union that has just been launched, and of which the Advanced Center for Aerospace Technologies (CATEC) and the ATLAS Experimental Flight Center are part.
The project will last two years, is led by the Everis company and involves 17 companies and institutions from Europe and the United States. Its facilities have a reserve of segregated airspace with an approximate extension of more than 1,000 square kilometers, which makes it an ideal center for carrying out R&D activities and flight tests with this type of aircraft and platforms. The runway is 600 meters long, although it will be extended to 1,500 meters thanks to the agreement reached with the City Council of the neighboring town of Beas de Segura that will allow the use of the Cornicabral aerodrome for experimentation and testing of aerial platforms. unmanned or drones.
Pole of attraction for other industries
"The ATLAS and CEUS centers are two unique infrastructures equipped with high technology and for Andalusia Aerospace they are an opportunity due to all that it can generate as they are strategic projects for the Andalusian and Spanish aerospace sectors", indicates Gómez-Gillamón. For the aerospace community and industry, it is also a way to diversify their activity that is too focused on supporting Airbus. "These centers put us at the technological forefront of Europe and can also determine the arrival of other programs of a military nature such as FCAS and Eurodron," he points out.
Gómez-Guillamón knows what he is talking about. AERTEC manufactures the most important fixed-wing drones in Spain with applications for defense through the Tarsis system that has been developed according to the requests and needs of the Ministry. Its technology is cutting-edge both in military matters, as well as in surveillance and security operations. For the company, having the CEUS tracks for trials and tests will mean, as its CEO says, "giving us a differential value because we can incorporate new models and capabilities".
Beyond air taxis, the ATLAS center develops campaigns with civil and military clients that can play an important role in the validation of new technologies and applications with UAS / RPAS, such as the management of natural disasters, fires and accidents. environmental, land or maritime traffic surveillance, communications, meteorology, environmental protection, support to agriculture and forestry applications, aerial photography, cinematography, cartography, and applications in defense, security and civil protection. Similarly, drills have been carried out that have allowed the 5G network to be successfully tested in the rescue of people using unmanned aerial vehicles.
Research leadership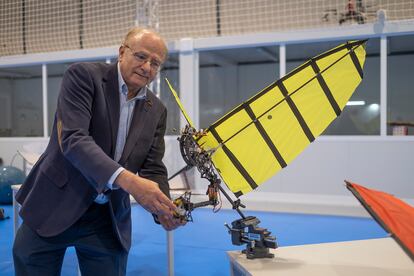 These infrastructures are the scaffolding that underpins the Andalusian aeronautical industry, but in the push of the unmanned aerial vehicle sector, the research groups that have been consolidated around the figure of Aníbal Ollero at the University of Seville have been the main promoter . Ollero is an eminence in the world of drones. This Sevillian robotics professor has spent 20 years developing initiatives and generating essential knowledge for the application of this technology to areas related to urban mobility, rescue, supervision and security of large infrastructures …
Ollero was one of the promoters of CATEC, an international reference in drones that has been decisive in promoting the ATLAS project or other recent initiatives such as the UAVs Innovation Center and Air Mobility, also promoted by the University of Seville. There, Ollero has a team of 80 researchers who work on 13 European projects and 12 contracts with companies. "Right now I am working on two large projects, the Aerial Core, which brings together 15 universities and research centers from nine European countries and in which we develop aerial robotics to carry out manipulation techniques, supervision or work at height without the intervention of people. , and the GRIFFIN project, in which we developed a new generation of bio-inspired drones ", says Ollero.
The design of these new drones that Ollero and his team are working on is inspired by birds – hence its name, which evokes the mythical Grifo. "They are safer because they do not have propellers and they use air currents so they use less energy and are more efficient and fly greater distances. This will allow them to be able to make maps of the environment, they will be able to perch on people's arms or bodies, interact with them, operate in places where current drones do not work, making measurements of vital parameters … ", says the researcher. "There are technological challenges that have been resolved over the years, but we have a long way to go in fields such as logistics, freight and passenger transport, maintenance of industries and infrastructures …", reflects Ollero.
Meanwhile, within the TRACE project of the European Union Agency for the European Union Space Program, test flights of the positioning and identification system for drones have been carried out in the province of Jaén thanks to a beacon smart embarked. The chosen locations have been Linares for the test in an urban setting and the ATLAS Experimental Center for the aerodrome tests. The TRACE project will improve drone positioning accuracy thanks to EGNOS (European Geostationary Navigation Service), optimizing its remote identification capacity. It is based on the development of an intelligent beacon, which will allow the remote identification of drones flying at very low altitudes.
"International projections on the drone market speak of billions of euros and we have to see how we land those forecasts," underlines Cortés. Andalusia is the only community that has an Aerospace Strategy for the period 2021-2027, in which, in addition to the Junta, Andalusia Aerospace has intervened. According to the data included in this planning, the drone market is valued at more than 20,000 million dollars, and it is expected that by 2025 it will increase to 54,000 million euros. The European Commission estimates that in two decades this sector will employ more than 100,000 people. "To take advantage of all these infrastructures it is necessary to accompany it with a public program that includes innovative public procurement and for that we have the strategy," says Gómez-Guillamón.
You can follow EL PAÍS TECNOLOGÍA at Facebook and Twitter or sign up here to receive our newsletter semanal.



elpais.com