In Freixenet's first big Christmas commercial, shot in 1977, Liza Minnelli sang the theme song for Cabaret (1972), the film that a few years earlier had given him the only Oscar of his career. The American actress associated the brand with the glamor of Hollywood musicals while recommending Carta Nevada, one of her star products, in clumsy Spanish. In 1981, it was none other than Gene Kelly who promoted sparkling gold made in Spain recalling its Singing under the rain (1952) with a Freixenet bubble on each arm.
https://www.youtube.com/watch?v=IOUtigaSP4k
As of 2018, the company stopped feeding the list of celebrities who starred in its Christmas advertising. For three decades there were personalities such as Rachel Welch, Paul Newman, Shirley MacLaine, Sharon Stone, Kim Bassinger and Meg Ryan, as well as Spanish talent such as Tamara Rojo, Inés Sastre, Nacho Duato and Antonio Banderas. Gabriela Rivieccio, its marketing director, explains the drastic change in its advertising actions, which now show family gatherings and parties with friends. "With all the social changes that have occurred in recent years, we consider that we should treat the consumer as the protagonist instead of as a spectator and land the aspirational component of our ads on values ​​related to more personal aspects," he says by phone.
In its 2020 and 2021 proposals, Freixenet's micro-stories do not even refer to winter. They could be broadcast in June without being shocking to the audience. It is their attempt to "seasonally adjust" a product that accumulates in the Christmas period around 40% of its sales for the entire year. In fact, the group now dedicates part of its advertising investment to campaigns in spring and summer, publicizing other items in its range. He also thinks more of the internet than of the broadcast of the chimes. "For decades, we have educated the consumer that our cava is only consumed at a certain time of the year. We have pigeonholed our own product. Now we are interested in someone asking for a glass of Freixenet also at the bar of a bar ", says Rivieccio.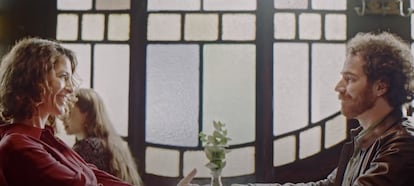 Another brand of alcohol, Ruavieja, opted to be one of the Christmas advertisements, being practically unknown. It did so by pointing directly at the virtual world. He had his great success in 2018, when he created an ad accompanied by a web page. In the video, he brought together pairs of friends and family who saw each other less than they wanted, while on the internet he offered a calculator so that users would know how much time they had left to enjoy with their friends and family.
The pandemic reality of recent months has forced them to change their now famous slogan "We have to see each other more" for a "We have to see each other better." But it was not just a matter of adapting to the circumstances, says María López-Chichari, managing partner of the Sioux & Cyranos agency, which is in charge of this campaign for the first time. "After achieving so much impact in previous years, now we want to associate the brand with quality. Not only is it worth making people remember the ad, but also what it tells about the product, "he explains by phone.
Wit instead of checkbook
López-Chichari considers that before, with the hegemony of the television medium, it was easy for the most powerful brands to stand out at Christmas, because it was something that was achieved based on a checkbook. "If you bought the last minute of broadcast before the chimes, you had it done. The almond tree, Freixenet and Chanel were in our memory based on buying the best passes and not so much because they told us things that interested us. And, of course, to show off in that minute, you had to put on your best clothes. Today that hegemony is achieved with talent and ingenuity and knowing that opinions about your proposal appear immediately on social networks ", analyzes the publicist.
Proof that millionaire audiences can be reached in an alternative way to television is Campofrío's bet this season. It is a short film of just over three minutes directed by Icíar Bollaín. The video accumulates more than 1.3 million views in its first five days of publication on the company's official Twitter account and another 2.2 million from YouTube.
Karra Elejalde, Candela Peña and Belén Cuesta, among others, encourage living without fear in a story that maintains the same keys since 2011, designed by Mónica Moro and Raquel Martínez, first from the McCann agency and now independently. Those basic elements are current affairs and empathy. In the 2021 campaign, they find them in the apocalyptic environment in which society lives and in the message of hope from a resident of La Palma after the volcano eruption that they include in it.
During this time, those responsible for the most talked about announcement-event of these dates have exchanged the luxury and sentimentality of previous decades for humor and closeness. The creation of a tag that accompanies the proposal on social networks —this time # viviresacojonante— helps it become viral content. Freixenet's for this year is #LaVidaEsComoLaCelebras. And another of the actions of the cava brand is focused only on digital media, in which it asks the viewer, When was the last time you said #EstoHayQueCelebrarlo?
The 2021 Christmas Lottery announcement, which continues in the same emotional line of previous decades, has instead obtained 570,000 views in more than a month of publication. Just as there is no longer a song of the summer, the concept of the Christmas advertisement is beginning to die out. At least as we knew it.
You can follow EL PAÍS TELEVISIÓN in Twitter or sign up here to receive our weekly newsletter.



elpais.com
George Holan is chief editor at Plainsmen Post and has articles published in many notable publications in the last decade.