The price of electricity is going to mark another historical record this Monday, above 340 euros. In this economic situation there is a political question: whether or not Pedro Sánchez has fulfilled his promise that households pay on average an amount similar to what they paid in 2018, discounting the CPI.
The short answer is yes; the long answer has a lot of asterisks and small print that must be understood by making numbers and taking comparable numbers, and the only valid ones are those from Eurostat.
In 2018, the average bill in Spain was 608 euros, according to the European agency.
Added the 5.1% inflation from November 2018 to 2021, the bill could rise to 639 euros and Sánchez would have complied: 639 euros (31 euros more is the margin).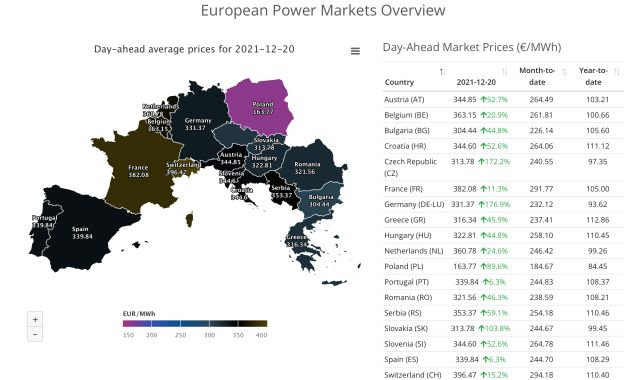 The electricity has gone up much more than 31 euros, in particular, it has become more expensive by 92%, which would shoot the bill up to 700 euros (92 euros more, triple what Sánchez promised) but if the taxes that have been lowered, on average it is fulfilled because:
Taxes make the receipt cheaper by 84 euros.
In the case of VAT, from 21 to 10%.
The generation tax, from 7% to zero.
The electricity tax, from 5% to 0.5%.
In total, they are 84 euros less per receipt on average.
In conclusion: electricity goes up about 92 euros, taxes go down about 84, so the 2021 receipt will be about 615 euros, below that threshold of 639 that marked compliance. So it is true, although with a lot of footnote.
The small print
The first (and fundamental) asterisk is that this is an average, that is, in many households it is not real, specifically in 3 out of 10 households.
The electricity goes up much more than 31 euros for 9.2 million homes that are in PVPC. In this more volatile system, there are 10.5 million users. The Government has exempted 1.2 million from the increases, but there are 9.2 million households in Spain that are going to see that their increase is much higher than what Sánchez promised.
So 30% of households are worse off, especially in the second half of the year, which is when the electricity went off, because this is also an average of 6 months cheap and 6 months through the roof.
The second asterisk is for the future: all that has been done so far is to cut taxes to compensate for the increase in electricity, but that increase is going to continue, so the promise of 2021 will probably be untenable in 2022.
Taxes have decreased by 60%.
Charges are down 96%.
But our price system is still marginalist, solar, wind, water … we pay everything at the most expensive price, at the price of gas, which we have counted many times as buying "shoulder, cheap ham and a gram of 5 Jotas. .. and pay it all at the price of 5 Jotas or sirloin ".
What we have experienced this year is a patch. Either the marginalist system is solved or the price of 5 Jotas will know us little, because the futures markets already discount electricity prices of more than 340 euros, and there is no room to reduce taxes further.
The political battle
These are the facts and the numbers. The political battle, however, continues because these figures will not be official for a few months.
The political battle will continue for centuries for various reasons.
These figures are what:
First, the electricity companies have to send the government for review at the end of January if nothing goes wrong.
Second, CNMC and Executive review these figures and validate that there have been no competition problems, we are already talking about February almost March.
Third, EUROSTAT publishes audited figures in mid to late April.
So until April there is not going to be an official verdict out there. The attrition campaign can last 4 months while waiting for a figure that, by the time it arrives, will refer to 2021, when we are almost in the middle of 2022.



cadenaser.com
George Holan is chief editor at Plainsmen Post and has articles published in many notable publications in the last decade.