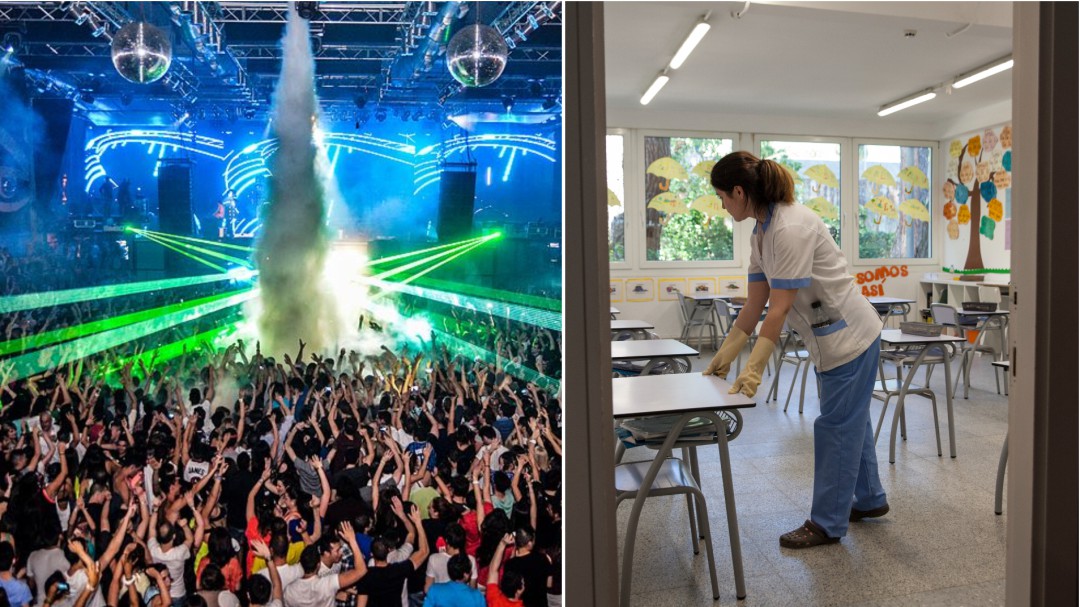 The Government of the Community of Madrid will wait "a little more" to make the decision on how the children's 'back to school' will be after the Christmas holidays, since it will depend on "the epidemiological situation" and vaccination. This was indicated this Wednesday by the Minister of Health, Enrique Ruiz Escudero,
They are the three most important parties around New Year's Eve planned in the south of Madrid. And they are "parties", not macro parties, because they all fall under the ordinary activity licenses of their organizers (Fabrik and La Cover) and do not need a special permit.
The Government and the communities will meet on January 4
The Minister of Health, Carolina Darias, has made it clear this Wednesday that the education model in the pandemic stage is the "presence" in the classrooms that, she recalled, are "safe spaces", and explained that the "objective" is to continue working in favor of this "presence" in educational centers.
He said it at a press conference after the Interterritorial Health Council in view of the meeting that will be held next day 4 with the Education Sector Conference to address the return to the classrooms in schools, institutes and universities after the holiday period, and before the explosion of covid cases in the sixth wave of the pandemic motivated by the omicron variant.
How is the situation in other places?
Within Spain, it is the only community that is going to allow these great parties. But it is the only major European city that maintains the New Year's Eve celebration due to the "reduced" probability of transmission, as is maintained by those responsible.
Portugal
In Portugal they have delayed going back to school for five days, but they fear that it will have to be delayed even more. Teachers ask for virtual classes. The alternative is to alter the entire school calendar for the remainder of the course, delay it again and increase the fatigue they perceive in students and teachers.
Britain
In the United Kingdom, Boris Johnson wants schools to open. Another thing is that they can, since there are no personnel to cover the losses, those that represent up to 25 percent, in some centers. Directors wonder where they are going to get so many substitutes in just a week. There are schools that returned to virtual a month ago.
U.S
The same is happening in several North American states, although in New York they want to avoid it based on massive tests of students and teachers, vaccinated and not vaccinated.
France
They will ask for two negative tests to enter the class to the positive contacts and fulfill the promise of Prime Minister Jean Castex not to close any schools.
Itaia
The neighboring country keeps the calendar.
Germany
And for the Germans, some 'lander' ask to guarantee teleschool by law at all levels.
⭕ Madrid, the only major European city that maintains the New Year's Eve celebration due to the "reduced" probability of transmission.

In addition, the parties are held in macro discotheques with a capacity of up to 10,000 people, which can be opened without problems.https://t.co/qZsT1DMokO pic.twitter.com/C2aB2qkWIg

– Today for Today (@HoyPorHoy) December 30, 2021



cadenaser.com