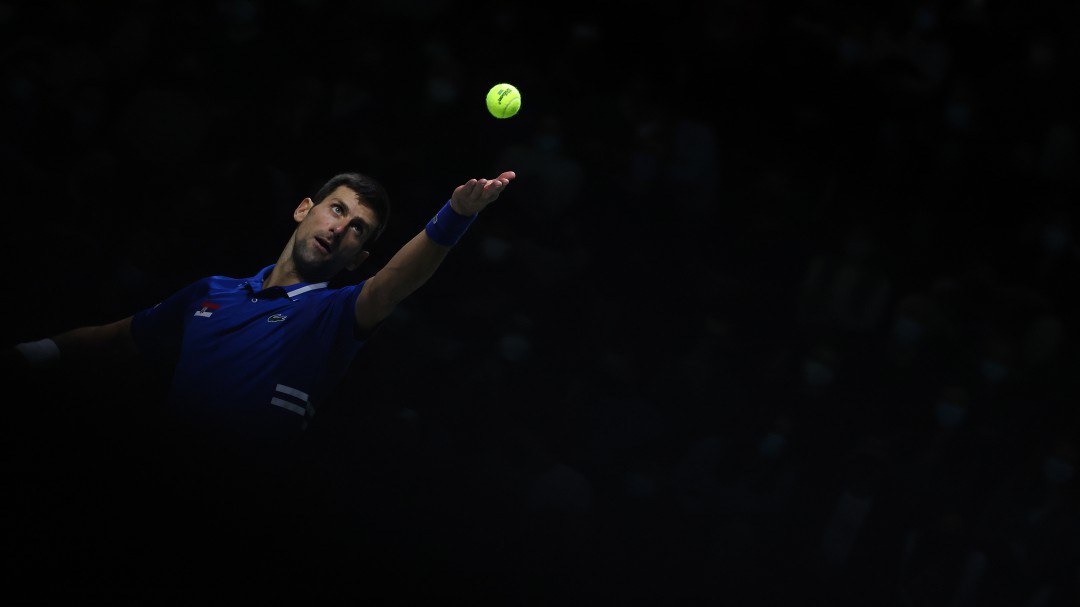 Novak Djokovic's family has explained in a hearing that the Serbian tennis player has been the victim of a "political agenda" in Australia since he was denied entry to the country on Thursday when he arrived to defend the Australian Open title. Djokovic, 34, was granted a medical exemption from COVID-19 vaccination requirements to compete in the first major tournament of the year, although he has subsequently been held at the border. Faced with what the No. 1 of the ATP is experiencing, his The family has assured that the tennis player has not violated any Australian law or regulation in his attempt to enter that country and that the situation he faces is "the biggest diplomatic sports scandal in history."
Djokovic is now in a quarantine hotel in Melbourne after his lawyers reached an agreement for him to remain in the country until a court hearing next Monday in which he hopes to overturn the federal government's ban on his entry. "They are holding him captive. They are trampling Novak to trample all of Serbia and the Serbian people," Djokovic's father, Srdjan, told reporters in Belgrade on Thursday. The athlete's brother, Djordje Djokovic, has indicated that Novak does not want to go back until the decision: "He does not want to because he wants justice and is treated as a criminal and not as an athlete who has not committed any legal infraction."
George insisted in which his brother has been deprived of all his belongings while he awaits the decision and has ensured that the other tennis players who, like Djokovic, received medical exemption from vaccination to participate, entered Australia with the same documents and that it was only denied the entrance to number one in the world. He has denounced that Djokovic has been deprived of his suitcases, purses and all his belongings except his mobile phone, which he could not access for several hours during "the detention at the airport" when he could not communicate with his family. Djordje Djokovic has explained that the player "cannot even change his clothes" in that hotel for asylum seekers in Melbourne where the Australian authorities installed him, which he described as "dirty", and said that the belongings will be returned to him only upon his return. to Europe.
Australian Prime Minister Scott Morrison said earlier that day that Djokovic would not receive special treatment. "Morrison and his fellow men have dared to attack Novak to bring Serbia to its knees. Serbia has always shown that it comes from a proud nation. This has nothing to do with sports, it is a political agenda. Novak is the best player. and the best athlete in the world, but several hundred million Westerners can't stand that, "said the tennis player's father.
Hours earlier, Srdjan described his son on the Telegraf website as "the Spartacus of the new world who does not tolerate injustice, colonialism and hypocrisy." The tennis player's father described his son as "an idol, the light at the bottom of a tunnel that will not extinguish the" western political oligarchy that "believes that the world is theirs." In addition, he compared the tennis player to "Jesus Christ, who was crucified," and said that some are now trying to "crucify, humiliate and bring their son to his knees." While Djokovic's mother, Dijana, described the situation as "scandalous". "They want to clip his wings, but we know how strong he is," he said.
Djokovic's family have displayed the nine Australian Open trophies he won at the press conference venue, adding that they would organize a rally of support in front of the Serbian parliament building in the city center.
Other reactions to the Serbian situation
"Novak is a strong and emotional personality, and he fights not only for himself but for everyone in this world who defends his ethical and moral convictions," said the family spokesman in reference to the athlete's opposition to the COVID vaccine. Shortly after the family's press conference, dozens of people gathered in the center of Belgrade, in front of the Serbian Parliament building, in support of Djokovic. "Thank you because you show love to Nole," his father Srdjan Djokovic told the protesters, using the nickname by which the tennis player is known in Serbia. The rallies, including people of all ages, were shouting "Nole, Nole", "Nole, we love you" and "Nole, Serbian, Serbia is with you."
One of the Serbian's first coaches, Niki Pilic, explained to Reuters that the situation was "ridiculous", adding: "Politics has interfered with sports here, as it happens so often." Yugoslavia's former Davis Cup coach Radmilo Armenulic has said that Djokovic had been treated "like a criminal." "He was detained in the presence of the police. He was held in a room for eight hours after the medical panel authorized him to participate in the Australian Open," Armenulic told Reuters. "This decision, in my opinion, reflects anarchy and not the rule of law. Novak has been treated like a criminal and a villain to prevent him from winning his 21st Grand Slam."
On the other hand, there are athletes like the Spanish Rafa Nadal who has also spoken about the situation that the Serbian tennis player is experiencing: "If he wanted to play, he could have done it without problems. Each one is free to make their decisions, but they have their consequences. He likes this situation, and I feel sorry for him in some way, but he knew the conditions for months. Many people have died all over the world and what the medical personnel and all the governments and health organizations tell us is that the only The way to stop this is vaccination and if you are vaccinated, you have no problem playing here, I repeat. You can find ways to play without doing it, but here you have to follow some rules. "



cadenaser.com
George Holan is chief editor at Plainsmen Post and has articles published in many notable publications in the last decade.