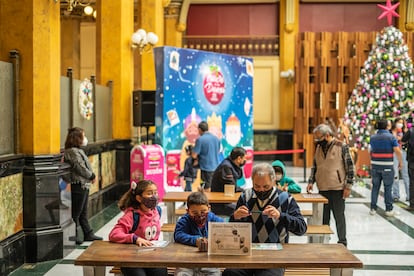 "What times, right?" Says Don Miguel Cruz looking at his granddaughter Sofía, who, crouched down, involved in her own business, lists in a letter the things she will ask of the Three Wise Men. For this January 6, the 12-year-old girl finally says – who assures that she has behaved very well – she only wants a new mobile phone, some headphones and a waterproof portable camera to be able to record videos in a swimming pool. Like her, dozens of children write their wishes on the tables of the central post office of Mexico, to then deposit them in the special mailboxes that go to Belén. Like Sofia, in turn, thousands wait in their homes for the visit of the Magi with toys and new clothes, but above all gadgets and mobile devices.
"The little ones do ask us for toys," says Melchor, one of the three Wise Men, posing next to his horse. Although the vast majority – he asserts – ask for iPhones, electronic tablets, video games, laptops; pure technology: today is being connected. "It seems that they are born with a chip," he concludes. "The smartest ask for musical instruments," adds Gaspar, with a thick white beard in the Karl Marx or Leonardo da Vinci style that makes him look wiser and more confident than he says. Baltazar does not keep a statistic, but by eye he points out that drones are at the head of among the most requested items in recent years.
This third of kings is one of the many groups of magicians that can be seen on the esplanade of the Monument to the Revolution in Mexico City. Formerly, this tianguis was made in the central Alameda square, next to the Palacio de Bellas Artes, just one kilometer from where they are now. For children that does not matter: accompanied by their parents they line up to be photographed with magical entities. All, yes, with masks. Some even take antibacterial gel from the liter bottle that rests on the hump of Gaspar's little plastic camel in one of the stages.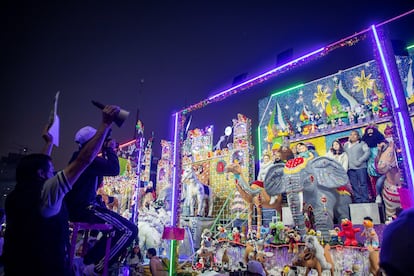 There are more than ten tablados where each group of kings dances, sings or poses to attract attention; the objective: to win the photo. Between 150 and 200 pesos the image printed next to the "heroes of a day", as María Alicia Alcántara has called them, a family mother who, together with her two children, waits for her husband, who has gone to buy something at a neighboring post, before being able to take the photo. "Children look forward to this day," he says. If last year the seasonal festivities and street commerce were suspended in the streets of the center because of the pandemic, this year they have returned with almost all their strength, even announcing a probable new wave of COVID-19 infections in the country.
Many parents ask the Magi to end the pandemic. Things have obviously changed – continues Don Miguel Cruz -, "tradition is one that does not cease; a pandemic does not kill any illusions, but it is up to us as parents not to believe in the illusion that the pandemic is over ". Like Don Miguel, other families wait for their children to deposit their letters in the mailboxes of the postal service. This year, as explained in the activity statement of the Postal Palace, this activity has been replicated in 337 Mexico Post offices throughout the Republic. The idea is to continue the tradition in a safe and controlled way, and incidentally teach children to send a letter. "It's not bad", continues Don Miguel, "that they learn to use the postal service as it was done in my time," he adds, not without clarifying that he is not fought with email.
Two or three families from the stage, Arturo Chávez arrives, father of the two children who are waiting, together with their mother, María Alicia, for their turn to be able to take a picture with the Three Wise Men. Seeing him approach, the smallest shouts: "Dad, which one of all is Melchior?" Arturo frowns as if trying to remember, but quickly abandons the effort and offers his wife and children a hoe from the plate he had just bought.
Subscribe here to newsletter from EL PAÍS México and receive all the informative keys of the current situation of this country

elpais.com