In the lives of teenagers and women, menstruation is much more than a once-a-month routine. For many of them, having access to the minimum conditions to menstruate with dignity – such as having access to water, soap, privacy, menstrual hygiene products, gynecological consultations or even a diagnosis of menstrual pain – is a privilege and a daily expression of inequality. Many even lack access to the slightest information. And so the stigma of "having the period" becomes another completely invisible barrier along the way. More, if the journey you undertake is to cross the most dangerous jungle in the world.
I was already aware of all this, but I never saw it as clear as when I arrived in the Darien jungle, the natural border that separates Panama and Colombia. Surviving Darien is part of the journey towards the dream of reaching the north that thousands of families around the world seek to undertake. More and more women, children and adolescents are entering the darkness of the jungle, without water, without food, at the mercy of all imaginable dangers: from insects and wild animals to armed gangs. As if all the evils of the world were gathered in this almost impregnable natural fortress. According to official figures, more than 130,000 migrants will cross the Darien this year, a number never seen before. And one in five will be a boy or a girl. So far, we know that three-quarters of those who have passed through the jungle are under the age of five.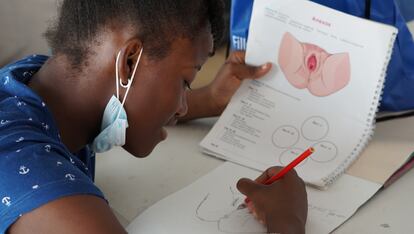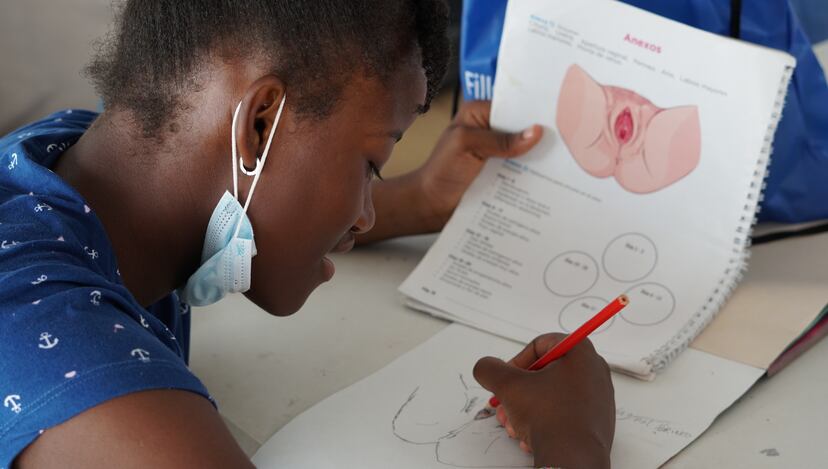 It was my first day at the San Vicente Migration Reception Station, on the Panamanian side of Darien, one of the places where migrant families arrive who manage to cross the jungle on foot. As I was walking among the tents, a Haitian woman in her 30s approached me and in not-so-fluent Spanish asked if she could speak to me. She looked at my partner and asked him to leave her and me alone. It is "between women," he said. And there was no need for him to explain anything more to me. She needed sanitary pads because she was menstruating and had to continue her journey. "Stay around here, I'm going to bring you," I replied.
Suddenly, I remembered what the complicity routine was like in my school when one of my classmates had their periods. In reality, it did not matter if she was really a friend, partner or an acquaintance, there was always someone willing to give you, with the utmost discretion of a secret that we all know, a washcloth.
I couldn't ask her name, I looked for my colleagues from the UNICEF office in Panama who work in the field and asked if we had sanitary napkins. With some packages in my pocket, I started looking for her again, but she found me first. And without saying anything else, we approached a corner, I took the packages out of my pockets and handed them to her discreetly as I imagined she would want. "Thank you very much," she said excitedly. I asked her if she needed anything else and she said no, in minutes she had to get on the bus that would take her to the border with Costa Rica and then continue her journey to the north.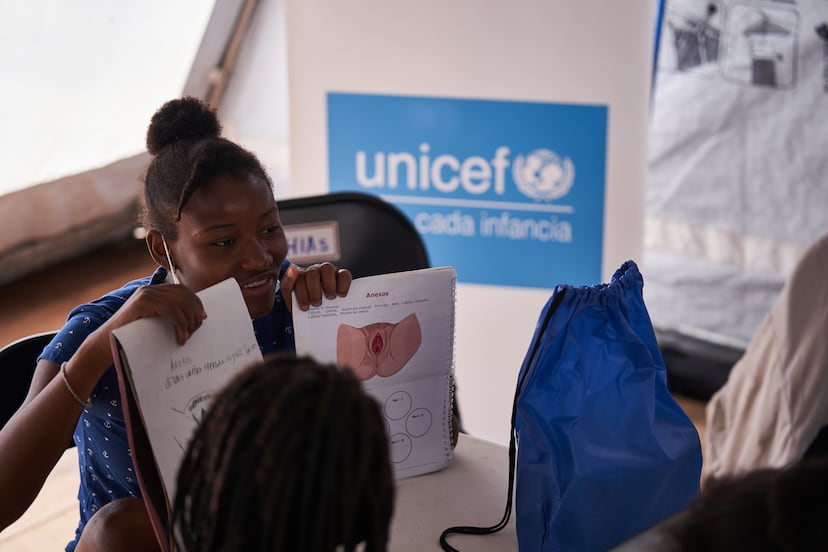 She went on her way. For me that moment was a reality check in the face. The menstrual cycle does not stop when girls, adolescents and women face different challenges of daily life, and neither does it when girls and adolescents undertake dangerous migration routes, including crossing one of the most dangerous jungles after walking for days through different countries.
"I was with my period in the jungle," Sherlanka tells me. She is 15 years old and is Chilean and Haitian. She has been traveling with her whole family for a month from Chile. This afternoon she joined one of the talks on menstrual hygiene and self-care that UNICEF and its partner Hias hold at the Lajas Blancas Immigration Reception Station.
Today they are a group of girls and adolescents between 10 and 16 years old, some have been in the camp for a couple of days and others have arrived that same afternoon. All survivors of Darien. While they draw and laugh, we start talking about the female anatomy and how menstruation also influences our emotions and body. Some myths and falsehoods about menstruation gradually fall apart in the minutes that the conversation lasts. They attend the talk with emotion and a nervous laugh, they ask, they laugh, they feel at ease.
700 adolescents and women have attended talks on menstrual hygiene in 2021 and more than 1,500 hygiene kits with sanitary pads, tampons and underwear have been distributed
Generally, the odyssey of crossing the Darien takes between seven to 10 days, about the same as some menstrual cycles last on average. When you were crossing the jungle, were you worried if your menstruation came there? In unison, they answered "Yes."
"My mother wanted our period to come to us as we crossed the Darien jungle, she told us that that way no one would rape us. When it came to me on the trip, I felt relieved ", she sentenced looking at her sister who was by her side and nodding too. Sherlanka's confession left us all in silence, looking at us in complicity, because all of us have felt at some point that fear of suffering a sexual assault. I can't even imagine being inside an inhospitable jungle. From January to November of this year, UNICEF reported 38 cases of sexual violence, although without a doubt that number is only the tip of the iceberg.
700 adolescents and women attended menstrual hygiene talks like this one in l2021 and more than 1,500 hygiene kits containing sanitary pads, tampons and underwear were distributed. "That menstruation does not take away our rights," says the monitor by way of farewell.
For three years, UNICEF, thanks to funds from the United States Government, has provided survivors of the Darien with access to drinking water, hygiene and sanitation, maternal and child health, training and delivery of menstrual hygiene kits, protection against all forms of violence and psychosocial support, with recreational activities and child development in Friendly Spaces. The European Union has also recently joined this effort.
It was probably the first time that these girls and adolescents spoke about menstruation in an environment of trust and with specialists. "I thought that White did not get the rule. They always discriminated against us, so I thought it only happened to Haitian women, "says Sherlanka, unleashing some laughs and surprises from the listeners. Surely many other myths will continue, but I like to think that now, all these adolescents have one more tool and that what they have learned in this circle of brave girls and women will serve them for their journey and their lives.
You can follow PLANETA FUTURO in Twitter, Facebook e Instagram, and subscribe here a nuestra 'newsletter'.



elpais.com