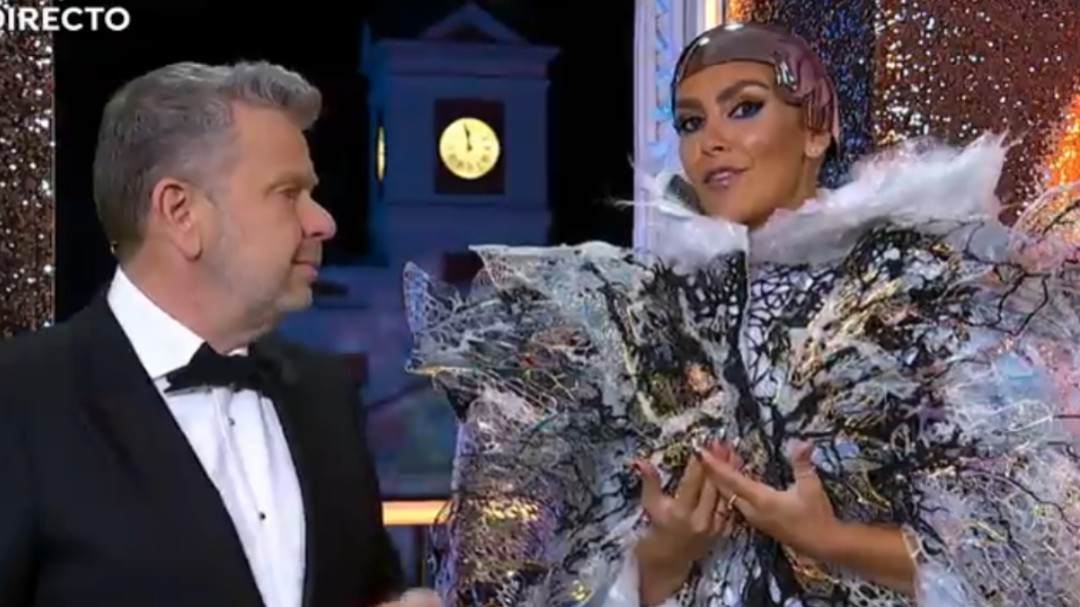 Cristina Pedroche once again presented the Campanadas de Antena 3 together with Alberto Chicote, achieving this year an audience record surpassing Televisión Española, which had always maintained the leadership. On this occasion, his 'look' gave a lot to talk about, appearing with 'bald' and with a helmet. And although good messages always arrive, the presenter is always surrounded by derogatory comments and insults, something she has always denounced. And on this occasion, after everything that was generated during the night of December 31 and the following days on social networks, she has decided not to remain silent and has published on Instagram how she is living everything.
"Reflections, in case you want to read," he wrote in the 'post'. "Happy 2022. I couldn't think of another way and a better way to open up the channel and explain to you how I'm feeling these days," he begins. "Although it may not seem like it, they are being difficult days. And although I try to stay a bit on the sidelines and not read anything, there are always comments or gestures that come to me and make me feel bad. Not bad, very bad," he acknowledges.
Although that night she managed to isolate herself: "This year I wanted to be the most special and I swear that that night I really enjoyed it. I think it showed, that I was happy, splendid, it really seemed that I had been born again. I felt more beautiful than ever, with overwhelming energy, sure of myself and proud of what was happening and very happy to be able to wear a 1991 design by Manuel Piña. I am aware of the privilege that it is to have become his posthumous muse and I cannot be more grateful so much to Josie for thinking of me for such a tribute, and to the Manuel Piña Museum in Manzanares, for their generosity, THANK YOU ".
Cristina Pedroche values ​​her chosen 'look'
"As for the hair, Josie wanted me to shave the bottom part, which is the only part that could be seen through the helmet, but when we did a test with characterization, when she saw me with a (bald) shell she liked it even more. I had to shave myself, I would have done it without hesitation. Hair does not make a woman more or less beautiful, and of course, neither a better or a worse person. That is why the week before I wore wigs to normalize their use as an option for those who may want, "he explains.
And he says that the criticism and insults make him want to stop: "I don't know if this has been the last year. That is a decision that does not depend on me. If it were up to me, I would say goodbye to the last New Year's Eve of the year with all of you throughout my life. life. Right now I want to be quiet for a few days. Maybe it's because of the accumulation of fatigue, also insults and bad words, or other things, because people congratulate me when I know that many are not really happy. Congratulate me with the audience. It's not good for me. On the 31st you tell me: 'olé tú Pedroche' ".
Pedroche values ​​Antena 3's audience record
"I know that what we have achieved is something historic for the world of television, but every 31st I am completely naked in terms of feelings and I give everything, if you have not been that day, for me it does not make sense that you are behind the audiences. I never talk about those figures, nor do I put anything on social media because I really do it for myself. It is a personal reward. Of course it is great that people accompany me that night and more and more people choose the channel I'm on, because thanks to that, I can continue to do so, "he says of the number of viewers achieved on December 31st.
And he ends by thanking and wishing a happy year: "I wish you all the best for this new year. For those of you who support me, those who care about me, those who understand the work behind it, because for you it is worth the Sorry for everything. Thank you for being there. To those who are not, I also wish you the best because everyone deserves love. In fact, I am convinced that if these people had more love they would be more respectful ".



cadenaser.com