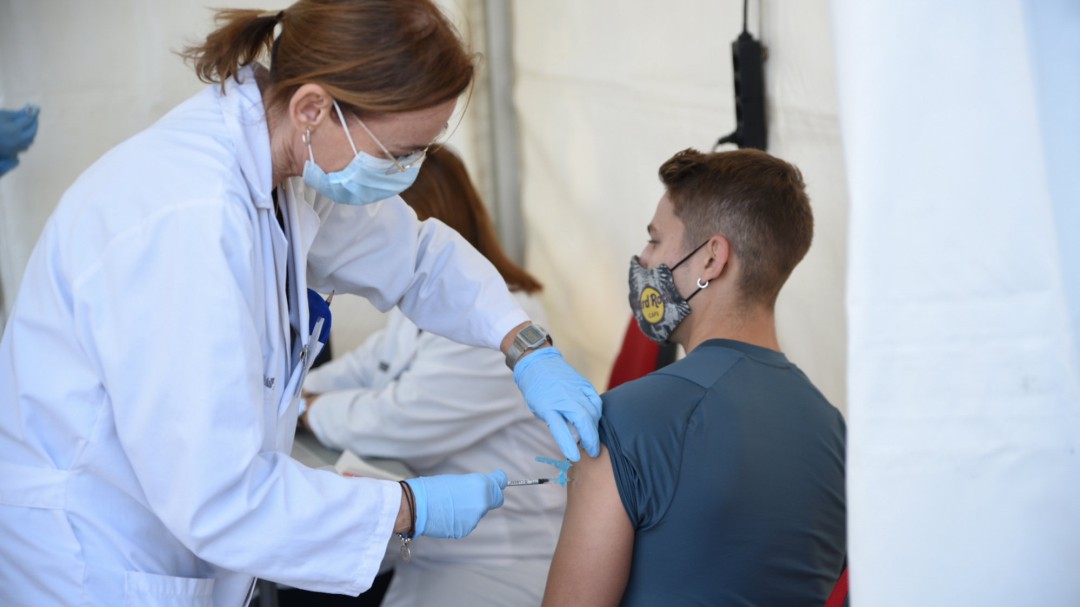 Slightly more than four million Spaniards have not been vaccinated against the coronavirus. They represent 10% of the target population, that is, of those over 12 years of age for whom it is authorized. The question is why. Health wants to establish a profile, although this can be very diverse. Either due to rejection, neglect or simple exhaustion, one of the unknowns facing this winter is knowing what coverage rate the third dose will reach in the indicated groups. Health has already approved it for those over 60 years of age and health workers. And it has been found that the outbreaks that began after the summer in the residences have been controlled after putting the third doses. In addition, this Wednesday, the European Center for Disease Prevention and Control has warned of a "very high risk" for COVID unless public health measures are applied immediately, the vaccination rate is increased and a new dose is put reinforcement.
"Countries should consider a booster dose for all adults over the age of eighteen, with priority for people over forty," the European body has indicated. One of the unknowns will be the degree of acceptance among the population. The epidemiologist and public health expert, Javier Del Aguila does not believe that there will be rejection among the population to inoculate the third dose
In Spain, 90% of the target population has at least one dose and 89% have the full regimen. As a curiosity, Melilla is the territory of Spain with the lowest vaccination rate with 78% of people with a complete schedule compared to Galicia, which reaches the highest percentage with 93%.
"To get a glimpse of what can happen with the third dose and its degree of coverage, it is good to start from what has already happened in Spain previously. That is, the acceptance has been massive. In fact, almost absolute in the band above the 50 years. I do not think there is any reason to think that all those people who had come en masse to receive their two vaccines are now going to reject the third, especially since it is now focused on elderly and vulnerable people and in whom there may be some evidence that a third dose increases protection, "he explains.
The context of the pandemic now in Spain is very different from what is happening in the rest of Europe. "In our neighboring countries, broad layers of the population completely reject the vaccine. Furthermore, they do so aggressively and violently, which is what we are seeing in Germany and Austria. This does not happen here. We are diametrically opposed. Our population demands vaccines. Not only those of COVID. You only have to look at recent history. The Spanish population has absolute faith in vaccines. This has many causes, but of course the Spanish population wants vaccines, "says the epidemiologist.
Will the coronavirus vaccine be annual?
For now, Health has authorized the third dose for those over 60 years of age. "We have indications that they are the ones who can benefit. In the others it is still not very clear. Due to the immune system it is true that the elderly are more vulnerable to certain pathogens since their immune system is more weakened," he recalled.
Javier Del Águila trusts that the coronavirus vaccine does not remain on an annual basis like the flu: "In case it has to be, I hope it will only be among the oldest. Anyway, the best solution would be for the pandemic globally it will be much more controlled. And the only way to achieve that is to make vaccines reach other countries, those that are developing and do not have access to them because we, the rich countries, are taking them. "
"There is a certain satiety among the population"
The epidemiologist explains that if the world population is not vaccinated, new variants will continue to be generated: "That is a reality. It is enough that we have a bad luck mutation for all the vaccination effort that we have made or that we have done if it happens within a year , let's load it. And all for vaccinating selfishness. We must give the third dose to the vulnerable, but we must also have an altitude of view. We must go beyond whether we have to give a vaccine annually or not. it is necessary to try is that the virus circulates as little as possible so that its possibilities of mutation are minimized ".
The psychologist and vice-dean of the Official College of Psychology of Madrid, Timanfaya Hernandez, recommends that health administrations be very clear when transmitting information on the suitability of the third dose to avoid rejection of the vaccine. "There is a certain satiety among the population and it is normal. The pandemic is a long-distance race. Many placed very high expectations on the vaccine and believed that then everything would go back to the way it was before. For this reason, we are also observing some resistance to maintain current measures ", he assures.
"A third dose means this is not over yet"
Switzerland this week approved a third dose of vaccine for all its adults. In all cases, they ask that at least six months have elapsed since the last administration. "A third dose implies that this is not over and being aware of this generates frustration and a feeling of bewilderment. You may wonder if a third is needed, why wouldn't a fourth also be necessary? Some believed that this would end sooner. , but it is necessary to be prepared to travel the road ", assures Hernández.
The global pandemic has changed lifestyles and increased mental health conditions. Anxiety and depression are the most common disorders. Hernández recommends going to the specialist when any symptoms are identified to prevent it from going to more. "We are also witnessing an increase in the number of suicides and suicidal thoughts," warns the psychologist.



cadenaser.com
George Holan is chief editor at Plainsmen Post and has articles published in many notable publications in the last decade.