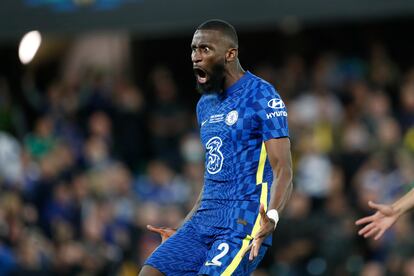 The football market is looking more and more like a game of chess that takes place over years while the big stars – and those who may be soon – consider whether to renew with their current team (or if they sign a first professional contract) or they go to the highest bidder as free agents. A game in which the clubs are also considering whether to renew their players, transfer them, sell them or buy one. And in which the intermediaries-agents-representatives encourage the players not to lose their temper and put their clubs on the ropes and their suitors on the nerves.
There has always been a bit of that, but it has been exacerbated in recent years by the coincidence of two phenomena: on the one hand, the covid has caused a lack of liquidity, cutting clubs' spending and their room for manoeuvre. On the other hand, the growing influence of agents has encouraged players to exploit their market value for their own benefit. Proof of this is the extraordinary number of first-row players who end up being released and who can go to other teams without transfers involved, or who can use that possibility to force a more generous renewal than they deserve.
That will happen in the immediate future with players of the stature or renown of Mbappé, Dembélé, Pogba, Dybala, Rüdiger, Insigne, Mazraoui, and many more. And the following year they can join that list from Messi and Ronaldo to Benzema, Lewandowski, Salah, N'Golo Kanté and, of course, Haaland. This season, PSG, whose limitless coffers never stumble over UEFA's financial fair play, have already signed Messi, Wijnaldum, Ramos and Donnarumma without paying a dime to Barcelona, ​​Liverpool, Real Madrid and Milan.
From the outset, this new regime may seem like a big step forward, an ax to the payment of ridiculous figures for a footballer. Everything seems to be advantages: the player, an artist with an inevitably short career, manages to maximize his income; his new club saves a fortune and his agent makes a fortune. But there are two problems. The first is that the savings of the receiving club are important but not as important as it seems: they will have to pay a higher salary to the newcomer, in addition to a bonus to him and his agent. A cousin who is usually a billionaire and who often stays in the player's environment because his representative is, in reality, his dad, his mom or his soul brother.
But the real problem is with the selling club because they lose the player and nothing comes in. That can leave indifferent those who enjoy seeing the messes of Barcelona with Dembélé, Coutinho or Umtiti. But Barcelona (whose collapse will be studied in business schools as a unique example in the world of how to destroy a first-rate brand in a jiffy) is an exception because those who are really going to be affected by the loss of vital income they are the myriad of clubs that base their livelihood on breeding players and then selling them because they don't have the TV, sponsorship or box office revenue of the big boys.
But if that leaves you indifferent, change clubs for leagues and you will see that this new greed can be lethal for competitions such as the Spanish, or the French, or the Portuguese, which do not have the financial muscle of the Premier and that they can end up losing a large source of income when they see their best players walk for free. And also think that it is an example that not only the big stars follow: any football promise immediately has an agent who will explain how to squeeze the club that has made him a budding star. Barça can also give lessons on that: their quarry has never stopped nurturing half of Europe, almost always for free or for very little money.
You can follow EL PAÍS DEPORTES on Facebook Y Twitteror sign up here to receive our weekly newsletter.
Exclusive content for subscribers
read without limits



elpais.com