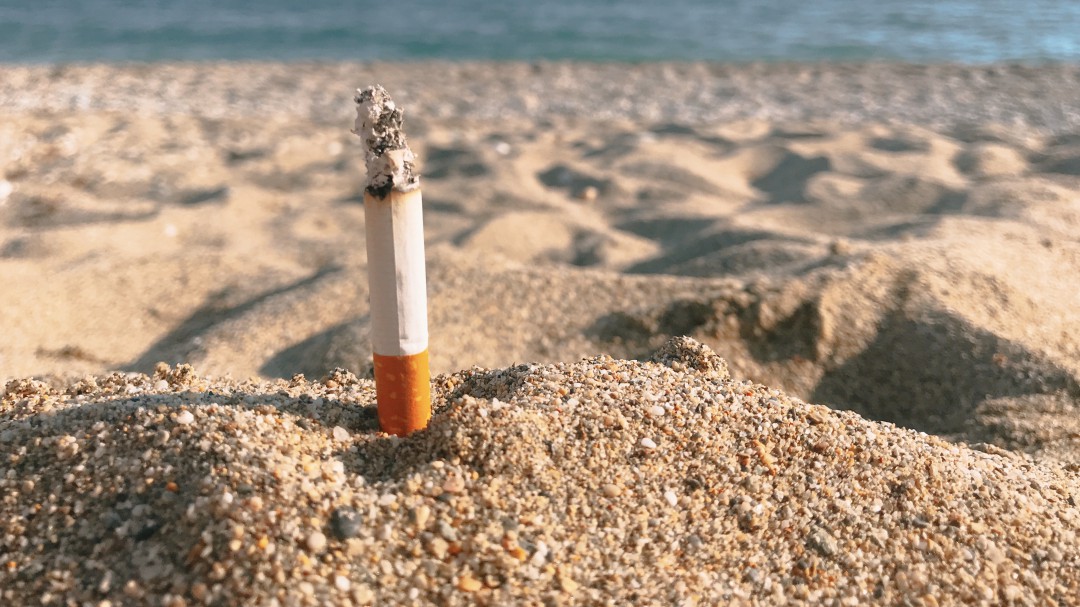 The Law on Waste and Contaminated Soils for a Circular Economy has been approved this Thursday by the Plenary of the Congress of Deputies, with some notable aspects such as the final goodbye to smoke on the beaches, a system of devolution of the plastic bottle or soda can to recover the deposit previously paid for your purchase, are some novelties ofwhich sends the text to the Senate so that it can continue with its parliamentary processing.
The Council of Ministers approved the rule on May 18 and sent it to Congress, which began its parliamentary journey with 742 amendments (one to the whole, presented by Vox and rejected on June 24, and 741 partial).
It is one of the most amended government regulations in the legislature, along with the Climate Change and Energy Transition Act, which received 757 amendments in its first pass through Congress.
The Executive's text transposes two European directives (on waste and single-use plastics) and creates two taxes '+ Char (39) +' green '+ Char (39) +': an indirect one of 0.45 euros per kilogram on single-use plastic containers and landfill containers. These tax figures will be applied from 2023, thanks to a PP amendment accepted in Congress.
The norm includes objectives that will affect daily life, since bars and restaurants will be obliged to give free tap water to customers who request it, the sale of single-use plastic items (such as plates, cutlery and straws) will be prohibited. upon entry into force of the law, and merchants will charge for fast food plastic cups and containers starting in 2023.
The Government vetoed 46 economic amendments from the opposition, considering that they affected the State's collection capacity with these new tax figures, but finally withdrew that veto.
The presentation phase in Congress concluded with the acceptance of 49 transactional amendments agreed between various parliamentary groups and 47 partial amendments. Last week, the Ecological Transition and Demographic Challenge Commission approved only some transactional amendments and the report of the presentation (with 20 votes in favor, 6 against and 11 abstentions).
This Thursday, the Plenary of Congress approved the opinion of the Commission for Ecological Transition and Demographic Challenge with 182 votes in favor (among them, those of the PSOE, United We Can-En Comú Podem-En Marea, PNV, Citizens, More Country-Equo and Teruel Existe), 70 against (Vox, Esquerra Republicana, PDeCAT and CUP) and 88 abstentions (PP and BNG).
Plastic, at the center of the new proposals
One of the novelties is that more targets are set for the separate collection of plastic bottles for recycling: 70% by weight compared to what was introduced to the market in 2023, 77% in 2025, 85% in 2027 and 90 % in 2029.
If the national targets for 2023 or 2027 are not met, a system for depositing, returning and returning plastic bottles and other containers will be implemented throughout Spain within two years. Thus, the producer will charge his customers an amount for each container, even in distance selling or by vending machines. Consumers will have the right to recover the deposit they leave once they return the bottle or can to the store and sellers will have to inform consumers about how much they will charge for deposit of the container.
This system is already applied in 10 European countries (Germany, Croatia, Denmark, Estonia, Finland, Iceland, Lithuania, Norway, the Netherlands and Sweden) and within three years it will reach Belarus, Slovakia, Greece, England, Ireland, Latvia, Malta, Portugal, Romania and Turkey.
In addition, the law indicates that, at the latest on January 1, 2023, food retailers with at least 400 square meters of surface must allocate at least 20% of their sales area to products without primary packaging, that is, , for sale in bulk or with reusable packaging.
Food establishments that sell fresh products, beverages and cooked foods must accept that consumers carry properly sanitized bags, lids or bottles, although merchants may reject them if they consider them dirty or inappropriate.
On the other hand, as of the entry into force of the rule, smoking is prohibited on the beaches, which will be sanctioned with a fine of up to 2,000 euros. The municipalities will have to prepare a census of installations with asbestos within a year from the entry into force of the standard and will have to draw up a withdrawal schedule. The public places with the greatest risk for the population due to containing asbestos must be managed before 2028.
In addition, drug residues must be delivered and collected in the same places where they are purchased and the property owners will have to declare if they have carried out any potentially soil-polluting activity when they transmit that property.
Spokespersons show their discrepancies
PSOE spokesperson, Esther Padilla, commented in the congressional speakers' platform that the law will be "the cornerstone of an ambitious process of revision of the waste regulations" and assured that it lacks a "collection vocation" despite creating two new taxes. "The less that is collected, the better because it will mean that the affected companies or entities are fulfilling their objective of helping to reduce waste and improve its management," he said.
César Sánchez, from the PP, indicated that the rule "penalizes" the Spanish industrial sector and has "a clear desire to collect money" with two new taxes, which will generate "a negative impact on more than a million companies." "It is an unnecessary law, which arrives late, arrives badly and is insufficient," he summarized.
Luis Gestoso, from Vox, commented that the rule should be called a "bill for the waste business", as it hurts "large companies, the self-employed and consumers, will bring more bureaucratic obstacles and more taxes," and dropped as a case of "corruption" that "the company that operates the business of the parents of the Prime Minister since he arrived at the Moncloa Palace, Industrias Plásticas Playbol, received more than 700,000 euros in public aid in just 15 months."
"It is already well of manipulations and lies," replied Juantxo López de Uralde, from Unidos Podemos-En Comú Podem-En Marea, who pointed out that the law transposes two European directives and "does not respond, therefore, to any beach bar" While "landfills continue to saturate", fires in recycling plants are a "constant" and it is convenient to address waste exports to other countries.
In addition to Vox, three Catalan parties (Esquerra Republicana, PDeCAT and CUP) voted against it, considering that the landfill deposit tax collides with the landfill fee that Catalonia has been collecting for more than 17 years.
The most belligerent in his explanations was Francesc Xavier Eritja, from Esquerra Republicana, who demanded that the landfill deposit tax not be applied in the autonomous communities that already have a fiscal tool in this regard. "It represents a precedent to the creation of new taxes that end up eliminating other autonomous tax figures. It is a very dangerous precedent for what is the competence framework of the autonomous communities ", he said.



cadenaser.com