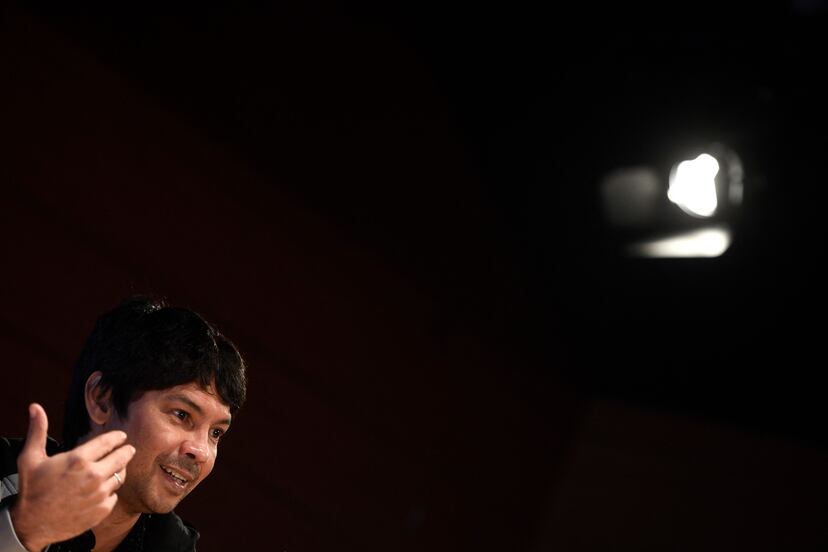 The surprise departure from Cuba of Yunior García, the main leader of the frustrated 15-N protest, has left a bitter feeling on the Archipelago platform and also among the opposition sectors most committed to the so-called march for change. The confusion was notable after the roller coaster lived on Wednesday, when hours after declaring García "disappeared", the members of the platform learned from the press of his arrival in Madrid. However, the majority expressed their respect for the playwright's "personal decision" after the enormous pressure suffered in recent weeks, including an act of repudiation that had him blocked without being able to leave his home on November 14, the day he intended to demonstrate alone in a central Havana neighborhood.
"I cannot judge it. You have to put yourself in his shoes and live what he has experienced, who has been criminalized, harassed along with his family and threatened with jail, "said one of his colleagues in Havana, who preferred not to give his name, although he explained that From day one, everyone was under pressure and everyone was aware of what could happen. And that exile was never considered as an option. "Maybe not as much as him, but here we have all been besieged in our homes," he said.
No opposition voice criticized the leader of the Archipelago out loud, as it did in exile. But privately, many admitted their discomfort, especially when they learned that on November 15, the same day of the march, and when many of its promoters were at home besieged by security agents, García went to the Spanish Consulate in Havana to apply for a visa; that, and that before leaving he had not communicated his decision to the rest of the organizers of the platform. That is why Yunior García's statements upon his arrival in Madrid were followed in Havana with the utmost attention.
García admitted that his departure from Cuba was "a painful blow", and that he will have to forgive himself for "not having had the courage" to turn "to stone and a bronze statue." "I should perhaps apologize for being human, for thinking about my wife and my life and for escaping from what was surely going to constitute a living death, because that was what awaited me in life, a living death," he said. the leader of Archipelago.
In the sectors faced with power, the general trend now is to turn the page as soon as possible and not fall into divisions that could benefit the Government. The Cuban authorities, for their part, have portrayed the defusing of the protest – amid a police deployment and unprecedented pressure against the promoters of the march – as a triumph and a "failed US operation."
Despite the fact that very few people took to the streets dressed in white on 15-N – as the organizers had requested – from Archipelago and the opposition the result of the call is valued as "positive". "The 15-N was a civic gesture that marked another step towards the democratization of society and of political and public life in Cuba," said historian and Catholic layman Leonardo Manuel Fernández Otaño, founder of Archipelago together with Yunior García. "We were able to see how various sectors of civil society expressed themselves, artists, intellectuals; and how it made us reflect on the need for the demonstration as a way to influence the public life of the nation and on the need to reconcile among all Cubans, "said the activist.
Join EL PAÍS now to follow all the news and read without limits
Subscribe here
In recent days, figures of Cuban culture such as Pablo Milanés, Chucho Valdés or the composer Leo Brouwer have expressed their rejection of police repression and acts of repudiation, supporting those who demand changes in Cuba. "For me it is sad to refer to Cuba as the country of no, I have said it a few times and I have to repeat it with a lost, sunken and destroyed island, where nothing is possible, where everything is censored, criticized, after an inquisitive power that repudiates what is not done at their convenience (…) I do not want more grief and more suffering. Enough already! "Said Brouwer, a figure idolized in Cuba and whom no official media would dare to label as" counterrevolutionary ".
For Fernández Otaño, the exile of his friend Yunior García, which he did not evaluate, is not key to the future of the Archipelago. "One of our advantages is that our leadership is horizontal, collegiate. There is dialogue even when all the decisions have been made in a heated debate, and that makes the platform walk and that is its strength, "he said. Regarding what will happen in the future, he said: "Archipelago is a step towards the democratization of Cuban society. A step that has priorities; free political prisoners, create social fabric, achieve citizen reflection. That is our objective and towards that point we will walk trying to find peaceful solutions based on the culture of the encounter ". Time will tell.
Subscribe here to the newsletter from EL PAÍS América and receive all the informative keys of the current situation of the region

elpais.com