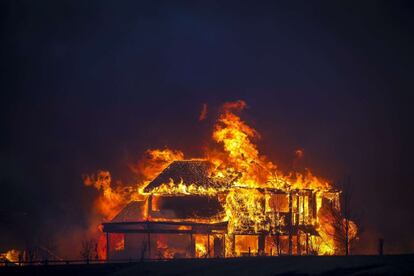 The turn of the year has shown that it is not necessary to look up, a provocation of the viral title of the film starring Leonardo Di Caprio and Jennifer Lawrence. It is enough to be alive and not be called Jair Bolsonaro or be one of the millions of two-legged pets that these types of people follow to understand that something very serious is happening to our planet-home. On December 26, Alaska experienced its hottest December day on record, at 19.4 degrees on Kodiak Island. In Colorado, in the American Midwest, wildfires spread by hurricane force winds engulfed hundreds of homes, prompted the evacuation of entire cities and forced tens of thousands of people to flee. In Bahia, in the northeast of Brazil, the number of residents affected by the floods already exceeds 700,000. London experienced the first day of the hottest year in its history and several cities in Europe recorded heat records in winter. According to the microblog Extreme TemperaturesIn Paraguay, in South America, on January 1 the thermometers reached 45.6 degrees in the town of Sombrero Hovy, the hottest day ever recorded in the country.
It's as if the passage from 2021 to 2022 were some kind of PowerPoint made for idiots: yes, the climate crisis makes extreme events more and more likely and frequent. But denialism persists. For fossil fuel and mining companies — or those that depend on the wide circulation of fossil fuel-based commodities or use mining products massively — denial is profitable in the short term. The same goes for governments and rulers at your service. Disconnection is your best ally. The world connected by the internet is, paradoxically, a great producer of disconnections. Not only because of the fake news, but also because it fragments the information and omits its context. This has been one of the main bets of the world extreme right.
To face it, overcome its particular crisis and choose to occupy a relevant role on a planet in a state of emergency, the press must be able to connect the dots: expose to the public how the climate emergency is the link between the series of simultaneous extreme events and the pandemic, which reaches a new chapter with the spread of the omicron variant. It should also provide the public service of explaining how the climate emergency, extreme events and the pandemic are related to the news that the very select club of billionaires became a trillion dollars richer in 2021, a period in which most impoverished and the apartheid climate was accentuated. There may be inaccuracies in the script, but the satire Don't look up, a cultural phenomenon of this Christmas, made the synapses that the news stopped doing again, by compartmentalizing closely related realities at a turn of the year with apocalyptic scenes.
Sign in to continue reading
Just by having an account you can read this article, it's free
Thanks for reading EL PAÍS

elpais.com