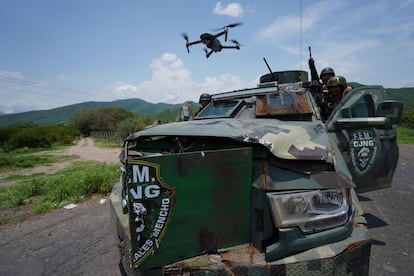 They are drug traffickers, but above all they are adolescents and young people without much to do. Big children from a rural environment like Michoacán where the days go by with little change: today is the same as yesterday and tomorrow will be more of the same. Life in a criminal group is peppered with moments of violence and adrenaline. And probably in four or five years many will have died in a shootout with the police or a rival commando. But, apart from those specific episodes, for them the present is an unstimulating routine that does not give them the emotion promised by corridos or the glamor of Netflix series. They are bored. Romain Le Cour, who spent many of those hot afternoons with nothing to do with young people belonging to cartels, summarizes Romain Le Cour, like any young man from the village anywhere in the world. The difference is that they have access to firearms. And to kill boredom, make their status clear and show who's in charge, they use them. The latest fashion toy is the drone.
"Imagine a context of boys who are between 15 and 30 years old, pure ranch machos who get bored, smoke joints, take coke, suck Corona Light… 95% of the days nothing happens, there is a very universal masculine boredom" , points out Le Cour, who carried out an in-depth investigation of the violence in Michoacán. "The drone becomes a fun tool. It's that, and then everything else." Everything else: according to the experts consulted for this report, the main practical use for which criminal groups use drones is surveillance — it allows them to control the movements of the police and rivals, observe remote and difficult-to-access territories such as forests or mountains and is difficult to bring down—. It is also used to transport small amounts of drugs. And, on specific occasions, to carry out attacks.
A week ago, a video taken from a drone of the Jalisco Nueva Generación Cartel (CJNG) went viral in which it was seen how the unmanned aerial vehicle dropped several bombs on Tepalcatepec, a municipality in the State of Michoacán especially hit by the violence of this criminal group. For a couple of years, this type of aggression has been happening every few months in the region. The trend is worrying, acknowledges Le Cour, coordinator of the security program of Mexico Evalúa and doctor in Political Science from the Sorbonne University. "There is a change in the landscape, but the big question is, what is all this for? I think that strategically, if you compare it with the levels of violence in Michoacán, it is one more tool within a range that goes from homicide to forced displacement, torture or extortion."
The violence does not end in Michoacán
Michoacán was the third state in the country with the most murders in 2021: 2,732 registered, according to the Ministry of Security and Citizen Protection. In the region, a battle for control of the plaza has been disputed for years between different rival cartels, among which the CJNG stands out, although they also fight for their share of the cake, the United Cartels or residual commandos of La Familia Michoacana and Caballeros Templarios, among others. others, as well as local self-defense groups. "If the drones killed five people in the last year in Michoacán, it is a lot. If you compare it with the thousands of people who died in the State, in terms of violence the impact is limited", adds Le Cour.
Cecilia Farfán Méndez, head of security at the Center for Mexico-United States Studies at the University of California San Diego, specializing in violence, agrees with the researcher: "Although it is possible that we will see more drones in the future, it does not seem to me to be a watershed in how they operate [los cárteles]. What I find interesting is that they are communicating it, that they make the video public. There is an intention that this be seen. It is very glamorous and scandalous to have a video from a drone. But that this has important implications regarding what we are going to see in the future is not so clear.
"What is worrying is that we now have hard data that shows us that the population thinks that organized crime groups have more firepower than the Mexican Armed Forces, and that is incorrect," adds Farfán Méndez. In fact, the ones used by drug traffickers are not drones designed for combat. On the contrary, they are commercial models that anyone with enough money can buy on the internet (a quick look at the web shows that there are copies for a few hundred dollars). Afterwards, it is not difficult to add a hook that is controlled remotely from the mobile phone, to which the bomb is added and released on the target in question. The projectiles are reminiscent of a badminton shuttlecock: the explosive is taped to a plastic cup that functions as a kind of parachute.
#Michoacán – Drones. 2021, Hot Land

They showed me modified drones and explosive charges. There are "instructor" pilots. The drone is a weapon, a tactical tool (but it's also a game, fashion, joke)

There is an arms race. Drones are part of it. Challenge: treat it as such #weapons pic.twitter.com/oBIROPyOHs

— Romain Le Cour (@romainlecour) January 12, 2022
The drone used to bomb Tepalcatepec fits into this category. Even the explosives they used are homemade. "It seems like C4 due to the volume of the explosion, but it is not difficult to make homemade explosives having access to drug laboratory chemicals," considers the analyst in the use of public force Daniel Gómez-Tagle. "It is important to note that not everyone can make them. Knowing the formula does not mean knowing how to make them, they are not uneducated hitmen, they are people who understand physics and chemistry at least at an intermediate level. They are devices that have been sophisticated for some time, either by testing or by specialized design", concludes the expert.
Although it is usually considered that the use of drones is exclusive to the CJNG, an expert in the field who prefers to remain anonymous assures that, at least in Michoacán, their use has already spread to other cartels. This state is the one in which the use of these devices has been documented for the most part, although criminal groups throughout the country are beginning to use it. Le Cour even claims that instructors are hired for young people to learn how to operate unmanned vehicles.
But the use that drug traffickers give to drones has a lot to do with trickery, artifice and propaganda, considers Chris Dalby, editor-in-chief of Insight Crime, an investigative portal specializing in organized crime. "The CJNG always tries to attract attention, whether in parades like last year, revealing their faces or with drones. The Jalisco Cartel understands very well the effectiveness of marketing. But it is an inefficient way to kill, compared to conventional firearms or explosives. The use of drones is not abundant, although it is increasing. However, for the people who were there in Tepalcatepec, being bombed from the air has a traumatic effect. Locally, in the areas where they are used, they can be a very efficient weapon of intimidation."
Fashion, status and power
"The use of drones is absolutely an element of power and status," says Dalby. And Le Cour corroborates it: "It is a very strong symbol that you have wool [dinero], and there is a lot of money in Michoacán. We are not talking about Guerrero or Chiapas, where there really is not a peso, but about territories with a lot of money that comes from the illegal economy, but also a lot from the formal economy, the avocado and lemon ranches in the region generate millions of dollars . It's people who have purchasing power that you and I will never have, who say 'I don't mess with drugs, why?' A gigantic breeding ground that creates a very particular criminal and violent context."
In society as a whole, the drone is a consumer product that is in fashion. Between 2016 and 2019, the number of unmanned aerial vehicles registered in Mexico increased by 2,000%, according to the Statista portal. And that figure is expected to multiply. It is becoming an increasingly used leisure tool. "There is something playful, many people use it even in a rural context because it is a tool that allows you to monitor your ranch, supervise works…", expands Le Cour. And drug traffickers do not escape the dynamics of the market. In addition, "the drone is part of the fashion of arms trafficking. 15 years ago it was worn to look like a rancher. Now the fashion of a lot of groups is to look like the special forces: boots, cool weapons, kevlar [chalecos antibalas]…".
And again, the fight against boredom and the search for recognition: "I can honestly understand that the fact of dropping a bomb with a drone, recording it and publishing it has something of a video game. It is very attractive and sexy in terms of content. Not only does it allow you to send a message to the enemy group; if you made the video, you're a badass. And that is worth a lot. The drone allows a lot of staging of your life, just like any other teenage boy with his friends. It's like playing PlayStation in Europe when you are 15 years old and you have nothing to do", compares Le Cour.
subscribe here to newsletter of EL PAÍS Mexico and receive all the informative keys of the news of this country



elpais.com