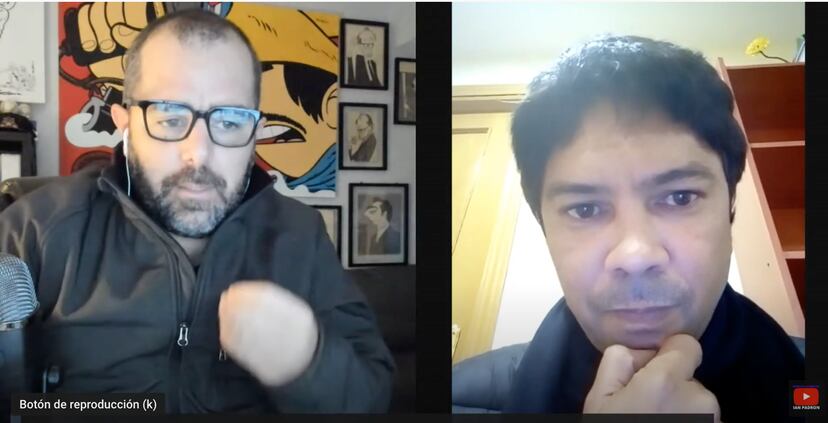 After ten o'clock at night in Spain, Yunior García appeared dressed in black, with a feather coat, a sweater and a scarf in an interview on YouTube with Cuban filmmaker Ian Padrón. The playwright, the main leader of the archipelago opposition platform and convener of the frustrated civic march for change on November 15, arrived in Madrid on Wednesday morning through Barajas airport, but did not want to reveal where he is out of respect for the collective of Cubans who have provided him and his wife, Dayana Prieto, a place to stay. García has also not given details of how he left the island. "I do not know why they let me out," he has limited himself to saying and then announcing that this Thursday he will make "important statements."
The artist has confirmed that he has left his country with a visa granted by the Spanish Embassy and that, for the moment, he has not requested asylum because his intention is to return to Cuba. "My idea is to return once I fulfill my task that Cuba is for all Cubans," he assured.
In almost an hour of interview, García has related how the forced confinement in his house in Havana on November 14 caused him to make the decision to leave Cuba. Before marching alone through the streets of the city as an act of protest against the government's refusal to allow the 15N demonstrations, the playwright began to process a visa to be able to travel to Spain. "I had gone to the embassy in anticipation of being arrested," he explained, "I always thought that on the 14th I was going to end up in a jail, they told me I was going to the eastern team," he continued about the prison with the that State Security had threatened him. But he has not given more details on how he processed this permit. Nor has he clarified how he was able to travel in such a short time and after spending more than 24 hours in isolation in his home. At the moment it is only known that the opponent flew to Madrid on Tuesday on an Iberia flight with a three-month tourist visa limited to Spain that was granted on Monday, diplomatic sources pointed out to EL PAÍS.
On Sunday 14, after receiving the support of 76% of the Archipiélago collective, a platform that he created after the protest of 300 young artists at the gates of the Ministry of Culture on November 27, 2020, he was determined to go out alone, dressed in white, with a white rose when a group of faithful to the Revolution organized in front of his house what in Cuba is called an act of repudiation. More than 200 people gathered at the door of his house, on different floors of his building and in the immediate vicinity. "They walled up my house with everyone's symbol," he recalled about the moment when the Castro protesters covered the windows with Cuban flags. An image that went around the world thanks to social networks.
Join EL PAÍS now to follow all the news and read without limits
Subscribe here
García was at that time accompanied by his wife and mother-in-law. The harassment in the street was accompanied, according to the playwright to Padrón, by cuts on his landline, mobile phone and his internet connection. "They wanted to silence me," he said. "They were not going to turn me into a symbol by taking me to jail. They were going to lock me up in my house, cut off my communications, continue to discredit, launch suspicions that sometimes work. Shutting me up would be death and they could do it without putting me in jail ".
The confinement, García said, provoked anger and despair in him: "You are blind, deaf and dumb, they even attack you because of friendly fire." Early on that Sunday, after hours of solitary confinement, he broke down, he visibly emotionally confessed. A situation that led him, according to his own words, to make the decision to leave. "I have never thought of emigrating. I have been able to leave and enter with ease ", he continued and recalled that thanks to his work as a playwright he has been able to travel to different countries without any problem. "You enter a state where you start to worry about how to face life with the same lucidity. It is a constant battle not to lose it. Harassment and threats are taking their toll ".
García has recognized that the modus operandi that the Regime uses with the Cuban opposition led by artists since the protests of July 11 began to have an effect on him. "I'm not so strong. I am not that bronze or marble statue. I am a normal guy. My principles will remain intact ", he stated. The playwright is aware that what he calls "a tyrannical dictatorship" is celebrating his departure from Cuba. "Time will tell if this decision to leave is a mistake or a success, or if it is the possibility of giving testimony worldwide without them being able to control my movements. I had to find a way to defend my word ", he defended himself. Garcia recognizes himself as an exile. He assumes the discrepancies that his arrival in Spain has caused on the Archipelago platform: "I have had a tough dialogue with the rest of the members. We hadn't spoken in days. There have been disagreements. I try to understand those who question, judge, feel disappointed. I am not a machine, I am a person ". But he is willing to return. "I do things so that the reality of Cuba changes. I try to be consistent ".
Follow all the international information at Facebook and Twitter, o en our weekly newsletter.



elpais.com
George Holan is chief editor at Plainsmen Post and has articles published in many notable publications in the last decade.