[ad_1]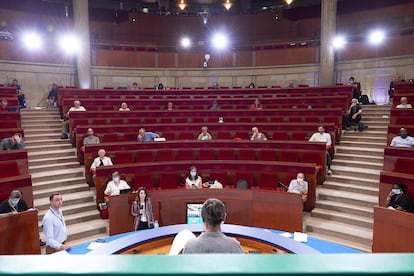 The transformation of our economy towards total decarbonisation is an unprecedented social milestone and an inalienable imperative. At the same time, it is a great democratic challenge that can respond to the thirst of citizenship that demands new ways of doing politics. Governments are rarely ahead of their societies and, on climate issues, citizens demonstrate more ambition than their representatives. The ecological transition requires political audacity, courage and a break with the models of the past.
There could not be a better time to launch the Citizen Assembly for Climate in Spain, an invitation from the Government to harness the collective intelligence of the citizenry to imagine a transition that is feasible, balanced and fair.
We know that it can be difficult to link our democracies with citizens outside of specific electoral moments. In their daily work, elected officials usually tend to dialogue with institutions, organizations and other interest groups. Perhaps this has never been enough and, in any case, it is not enough at this time in view of the urgent need for change. The institutions of the 20th century are not equipped for the existential struggle of the 21st century; they are not sufficiently in tune with the fears, creativity and ambition of society.
Citizen assemblies are a fundamental step to remedy this, as has already been demonstrated in several countries.
I had the honor of co-chairing the French Citizens' Assembly for Climate. In response to the "yellow vest" protests, the Government brought together a random sample of 150 citizens from all over the country to prepare, in working groups lasting several months, a series of recommendations for the State. Although the government's commitment to these proposals has been disappointingly uneven thus far, polls show that French public opinion was very favorable to the proposals. These included ambitious measures such as the massive increase in investments in railway infrastructure to reduce transport by car and plane, or the prohibition of advertising of products and services. high emissions, such as air transport. In this bittersweet result, between proposal and implementation, we see the enormous potential of democratic processes and the obvious institutional obstacles that must be reviewed.
But there is an undoubted certainty: the citizen assembly has promoted participatory democracy in France. Now, various municipal budgets are run by the community and multiple local assemblies are taking place across the country. On a personal level, it has been particularly inspiring to see how citizens far from the ivory towers of climate knowledge join associations, parties or different local actions. Ultimately, it is in those spaces that climate action will thrive, where ideas are put to the test in the community and take root.
Information is the first tool against climate change. Subscribe to it.
Subscribe
Similar innovations in participatory democracy – as well as the global citizens' assembly, recently launched at COP26 in Glasgow – are gaining momentum around the world. Thousands of citizens are envisioning a transition that we can all embark on together.
In a climate of mistrust and disconnection between people and institutions, trying to impose political measures without broad consultation is a sure bet for failure. And failure is not an option in this case. In particular, Spain is the main witness in Europe of the climate crisis and its impacts. With heat waves and severe droughts in the last decade, its inhabitants are at the forefront of the battle to mitigate and adapt to climate change.
At the European level, we have the Green Deal; the roadmap to 2030 and 2050 that places the European Union as a world leader in climate matters. It is expected that the realization of these ambitions will be subject to a difficult translation process in each of the Member States. But, as the latest European elections and every new poll across the continent have shown, the popular mandate for ambitious climate action has never been greater. Spain is at the forefront, with 95% of citizens supporting the climate neutrality goal for 2050.
In this context, it is in the interest of all political representatives to support and multiply efforts in favor of participatory democracy, beginning with this assembly itself, as well as paying attention to its deliberations and recommendations.
Citizens' ambition will continue to increase as will their intransigence in the face of government inaction. Recently, we witnessed its strength at COP26 where we witnessed the widespread mobilization of young people showing their anger at climate inaction and demanding change. It is a generation that acquires new commitments, that seeks alternatives and is willing to commit itself in an innovative way. Let them inspire us and create spaces for dialogue and proposals like the one that begins now with the climate assembly. Acting with ambition should be the only possible response to this growing mobilization.
I would like to send a message to the members of the Spanish Assembly. Before you, 108 British, 99 Danish, 150 French and 105 Scottish citizens faced the challenge of making decisions, not always easy, to build a better society in the face of the great challenge of climate change. A citizen assembly is a journey, collective and personal. Trust your collective intelligence. Take the reins. Make your voice heard by decision-makers and fellow citizens. Become the true engineers of change.
Laurence Tubiana She is CEO of the European Climate Foundation and co-chaired the steering committee of the French Citizen's Climate Convention.
You can follow CLIMA AND ENVIRONMENT at Facebook Y Twitter, or sign up here to receive our weekly newsletter
Sign in to continue reading
Just by having an account you can read this article, it's free
Thanks for reading EL PAÍS


[ad_2]
elpais.com
George Holan is chief editor at Plainsmen Post and has articles published in many notable publications in the last decade.