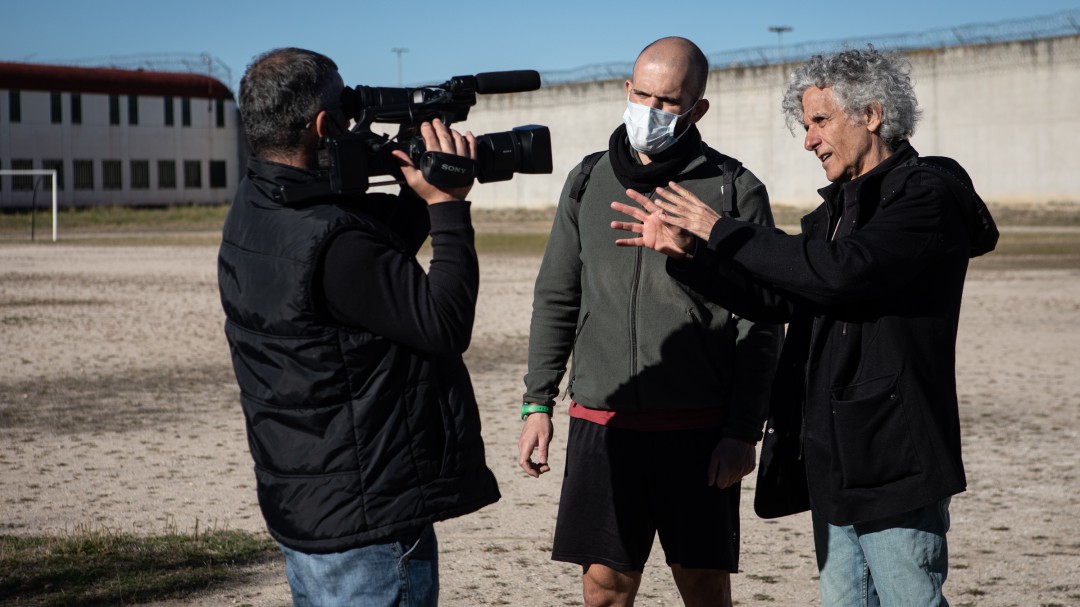 They record their lives in prison. They tell what they feel and suffer. Camera on his shoulder and directed by director Fernando Merinero, a group of six inmates participate in a workshop given by the Foundation of the General Society of Authors and Editors. "From a therapeutic point of view it helps them to integrate, to work as a team, but the objective is also for inmates to see that the cinema can be a sector of professional insertion and professional development when they leave prison," explains the director of the prison. Foundation, Rubén Gutiérrez.
We attend a practical class on the set that has been installed on the soccer field. "They record scenes in which they act as technicians and also as actors. They like to be behind and in front of the camera, and they are very good," explains Merinero, while Salva tells us that his favorites are Denzel Washington and Javier Bardem. These classes bring it to life. "They take me out of the routine, I learn and look here I am spending a different day in the Valdemoro prison," he tells us while recording scenes from the prison yard with the camera.
The 'sheriff of Malasaña'
Adbelatiff Charif is serving a sentence in the Valdemoro prison. Born in Morocco, he has spent half his life in the Madrid neighborhood of Malasaña. He lived the "movida" of Madrid, the good part, the cultural one. He is an intellectual man and a philosopher of life. "I speak five languages ​​and I love the cinema", and while he tells us about his cosmopolitan life, he also tells us about his misery.
"I was hooked on drugs. When you don't have money you have to steal for your doses, that's what I did, but this is over. When I leave I already have a program that helps me look for work on the street. Already in jail a diploma for loading and unloading and in prison in Ocaña I got the diploma of sewing with the automatic machine. I am also a painter and I would love to do some cinema. I learn quickly, "he tells us.
Prison life
Valdemoro Prison opened in 1995. It was built as a maximum security facility. It currently houses 800 inmates. We visit the facilities with Jaime Casado, deputy director of Treatment of the jail. "It is a prison where the inmate population is men who are in the second degree penitentiary, and the average age is between 35 and 40 years old. Almost all the cells are prepared to have two inmates who sleep in a bunk and can have television that
They buy it at the commissary for approximately 200 euros, which they can later take with them. "
And while we walk through the jail, he tells us what the respect module is. With very graphic language he tells us that they are the creams from creams. It is the site not only of those who behave better. There may also be people who misbehave but learn to behave well. We try that life in prison has the greatest similarity with life in freedom, "he clarifies.
And as we say goodbye, he tells us that one of the hardest things is when you find, in an exceptional way, an inmate who lives better inside than outside and who does not want to leave prison.



cadenaser.com
George Holan is chief editor at Plainsmen Post and has articles published in many notable publications in the last decade.