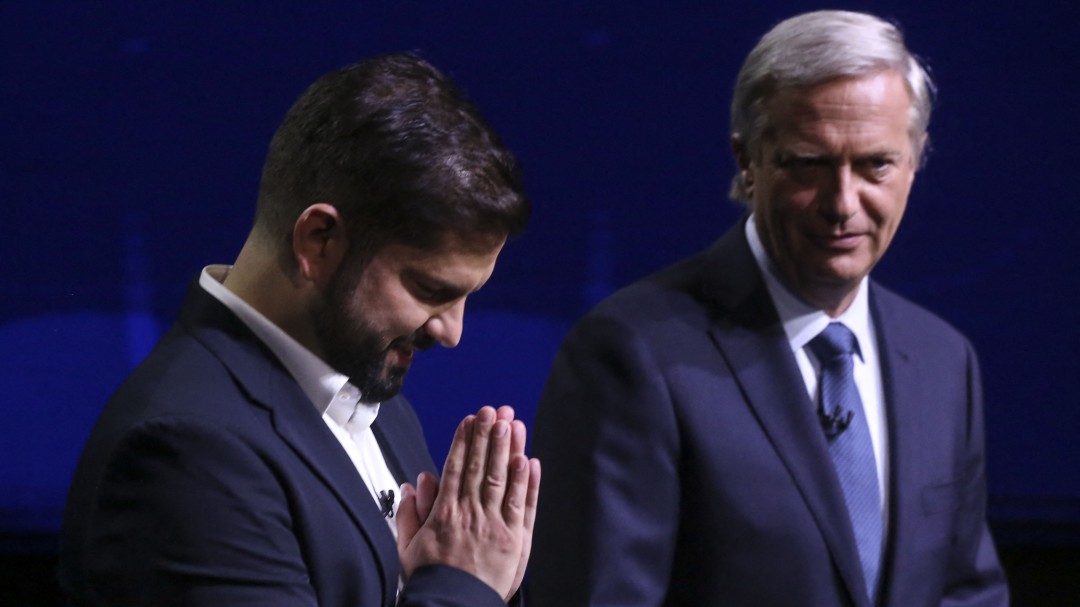 Chile, like Spain, since it returned to democracy at the end of the Pinochet dictatorship, has had a two-party system in which socialists and conservatives have alternated in power. Now that's over. New matches have appeared, some as Sui generis like that of Parisi, a candidate who does not live in Chile, who is campaigning from the United States and who has gathered a good handful of votes that now in the second round, if what happened four years ago is repeated, they will remain in limbo because his supporters did not vote in the second round.
Chile has gone to its political extremes. After the first electoral round, two candidates have passed to this second and final one. One Boric, who represents the lower left, and another Kast, the extreme right. The polls do not say anything clear about what will happen after today's voting.
Jose Antonio Kast and Daniel Boric, extreme right and extreme left are measured at the polls, in a presidential election, to say the least strange. The majority of Chileans will vote for a lesser evil, not for their candidate. In these elections, more than half of the electorate is under 40 years of age. That for the political scientist Marcelo Mella, "has already brought changes. There is a new elite of leaders and representatives that move society."
José Antonio Kast, candidate of the Republican Party, is a lawyer and is 55 years old, has 9 children and is linked to the Shonestat Catholic movement, a religious movement originating in Germany and with many similarities to Opus Dei. It is his second attempt to access the presidency of Chile, but the first time that he has gone to the second round. His popularity has grown throughout the campaign, with three ideas that he has repeated ad nauseam. Order, progress and a strong hand against immigration, drug trafficking and insecurity. And some more pearls …
Jair Bolsonaro of Brazil and Donald Trump are his leading politicians and he has already announced that if he is elected, he will remove Chile from the UN Human Rights Commission, in addition to breaking relations with Venezuela and Nicaragua, where their opponents rule by the left.
Its great economic program is to give Chilean markets more freedom of action, reduce the size and participation of the state in public companies, sell them and lower taxes on companies while reducing public spending. The protection of the family and Christian values ​​are high on his political agenda. The aids and benefits will be for married women and families, compared to single mothers or single-parent families. Repeal the law allowing abortion and same-sex marriage ….
Gabriel Boric, 35, also a lawyer, if he becomes president, he will be the youngest president in the history of Chile. Fast-moving political career. He participated in the student protests of 2011 and from there it has been an unstoppable rise. He was elected deputy in 2014 and has been one of the activists to change the Chilean Constitution, unmovable since the time of Pinochet. This same year he took over the leadership of the Chilean left and leads a kind of Podemos a la Chilena. His political program involves burying the Chilean neoliberal economic system, replacing it with a much more social and supportive one, with more State participation in key companies for social welfare.
Let's see if your proposals sound familiar. Guaranteed universal access to health following the Spanish model. A new pension system managed by the State without the intermediary administrators that currently exist in Chile. A public and quality educational system in addition to proposing the first left-wing coalition government with special attention to the environment. But for all that you need money, where will you get the financing? Well, Boric proposes a tax reform that consists of increasing taxes on those who earn the most.
These are the two candidates who have gone to the second round and bring together the votes of the right and the left. But what about moderate Chileans? Many will not vote, others will vote for the less bad version.
But if we refer to history, in this second round the candidate who has obtained the most votes in the first round has always won … and that was José Antonio Kast.



cadenaser.com
George Holan is chief editor at Plainsmen Post and has articles published in many notable publications in the last decade.