Emiliano Matesanz, a 43-year-old Argentine, says that if he builds games with junk today, it is thanks to his father. That he grew up in his native country, which was where he spent his childhood, but that during his first years of life he traveled to Mallorca, especially during vacation periods, where his father owned a workshop. "My sisters, who were already born in Spain, went to school and I had to go with my father. I spent every morning with him. And he hated going there. I hated all that iron, being dirty… Look how my sister, when we took her to school, said: 'Dad, when you come to pick me up, don't get out of the car, I'll look for you.' Of course, she was very flirtatious and he had dirty, matted hair … He was ashamed. Something similar happened to me ", he explains.
With this background, it is not surprising that, growing up, young Matesanz chose to move away from junk and explore other paths. He was a volleyball player ("I thought I was going to go to the Olympic Games," he says while smiling), he paraded on catwalks in Milan, he traveled. I travel a lot. Through Europe, through South America… Until, at the age of 29, he settled again in Spain, in Asturias, to start his own family. And, to earn a living, he turned to everything he had learned as a child between scrap metal, iron and dirt. He remembers it like this: "Over time I learned to value my father's work. I realized that he had taught me a trade. It was a gift he gave me. So, in my new home, I started making handicrafts with what I had learned from him ".
And, between the time he settled and his children were born (four in total), his work, by necessity and by chance, evolved. Needs because there were more and more mouths to feed and more clothes to buy. And coincidences because scrap metal crafts became entertainment for children by chance of fate. "A company asked me to make five traditional Asturian games with recycling. I started making them and got excited. I said to myself: I can go on. So I started testing different mechanisms. It was incredible because from those five games I have like another 100 that I invented, "says Matesanz. One day, he continues, he took them out to the Plaza Mayor in Gijón and the result was spectacular. "I was very ashamed. I even brought the welding machine in case it broke everything! But the square was full of people, they invited me to many events… One of the richest guys in Australia, organizer of one of the most important music festivals, he saw me one day on the street and hired me to go there. I have already been several times ".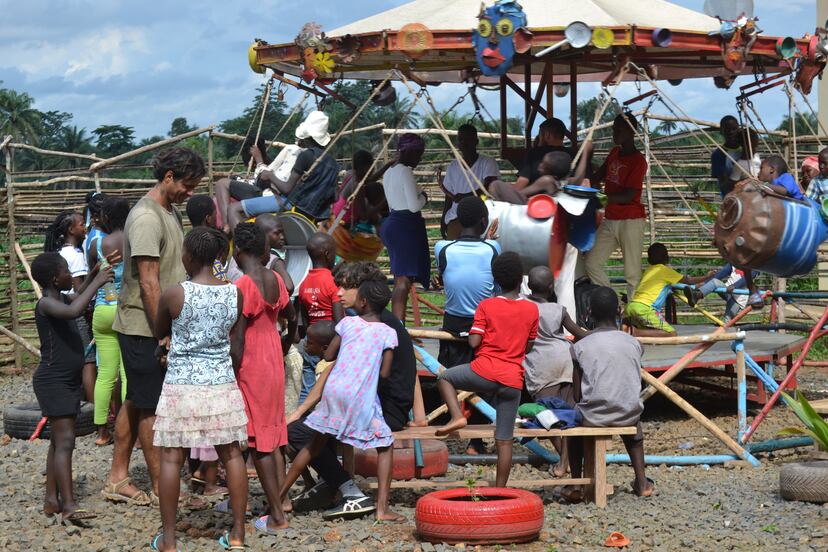 A new turn of the life made that Emiliano had to leave Asturias. Mallorca was his new destination. He arrived on the island with the only accompaniment of the best of his creations, a merry-go-round seven meters in diameter made of scrap metal, powered by pedals and which can accommodate up to 12 children. "It just made a lot of practical sense for me economically; I can put a locker. When I arrived in Mallorca I installed it in front of the cathedral. Sure, I didn't even have the permits. The police didn't tell me anything because they couldn't imagine that I could put that big thing there without the corresponding licenses, "says Matesanz. Once the trick was discovered ("the local newspaper took me on the front page and, of course, it was impossible; I had to make it all legal"), she began to earn a living at festivals and parties. Until a call changed his fate (and also that of the carousel) for the next few years.
From Mallorca to the Gambia, Senegal and Mauritania
Shortly after arriving in Mallorca, about five years ago now, Emiliano Matesanz received a message through his social networks that he did not expect. A teacher at a local school in the Gambia had heard about his carousel and wanted to know if it could be taken to his village for the kids there to enjoy. "After three months I took the van with a couple of friends, which was falling apart, I asked for a loan and we went to the Gambia by land," he says.
The merry-go-round faced a new life in completely different territory than it was used to. He changed the Mallorcan sun for the Gambian, a nation that ranks 174th in the Human Development Index of the United Nations Development Program (UNDP), only surpassed by a dozen countries submerged in armed conflicts or similar problems of hunger and hunger. misery. In The Gambia, more than 60% of the population lives below the poverty line and 30% suffers from malnutrition. For dozens of children, a carousel in that context would be something extraordinary.
A company in Asturias asked me to make children's games. I tried it, it got me excited and I made it my trade
It was not a bed of roses. To get there they had to cross Morocco, Mauritania and Senegal. Kids from all these countries enjoyed the carousel at the different stops made by the procession. "We went through many places. It was like a traveling circus ", recalls the sculptor, who keeps many memories of the first African experience of his merry-go-round. "For example, in Mauritania we were going through the middle of the desert, I saw a small village and we rode the carousel. It was a place where there was nothing. The little ones didn't even know how to get on. It was very exciting, so much so that we wanted to go on, on and on ", he recalls. And it is not the only anecdote: "We also had some problems, especially in Rosso, the border that separates Mauritania and Senegal. They say it is one of the worst in the world. They kept us there for three days because they wanted us to pay… The truth is that each border was a quilombo ".
In Mauritania we were going through the middle of the desert, I saw a small village and we rode the carousel. It was a place where there was nothing. The children didn't even know how to get on.
The stay in the Gambia lasted about six weeks. And on the way back, more road, more dust, more sand, more carousel, more stops in different parts of Africa. "On the Senegalese coast it occurred to me to go to a hotel that I knew and it turns out that the owner ran schools around the country. He also introduced me to another woman who ran an orphanage for deaf and dumb people. The reception for the games was impressive ", he says. So much so that, a few months later, he repeated his trip to the same places and with the same purpose: to take the junk merry-go-round where the children hardly have any opportunities.
In Mauritania, for example, local human rights groups estimate that up to 20% of the population lives in conditions of slavery, mostly as domestic servants or child brides. And in Senegal there are some 50,000 beggar children, between the ages of five and ten, locked in a spiral of street, poverty and exploitation.
But the only money from the loan that he requested and that obtained in some festivals in Mallorca was not enough for the carousel to continue on its way through Africa, so Emiliano Matesanz had to return to the islands. There he continued his work as a sculptor and manufacturer of recycled games until Africa knocked on his door again. This time, Sierra Leone. "Coco, a man who has some schools in this country, heard an interview with me on the radio and got in touch with me. I told him that he could not invest more. It is that even today I continue to pay that loan. And we agreed that we were going to look for other formulas ". And they found them. First, the Heres Foundation paid for the trip and part of the project. Later, the NGO Child Heroes, with extensive experience in vulnerable children, completed the necessary funding. And the merry-go-round and Matesanz undertook another journey – by boat the carousel, by plane the Argentine – where they waited for new faces and new utilities for scrap metal and games.
Living on the street or learning a trade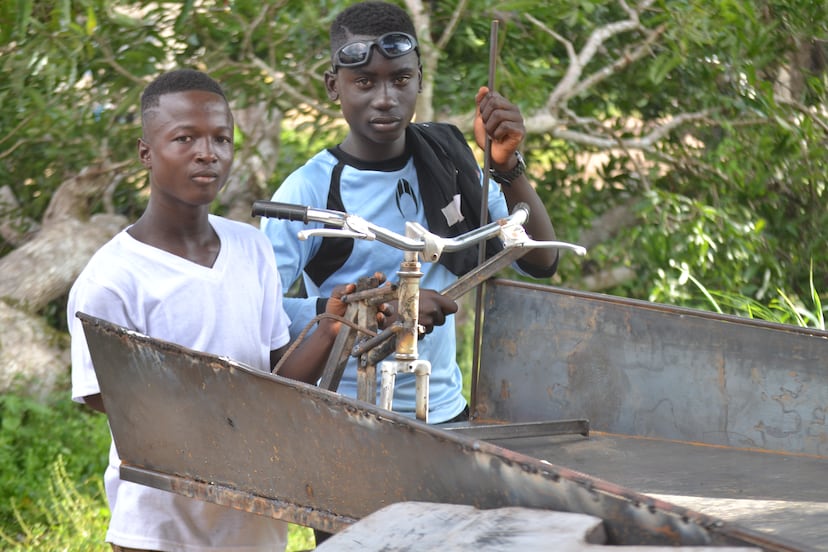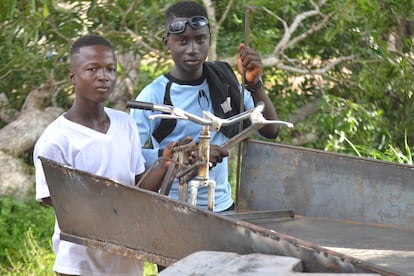 Hassan F. Kargbo and Cyrus Jacob Fonba, both 16, were street children, a reality all too common in their country, Sierra Leone. Kids who are forced by poverty to flee from homes where everything is missing. Not surprisingly, more than 53% of Sierra Leoneans must live on less than 1.3 euros a day. Adolescents whose parents die and find no other option than to beg and live in the open. The UNICEF State of the World's Children Report indicates that this African nation has just over 310,000 orphaned minors, which is equivalent to 4.7% of its total population. "I have lived on the streets for about 10 years. He stole, he begged, he smoked drugs… There is nothing good about that life, "says Hassan. "My mother disappeared when I was five years old and my father drank a lot and beat me. When I was nine, I ran away, "Cyrus recalls.
Both tell similar stories of the years when they made garbage dumps and sidewalks their natural habitat and abandoned wood in the markets their makeshift lounge chairs. "They killed my best friend because they caught us stealing 200,000 lions (just under 17 euros). Another died at sea; We used to go fishing to earn some money, but we couldn't swim. He fell into the water and drowned, "Hassan says. "Some days the police chased us and beat us. Once they caught me and I was locked up for two months. I've spent many nights sleeping in the drains, "says Cyrus.
But they left that life behind a couple of years ago. They did so thanks to the NGO Don Bosco Fambul, which develops programs to welcome, shelter and get kids like them off the streets. And both, in one of the courtyards of the facilities that this institution owns in Freetown, the capital of the country, saw not long ago how a mobile contraption made of scrap metal arrived and how it became an applauded claim for dozens of children. They may be a little older to enjoy it. But not to learn a trade. Matesanz explains it like this: "The idea is that, when I leave, the merry-go-round stays and the project can be perpetuated. And, for that, it takes about three years of intense work for the apprentices to get up to speed. Also, if they are trained in making scrap metal, they may be able to find work in the future as welders, bricklayers… ".
In addition to Hassan and Cyrus, 12 other young Sierra Leoneans, formerly street boys, are trained with Matesanz. Between all they have begun to manufacture other games. Now they do slides, a pinball, parks … All with recycled or useless materials a priori. All with an Argentine who now works as a teacher and who was previously bothered by the dirt in his father's workshop. "From those days, I was left with an idea that the great masters teach you without you realizing it. It's like an extra value that some people have. They are not on top of you saying 'this is done like this' … I try to apply it to the children I teach ", he says. And Hassan and Cyrus, who today smile when they talk about their new job and don't mind spending hours between old irons and hammers, confirm what their teacher says without adding a comma.
You can follow PLANETA FUTURO in Twitter, Facebook e Instagram, and subscribe here a nuestra 'newsletter'.



elpais.com
George Holan is chief editor at Plainsmen Post and has articles published in many notable publications in the last decade.