Virgilio Martínez (Lima, 44 years old) takes landscape cooking to the extreme. In its Central restaurant, voted the fourth best in the world and the best in Latin America by The World's 50 Best list, each dish represents a Peruvian ecosystem, an altitude. Coast, desert, Amazonia, Andes. "We work to create a world where you can really experience something that you have not experienced before. We put a lot of emphasis on the experience, not just that a dish is delicious, "he says, thousands of kilometers from the establishment, located in the Barranco neighborhood of Lima. He has just landed in Madrid, he has had three coffees and in a relaxed moment makes clear his intention to wander around to see what is cooking in the city to which he moved in 2007 to take over the Astrid y Gastón branch, of his teacher Gastón Acurio, and where he now presents his new book, Latin America Gastronomy (Phaidon).
Throughout the conversation, and unlike many of his professional colleagues, Martínez refers to himself as a "cook" and not as a "chef." And it is that, from his point of view, the book that has just been released is an example that despite its trajectory, even though it is considered by critics and rankings As one of the best in the world in the kitchen, he is immersed in constant learning. "A man who does sandwiches facing the sea or Mexican cakes in some state and they are cooks and they teach you… how can you pretend to be a chef, to be the boss of that person when you are still learning? ", he justifies. The search for these iconic recipes, but also for those that make up "the current photography of Latin American gastronomy", has taken him and his team five years, in which they have involved chefs but also historians, anthropologists and housewives. home, to ensure that this has not been simply a documentary work, but that the final 600 elaborations are "quick to do", that this is "a book for cooking."
And to vindicate "the pantry of the world", as Lima defines the region in the introduction. An area that gastronomically speaking, in his opinion, has lived for a long time with a complex, despite the fact that its products can be found practically in dishes in any corner – "tomatoes, cocoa, coffee", he enumerates. "We never realized the importance of the role we played. One of the first was Gastón [Acurio], which taught me to love Peru more and to understand it. See, in those places where you saw poverty, wealth. Because there is, but we are formatted to see the world in one way. I see a lot of wealth in the people of the Andes, for example. I see them happy ".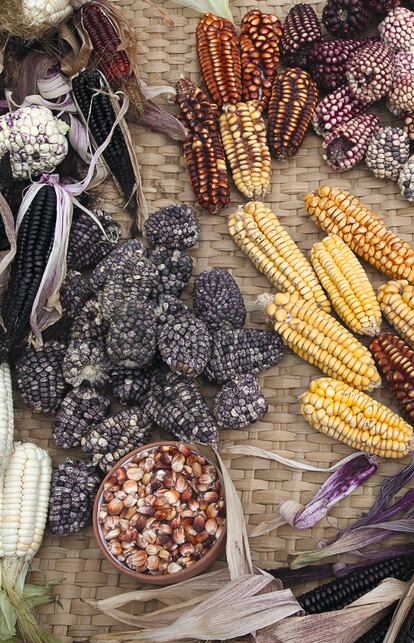 Martínez, who before putting on the apron was going to skater, He belongs to one of the "last generations of cooks" who felt guilty for taking "a 20-minute nap", despite being on their rest time. "He had to be in the kitchen and arrive earlier than the other and we talked about it with pride. It was a format that worked and maybe we even enjoyed it, but it doesn't work anymore ", he reflects. The pandemic, he believes, has precipitated the debate on work-life balance and mental health and the kitchen should not be alien to it. "We want the cooks, who could also be in other places, to be in our restaurants and for that they have to have the best conditions or the conditions that they can have in a cafeteria where they can go to work with their dogs for a few hours, without so much pressure. , in a pleasant environment … ", he reflects, although he admits that the demand in an establishment like the one he runs is inevitable when there are people who plan a trip just to sit at the table, wait for months to be able to do it and pay 470 soles Peruvians (around 100 euros) for the cheapest menu.
In those kitchens where he was tanned and that Martínez talks about —who wears a scar on his ear as a result of the impact of an ashtray thrown at him by a chef— the presence of women was also residual. On the contrary, "there were many men" and at the time of work "force and noise" prevailed, "things that are not alien to women either," he clarifies, "but it did look that way," he argues. He himself admits that these dynamics left him behind and it is necessary to unlearn them. He hesitated, for example, in signing Pía León, named the best chef in the world last August by The World 50 Best, director of Central and, for seven years, also his wife. "He is the person who teaches me the most and from whom I learn the most. On the other hand, the co-director of the research group [Mater Iniciativa] is my sister. Women are very important in my life, in my world and in my kitchen and I understand that it does not have to be something forced, it has to be organic, but I also know that sometimes you have to push because change has not occurred at all, That is evident, I am not going to lie to you, and that is why you have to press the button a little and realize. Is it really led by men? Because if it is led by men, we are missing a tremendous vision ".
Father of a child with León, reconcile and disconnect in a house with two cooks seems like a chimera. Martínez confesses that he and his wife have had to learn to "give in" and value "simple things" so as not to get carried away by the rhythm imposed by haute cuisine. The first thing he does when he wakes up is change his clothes and go for a run. "I love these trips because I am incredibly curious about the world, but also being in my restaurant with my team and being a Central cook. If you ask me how I want to be recognized, I would answer that as a guy from Peru, who has a restaurant, who has a family, who lives in Barranco ", he says.

elpais.com
George Holan is chief editor at Plainsmen Post and has articles published in many notable publications in the last decade.