[ad_1]

Catalina Lobo-Guerrero left Caracas exhausted, after four years of high voltage as a foreign correspondent. The stories of others began to affect him personally, one of the dangers of this profession. To completely close that stage of his life, he sat down to write between Bogotá and Barcelona the portrait of a country in free fall, without a compass after the death of Hugo Chávez. An extensive journalistic chronicle came out, The remnants of the revolution (Aguilar), who has something of a choral requiem. For Venezuela, for Chávez, for the exiles, for herself and even for those crazy years that will not return. Lobo-Guerrero has just won the Simón Bolívar prize for the journalistic book of the year in Colombia with this work.
Question. Was Chávez's death like the fall of a meteorite?
Answer. Chávez was not only a president. Venezuelans would sit down to dinner with him at night. They came home from work, turned on the television and the commander was always there. It was present everywhere, every day. Without any modesty he said: chaos or me. That is why when they announce his death, at 4.25 in the afternoon on March 5, 2013, the immediate reaction, what I begin to observe on the street is a reaction of absolute panic.
P. Many believed that he had not died.
R. They took a long time to bury him. I was very curious what kind of embalming the corpse had been subjected to, with that heat of Caracas. Millions of people traveled from all over the country in pilgrimage to verify that indeed their president was the one in the coffin. There were many rumors that this was not him, that he was still in Cuba. I spoke to a man who stood in line twice, 24 hours each. They only allowed three minutes to be in front of the corpse and he wanted to have a good look at the uniform that had been put on the corpse.
P. How do you write about someone so contradictory, funny and sometimes terrifying, sometimes both at the same time?
R. That was the fascination. Was a showmanHe would get on the stage and sometimes sing, sometimes dance. And then out of nowhere, he turned the speech diametrically and mounted a tirade against the opposition leader on duty. His personality was magnetic, contradictory. I met many people who in seconds Chávez disarmed them: journalists from the best media, who were very prepared for an interview and Chávez had that ability to read very well who his interlocutor was and ended up dominating the interview. He had the ability to speak only about what he wanted to speak about.
P. He met him when he was already ill with cancer.
R. He was no longer the same as always, the one who endured an act of six hours in a row. People always ask why in Venezuela they were so passionate about Chávez if he was an authoritarian, arbitrary, dictator type. Well my answer is because you were never in front of him, you never saw him in action. He was a master of the show.
P. How did you perceive the crack of polarization, since when did you begin to feel it?
R. When I arrived in Venezuela in 2012. More than a decade of Bolivarian revolution had passed, when he came to power. I was surprised by the level of polarization, the fights so intense when people were classified between Chavistas and anti-Chavistas. You couldn't be in any other category. When I began to understand the genesis of that rift, I found that the origin was the 2002 coup. If you ask the Chavistas, that was an outright military coup; And if you asked the anti-Chavistas, that coup was not military, it was a power vacuum because Chávez was acting unconstitutionally, they asked him to resign and he accepted. Then he changed history and manipulated the truth to his advantage. That day there were 19 deaths and hundreds of wounded in Caracas. There was never clarity with what happened. That fact generated the first great fracture in Venezuelan society and people cannot agree afterwards on what exactly happened.
P. The truth and, therefore, journalism suffered.
R. In Venezuela, journalism was also traversed by this polarization. In 2002, Chávez had a meeting with some alternative communicators and, referring to the mainstream media, he announced: one day they will be the alternative. From there they begin a series of strategies to restrict freedom of expression. More specifically, when Maduro comes to power, a different strategy begins, which is the purchase of media by businessmen who today do not know who they are, but are close to Chavismo. A very strong strategy of censorship and self-censorship begins.
R. You tried to live normally in Caracas. Was that a form of resistance?
P. Yes. I arrived in 2012 and I left Venezuela in 2016. During those four years I observed a transition and worsening of the crisis. People were saddened and shut themselves up at home more and more often because it was becoming more and more expensive to go out. At that time there was not the hyperinflation that there is now, but there was already inflation. People stopped going out to have a beer or to buy an empanada because it started to be very expensive. Social life began to shrink. And in addition, crime and insecurity was forcing people to practice curfew selfies. The stories were of terror, of express kidnappings, of murders. Caracas at some point had the highest homicide rate on the planet. Many of us made an act of resistance so that sadness did not reach our homes.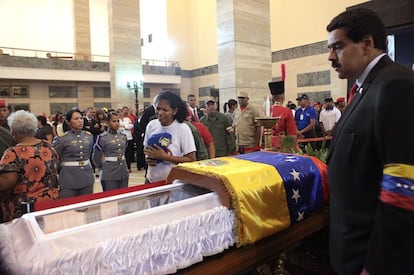 P. At one point, he says that once he stopped hearing gunshots, he began to hear the singing of frogs in a pond near his house.
R. The routine of a normal city is broken when repression and protests hit the streets. Every night it was the same routine, close to home I could perceive the tear gas and the moment it was all over I would open the windows again and listen to the sound of the frogs and it was a consolation.
P. Was she always a foreigner or did she manage to infiltrate as a Venezuelan?
R. I feel like my skin was porous and when I arrived in Caracas the country got inside me. I felt like a local. My bet was that. Do not do this that we sometimes do as foreign journalists, that we go, we are like paratroopers, we fall, we cover a news and we go.
P. And how does Colombia feel back? Once you have been a foreigner and a correspondent, you already are elsewhere, even at home, always with your foreigner's antennas raised.
R. I've always felt a little weird. Not from here, although I'm from here. I like to keep a certain distance from the reality that I am observing around me, I do not know if it influences something that I am an anthropologist by profession. To the places where I arrive, although I am part of that, I can make a participant observation, I also try to abstract a little to observe things from another place. The biggest challenge for a journalist in Colombia is to count this country as if it were a foreigner, which is very difficult to do because you don't have the distance.
P. He left a country with many protests and arrived in another, with a similar situation. Do you feel the crack in Colombia?
R. Yes, and not only from now on. I left Venezuela at the end of 2015 and here the whole issue of the peace process is in full swing. This referendum is coming where Colombians decide whether or not to endorse what was negotiated in Havana with the FARC. That day I was in Medellín, inside the soccer stadium and when the polls close I see that in most of the voting tables the 'no' has won. I say, well, suddenly it is because it is Medellín, suddenly in the rest of the country it is different. I came from reporting in Cauca and there people told me: "We are happy with this peace process because the war is finally going to end." People that the FARC explosive had ruined the roof of their house, that their children or relatives had been murdered. They were people from rural areas who were happy and who mostly went to vote 'yes'. And then the final results come out and we find out that it is a deeply divided country and we had not seen it before, or at least not in such an explicit way. At that time I think the crack of political polarization opens and has exploded in an impressive way in 2019 with the first national strike and this year the protests.
P. How does the emotional factor influence when covering something that happens in your city and affects your friends, your relatives?
R. I get along well after spending time in Venezuela and having made the decision to leave because I no longer kept enough distance. After several years of listening to sometimes very dramatic stories, I was not immune to that. Those stories began to affect me, one as a journalist has to know when to withdraw, pass the baton and allow people with a more intact curiosity to arrive. And knowing how to be honest with yourself. The stories do not end, but one can get tired of following them and it is good to have the honesty to say this is where we have come. If you notice that you are losing the capacity for empathy, you screwed up.
Subscribe here to the newsletter from EL PAÍS América and receive all the informative keys of the current situation of the region
[ad_2]
elpais.com
George Holan is chief editor at Plainsmen Post and has articles published in many notable publications in the last decade.