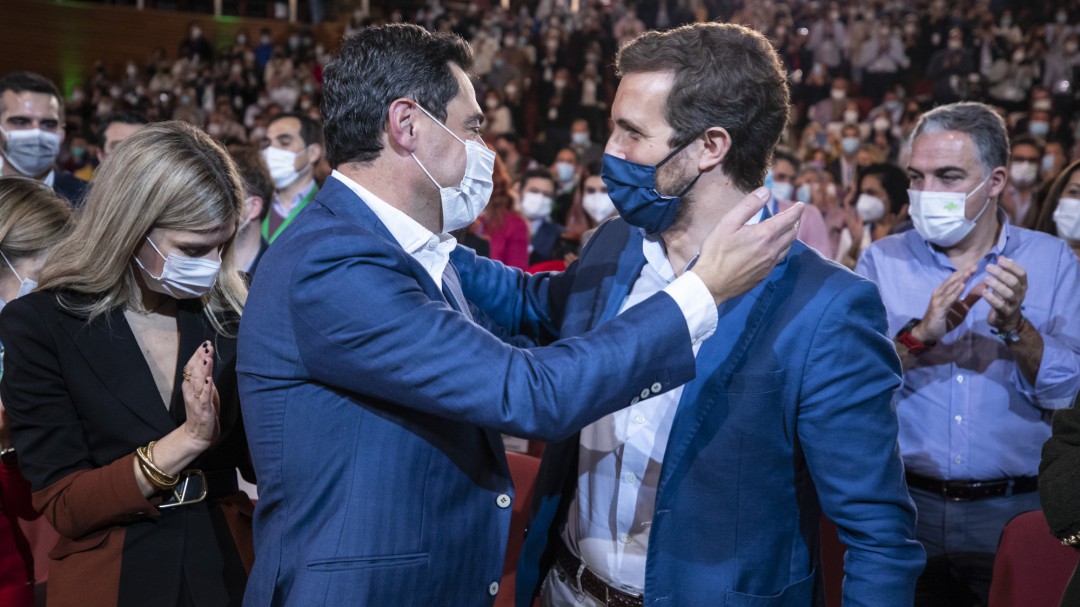 The president of the PP, Pablo Casado, has defended this Sunday that the party is "a great team, a great orchestra" where "soloists do not fit" and has pointed out that "this is not a 'talent show' of megalomanias", for what has demanded "unity, humility, having things clear and dedicating ourselves to what is ours," he said.
In his speech at the closing of the PP-A congress, he said that they cannot "risk" the responsibility they have "in a bonfire of vanities that leads nowhere." Faced with the controversy with the advice given by the Madrid president, Isabel Díaz Ayuso, to Moreno about the elections, he has responded to "those who entangle."
Casado supports Moreno after a weekend of advice to the Andalusian
The president of the PP, Pablo Casado, has transferred to the president of the Junta de Andalucía and of the PP-A, Juanma Moreno, all his "support" to do what he deems appropriate in relation to the calling of the regional elections, although he has advised that first think "in Andalusia and then in the party". "You have your hands free to do what you consider is best for Andalusia, which will be the best for Spain", as the popular leader has transferred to Moreno, convinced that the "road to Moncloa passes through San Telmo", headquarters of the Andalusian Presidency.
For his part, Juanma Moreno has also transferred his support to Casado, so that "sooner rather than later" he will be the new president of Spain. Casado has come to admit in his speech that he does not care "when" the Andalusian elections are because he has the "full conviction" that Moreno is going to "destroy" and is going to obtain an "overwhelming majority or absolute majority" and that all Andalusians will ask you to continue consolidating the change that began three years ago in this community.
He has wanted to make it clear that "he has never" spoken with Moreno on the date of the Andalusian elections, but that he did transfer him, at the time of the motion of censure in Murcia and the possible "destabilization" of the PP governments in Castilla y León and in the Community of Madrid, which had all its support to do what it considered appropriate, but to think first of Andalusia and then of the game, a message that is being transmitted again today.
These messages from Casado are produced after on Friday, the president of the Community of Madrid, Isabel Díaz Ayuso, advised Moreno, during his speech in the PP-A Congress, to fly "free" and make his own decisions.
Married also values ​​the Government and Justice
"Never has a government had so much as that of Pedro Sánchez and, nevertheless, a government has never allowed Spaniards to have so little," he said in relation to the government. "Today, with this government, with which lies is institutionalized, telling the truth is something revolutionary," he added.
"An urgent change is needed, people can not take it anymore and it is being seen in the streets," he assured. Regarding the CGPJ, it has ruled that it will be renewed "when the judges in Spain can choose the judges."
He has also argued that "lhe labor reform of the Popular Party allowed the creation of three million jobs ", and has had words for Catalonia:"How can it be understood that a Budget for Catalonia is being negotiated with the CUP, which has said as a condition that there must be another unilateral declaration of independence? "Or for Euskadi:"It cannot be admitted that the PSOE of Euskadi has said that it opens the door to govern with Bildu, the political arm of ETA, which has not condemned or collaborated in the 350 murders that go unpunished. "



cadenaser.com