[ad_1]

The last-mile distribution – the one that goes from the courier warehouses to the homes – does not stop growing because more and more are bought online. Correos, which accounts for half of the sector, moved 52.3 million packages in 2015 and multiplied it by four in 2020 (208.9 million). But most shipments are delivered with old vans – 15 years old on average – and 87% of electronic commerce is moved with large vehicles, which take up a lot of space and are highly polluting, which is estimated at 7.5 % of total CO₂ emissions in Spain, according to data from the recent report Sustainability in today's e-commerce from EAE Business School. Some experiences of sustainable last-mile delivery with electric vehicles and cargo bikes anticipate the boom that the parcel sector will experience when low-emission zones (LEZs) reach Spanish cities during 2022.
May López, director of Companies for Sustainable Mobility and author of the EAE report, affirms that "the Ecological Transition guide for restricted traffic areas recommends that urban distribution be limited according to the labels of the General Directorate of Traffic (DGT ) for vehicles – the oldest ones do not have -, and the future Sustainable Mobility Law will bet on a more ecological distribution, so in the coming months we will see how the sector will change towards this model ". UNO, the Spanish Logistics and Transport Business Organization, estimates that the number of deliveries made with electric vehicles "is between 2% and 5%." The EAE study reduces that percentage to 1%, while the Ministry of Transport has no data.
An experiment of things to come occurred in 2009, when the San Sebastián City Council limited traffic in the Old Town and prohibited delivery vans from entering there after 11:30. "That led us to create a freight bike courier company, or cargobikes, which can enter at any time on all the streets ", says Dani Ruiz, founder of Txita. Now they have 15 workers and they carry out all kinds of shipments in the city (from one envelope to 20 packages). The cargobikes Electric vehicles can carry up to 200 kilos of load and circulate through streets closed to traffic.
In its warehouse, located near the center, each morning they receive packages from nine large companies (Seur and DHL, among others) and classify them to distribute them through streets grouped by proximity, even if they are from different companies. "We unify all the goods that go to an area in a single tricycle, so it is more efficient. With this, we prevent 15 vans from entering the area ", he adds. At the end of the day, companies go through the warehouse again to collect outbound shipments. Ruiz, who is also president of the Association of Cycling Companies of Spain, trusts that "the LEZs will be a lever to promote this type of clean vehicles, which will have to replace polluting vans". According to his calculations, there are about 65 cycling companies in Spain.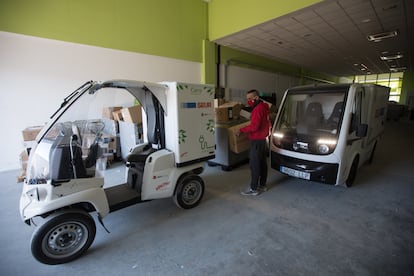 The only two low-emission zones in operation in Spain, Madrid and Barcelona, ​​already include measures in this regard. In Barcelona, ​​vehicles without DGT environmental label – the oldest ones – cannot enter the wide restricted traffic area from Monday to Friday from 7:00 a.m. to 8:00 p.m., which occupies most of the city and four other neighboring cities. Meanwhile, the capital's Central District LEZ, which is smaller, will prohibit access to vans without a label – the oldest – in 2023, and those with a B label in 2025. In addition, vehicles with labels B, C or Eco have restricted hours, while the 0 – the electric ones – can access at any time.
Messaging begins to adapt
The companies in the sector are beginning to adapt. Correos already has 1,600 greener vehicles, although it does not report what percentage they represent of the total. And about 10,000 postmen deliver on foot every day. The Spanish Association of Messaging Companies (AEM), which brings together more than 40 companies, believes that 8% of shipments are made with eco vehicles, although this percentage includes a large part of hybrids that also work with fossil fuels. "There are already companies that carry out all their deliveries on bicycles or tricycles and, as for electric vehicles, we are in the development phase, because the autonomy of these vehicles and the little deployment of recharging points prevents us from being able to make a greater deployment" , says a spokesman for the association.
José Antonio Baena founded a year ago Restless to change this model: large vans "take up a lot of space, cause traffic jams, double lines and a visual impact on the citizen", and they also travel many kilometers because they load their goods in warehouses located very far from the cities. "The paradigm shift is to take the products to smaller urban warehouses and from there distribute with tricycles or electric minivans. We have 1,000 delivery vehicles that are electric and alternative, that is, they avoid pollution, but also take up less space, and we offer them for long-term rental for companies in the sector. The largest can carry three cubic meters (m³), when the vans load between 10 and 12 ", he continues.
One of the companies that rents the vehicles is Voltio, which distributes most of Seur's shipments in Alcalá de Henares. "Our warehouse is only two kilometers from the center of Alcalá, that allows us that each small van makes several routes a day making less distance", says Borja Basterrechea, director of operations of the company, in the warehouse while several workers load packages in their vehicles, all electric. "They are charged at night and the energy lasts them for the whole day, and we also save a lot on fuel," he continues. "The low-emission zones are going to be a great push for this type of distribution, large companies are already making the transition towards greener fleets and I think there will be more local warehouses in the cities," he concludes.
Francisco Aranda, president of UNO, points out that the change is also reaching logistics: "There are companies that are betting heavily on this technology, but it still cannot be used for all routes, as it depends on the location of the operator's warehouse. and the route. There is still no technology adapted to the needs of the distribution ", points out Aranda, who criticizes that these vehicles cost up to three times more than those of combustion and that delivery times can reach a year.
Many more vehicles are needed to get off the ground. Since 2009, some 10,500 vans have been sold -almost all for transport-, some 16,500 mopeds and 25,000 electric motorcycles, 60% of which are for logistical uses, according to data from the Business Association for the Development and Promotion of Electric Vehicles (Aedive ). For comparison, and according to the DGT, the fleet of vans is about 2.5 million, while that of motorcycles and mopeds is 37.3 million.
"New models of vans with greater battery capacities and light electric vehicles with two, three and four wheels are beginning to emerge that allow these services to be carried out with greater ease in terms of access and mobility. This increase is expected to grow in 2022 due to the obligation to establish low emission zones in cities with more than 50,000 inhabitants before 2023 ″, points out the director of Aedive, Arturo Pérez. In addition, Decathlon anticipates that next year it will sell cargobikes in their stores, which is likely to lower the price of these vehicles.
Supermarkets join the change
89.7% of supermarket customers in Spain go to stores on foot or by bicycle, a figure 10 points higher than in 2009, according to data from the study Supermarkets and commercial proximity in sustainable mobility (2019) of the Spanish Association of Distributors, Self-services and Supermarkets (Asedas). A spokesman for Asedas points out that supermarkets "are in the process of changing towards vans that use clean energy and some regional companies have already reached levels of sustainable distribution of around 60%." Alcampo, for example, explains that between 10% and 12% of its distribution is already made with this type of means, while in 80 centers 100% of deliveries are already made with electric vans or tricycles. Carrefour has several projects with similar vehicles, but does not offer figures of what percentage they represent. Meanwhile, Bimbo has just started a pilot project to distribute donuts on cargo bikes to 100 bars in the center of Barcelona, ​​thanks to Cargobici's delivery men. Next year they want to expand the project to more Barcelona establishments, and also take it to Madrid, Valencia, Zaragoza and Seville.
You can follow CLIMA AND ENVIRONMENT at Facebook and Twitter, or sign up here to receive our weekly newsletter


[ad_2]
elpais.com
George Holan is chief editor at Plainsmen Post and has articles published in many notable publications in the last decade.