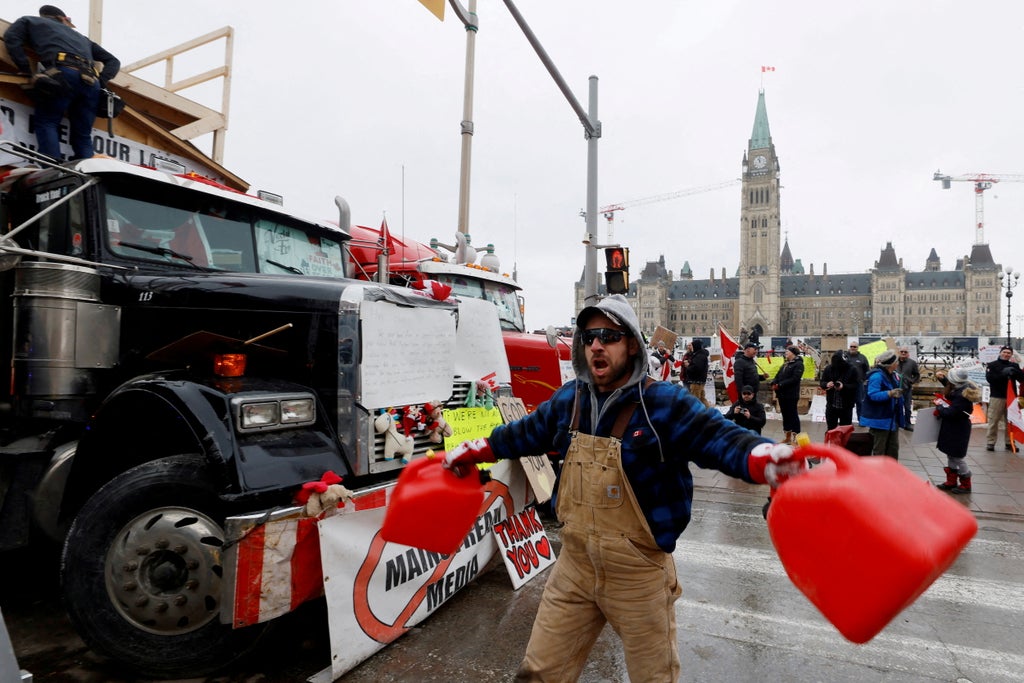 'It's intimidating': Ottawa residents furious about Canada trucker protests
Ottawa Police Chief Peter Sloly has resigned amid the ongoing protests gripping the center of the Canadian capital.
The news comes after Canadian prime minister Justin Trudeau declared a rare national public order emergency in a bid to end the trucker protest, which stretches into a third week.
The Emergencies Act allows his administration to freeze truckers' personal and corporate bank accounts, suspend the insurance on their rigs and also tow away vehicles. Mr Trudeau has however ruled out using the military to restore order amid concerns from Canada's Civil Liberties Association.
For over two weeks, thousands of protesters in trucks and other vehicles have clogged the streets of Ottawa and blocked various US-Canadian border crossings.
The most important trade route — the Ambassador Bridge connecting Windsor, Ontario, to Detroit — was reopened on Sunday, and a blockade at the US border in Alberta has now been cleared.
In Ottawa, a "complex" and "multi-day" operation has begun to clear "freedom convoy" truckers from streets south of Canada's parliament building following an agreement between city authorities and protest organisers.
Mayor Jim Watson confirmed on Monday night that "convoy leaders have started to act on their commitment to move several trucks from the residential district south of Wellington (Street)", after more than two weeks of protests.
1644979540
Ottawa police chief Peter Sloly resigns
Ottawa police Chief Peter Sloly has resigned amid criticism of his handling of the "Freedom Convoy" protests that have encircled Canada's capital city, according to government officials.
Ottawa City Councilor Riley Brockington confirmed the resignation, saying on Twitter that an official announcement would be made by the Police Services Board following a meeting with the Ottawa City on Tuesday afternoon.
Oliver O'Connell16 February 2022 02:45
1644976840
As Canada protests persist, so do challenges for Trudeau
Canada has endured bitter divisions in the past, but the current wave of disruptive protests over COVID-19 restrictions is unprecedented to the extent it has undermined public trust in government leadership, starting at the top with Prime Minister Justin Trudeau.
Oliver O'Connell16 February 2022 02:00
1644974140
British Columbia easing Covid restrictions
Health officials in British Columbia have announced Covid-19 restrictions for indoor and outdoor gatherings will end, but vaccine card requirements will stay in place.
Bars and nightclubs will be allowed to reopen and events can operate at 100 per cent capacity. Dancing will be allowed once more and table-size limits will be removed in restaurants.
Restrictions on fitness centers and adult sports will also be relaxed with no capacity limits as long as masks are worn and vaccine cards are used.
The change will come into effect from just before midnight on Wednesday.
"By following public health orders and advice we can do just about anything. These measures that have been in place to deal with the Omicron wave have been challenging for many," Premier John Horgan said.
The vaccine card will be reviewed in March and potentially again in April before a decision is made on how long it will remain in place.
Oliver O'Connell16 February 2022 01:15
1644971440
No evidence police enforcing rule against movement of fuel
Despite Ottawa police promises to crack down on the distribution of fuel to the truck convoy protest, CTV's Mackenzie Gray spots demonstrators wheeling a wagon of propane tanks down the middle of Wellington Street.
Oliver O'Connell16 February 2022 00:30
1644968740
Ottawa protesters trying new tactics
Two campervans are now blocking off Sussex Drive in central Ottawa as part of an apparently new tactic to avoid being towed should the order be given.
Oliver O'Connell15 February 2022 23:45
1644966940
Voices: We should be outraged by Trudeau's efforts to shut down the Canadian trucker protests
Skylar Baker-Jordan writes: "I disagree with everything they stand for, but I also believe in the right to protest disruptively in a democratic society. As I supported BLM against people who wanted to stop the movement, I support the truckers' rights — even if what they're saying is unpopular and right-wing."
Oliver O'Connell15 February 2022 23:15
1644965140
Lindell's pillows for protesters truck stuck at border
Pro-Trump MyPillow CEO Mike Lindell promised to send pillows to the Ottawa vaccine mandate truck protesters over the weekend.
There's one problem. They got stuck at the border waiting for a permit.
Oliver O'Connell15 February 2022 22:45
1644963160
Canadian police probe officer seen supporting truck drivers
A Canadian police department has said it is investigating after an officer appeared in a TikTok video alleging his "100 per cent" support for the so-called "freedom convoy" protesters.
The Ontario police officer was seen in the TikTok video from Saturday and could be heard saying he supported the protesters, many of whom are truckers.
Gino Spocchia has the story.
Oliver O'Connell15 February 2022 22:12
1644962479
Police board must ensure needed resources in place
Ottawa Police Services Board chair Diane Deans says the board must make sure police "have the resources they need."
She also spoke about the "chaotic carnival on Parliament Hill" last weekend that saw protesters erect inflatable slides, a bouncy castle, and a hot tub.
"I tell you I wanted to go up there and pop that damn hot tub myself and unplug the bouncy castle."
Oliver O'Connell15 February 2022 22:01
1644961660
Ottawa Mayor: 'Public not satisfied with response of police'
Ottawa Mayor Jim Watson has released a statement regarding the resignation of Police Chief Peter Sloly.
"I want to first thank Peter Sloly for his 30+ years serving the Toronto and Ottawa police services. His dedication of him to public service is well-known by the many colleagues, community groups and residents he has worked with throughout his career.
"Unfortunately, it had become clear that many members of the Police Board, City Council and the general public were not satisfied with the response of the police in bringing the occupation to an end.
"While I do not sit on the Police Board, I support the decision made to accept Chief Sloly's resignation and to appoint Steve Bell as Interim Chief of the Ottawa Police Service. I have full confidence in the men and women of the Ottawa Police Service, and I look forward to working with Interim Chief Bell, as well as our federal and provincial partners, to bring this occupation to an end in the near future."
Oliver O'Connell15 February 2022 21:47

www.independent.co.uk
George Holan is chief editor at Plainsmen Post and has articles published in many notable publications in the last decade.