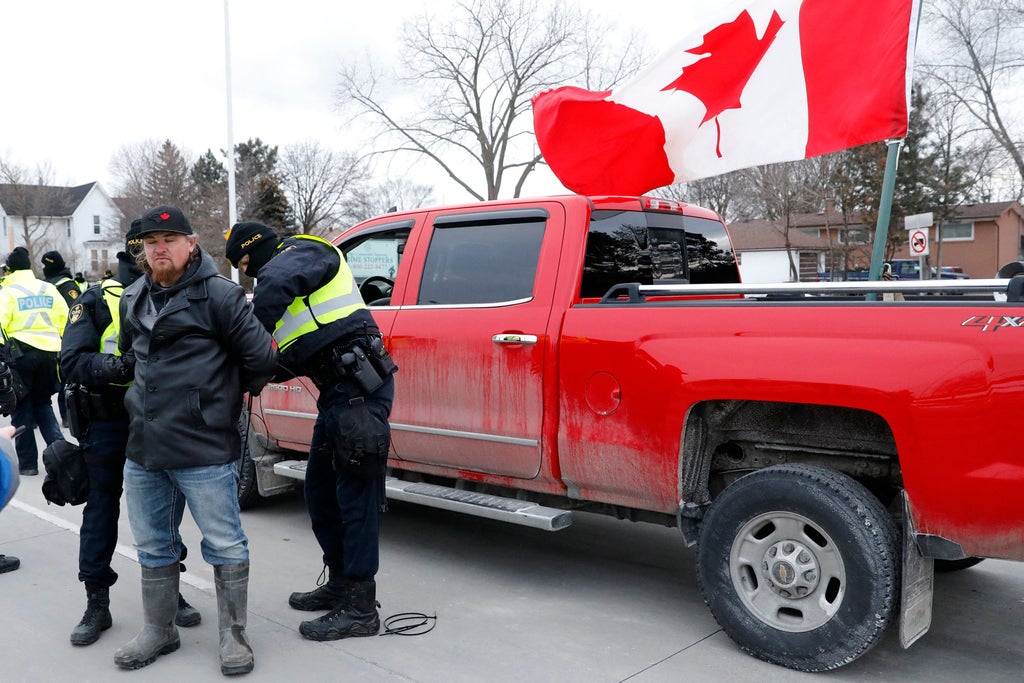 Canada truck protest continues as Biden pressures Trudeau to end blockade
Trucker protesters have been cleared from a blockade of the Ambassador Bridge in Windsor, Ontario, following a standoff between police and protesters on Saturday night.
Many of the trucks that had been causing the blockade were removed from the bridge on Saturday but despite the police presence, some protesters on foot remained until Sunday morning to continue the demonstration. The crossing into the US is still closed to traffic despite the blockade being cleared.
The move by authorities to disband the protesters gathered on the bridge comes after an Ontario judge said he would grant an injunction to end the blockade across the border that has disrupted US-Canada trade.
Superior Court Chief Justice Geoffrey Morawetz said he was "satisfied" with the arguments made by attorneys on behalf of local officials and representatives of the auto industry, with the injunction going into effect at 7pm ET Friday to allow protesters time to move.
The ruling came after Canadian Prime Minister Justin Trudeau reiterated his call to end blockade across the border, saying that "everything is on the table".
President Joe Biden had earlier urged Mr Trudeau to use federal powers to resolve the standoff as the demonstrations are reportedly resulting in estimated $1bn losses each day they drag on.
A state of emergency was also declared in Ontario, giving police power to impose fines of up to $100,000 and up to a year in jail for people blocking crucial infrastructure.
Meanwhile, Republican Senator Rand Paul has said he is "all for" US truckers forming their own convoy and blockading the Super Bowl in Los Angeles, or heading to Washington, DC.
1644807607
Counter-protesters clash with truckers
As the occupation of Ottawa continues, counter-protesters are increasingly clashing with the anti-mandate truckers.
Fed-up Ottawans have been seen marching through the streets, chanting against the "fascist convoy," and blocking protesters' trucks from moving.
Nathan Place14 February 2022 03:00
1644804007
New Zealand plays Barry Manilow songs to repel 'freedom convoy' protesters
Authorities in New Zealand are blasting out Barry Manilow's greatest hits in an attempt to dislodge "Convoy for Freedom" protesters outside the country's parliament.
Los Del Rio's 1990s pop hit "Macarena" is also among tunes being played on a 15-minute loop to annoy demonstrators, who were inspired by Canada's trucker protesters.
Nathan Place14 February 2022 02:00
1644800407
US is 'surging' DHS staff to prevent Super Bowl disruption by trucker protests
The US Department of Homeland Security is "surging staff" to protect the Super Bowl from being disrupted by the protests in Canada, the White House says.
On Friday, White House press secretary Jen Psaki said the DHS was taking "all necessary steps to ensure that the convoy does not disrupt lawful trade and transportation or interfere with federal government and law enforcement operations."
"On reports that this convoy is causing disruptions at the Super Bowl, the Department of Homeland Security … is surging additional staff to its incident command post," she said. "There's strong cooperation with the California Highway Patrol, the Los Angeles Police Department, and state and local authorities."
Nathan Place14 February 2022 01:00
1644796807
Copycat protests grow across Canada
Protesters have ramped up demonstrations against Covid restrictions across Canada – as police struggle to clamp down on what they describe as an "illegal occupation" on the border with the US.
The Ontario "trucker protest" has been raging for more than two weeks now. It started in response to a mandate requiring truck drivers crossing the border to be vaccinated, but has since snowballed into a hugely disruptive demonstration against Covid curbs, jabs, and Canadian Prime Minister Justin Trudeau.
Nathan Place14 February 2022 00:00
1644793207
Counter-protesters thank police as they surround truckers
Counter-protesters fed up with the trucker protest in Ottawa could be seen thanking police on Sunday as the officers surrounded the truckers.
"Officer, thank you!" one counter-protester was filmed calling out to police. "It's nice to see you!"
Nathan Place13 February 2022 23:00
1644789607
Windsor protesters have been charged with 'mischief,' police say
The protesters who were arrested in Windsor today have been charged with "mischief," police say.
"On Sunday, February 13, 2022, police at the demonstration site engaged protesters for the purpose of continued enforcement and several arrests were made," the Windsor Police Service said in a statement on Sunday. "The arrested persons are all facing a charge of mischief. Multiple vehicles within the demonstration area were also seized."
Nathan Place13 February 2022 22:00
1644787807
Greater Windsor says US-Canada bridge will reopen soon
The mayor of Windsor, Ontario says the remaining protesters in that city have been arrested, and the Ambassador Bridge – an important border crossing between the US and Canada – will be able to reopen soon.
"Today, our national economic crisis at the Ambassador Bridge came to an end," Maj. Drew Dilkens said. "Border crossings will reopen when it is safe to do so and I defer to police and border agencies to make that determination."
Nathan Place13 February 2022 21:30
1644786907
Counter-protesters demand end of 'fascist convoy'
As anti-mandate protesters continue to occupy Ottawa, Counter-protesters have marched through the streets as well.
On Saturday, several hundred protesters could be seen marching down Bank Street, chanting "End the occupation now!" and "Hey hey! ho ho! This fascist convoy's got to go!"
Nathan Place13 February 2022 21:15
1644785309
Ottawa police continue to close roads due to protest
Police have closed more roads in Ottawa as protesters continue to disrupt the city.
"The Metcalfe exit of Highway 417 is temporarily closed in both directions by Ottawa Police due to the demonstration," the Ottawa Police Service tweeted on Sunday afternoon.
Nathan Place13 February 2022 20:48
1644783347
Canada's trucker protest inspires similar demonstrations around the world
The bridge blockade may have come to an end in Canada, but thousands of protesters remain stationed around the country as the demonstrations spread across Canada and beyond.
In New Zealand, police resorted to unusual tactics to dispell protesters.
Rituparna Chatterjee reports
Harriet Sinclair13 February 2022 20:15

www.independent.co.uk