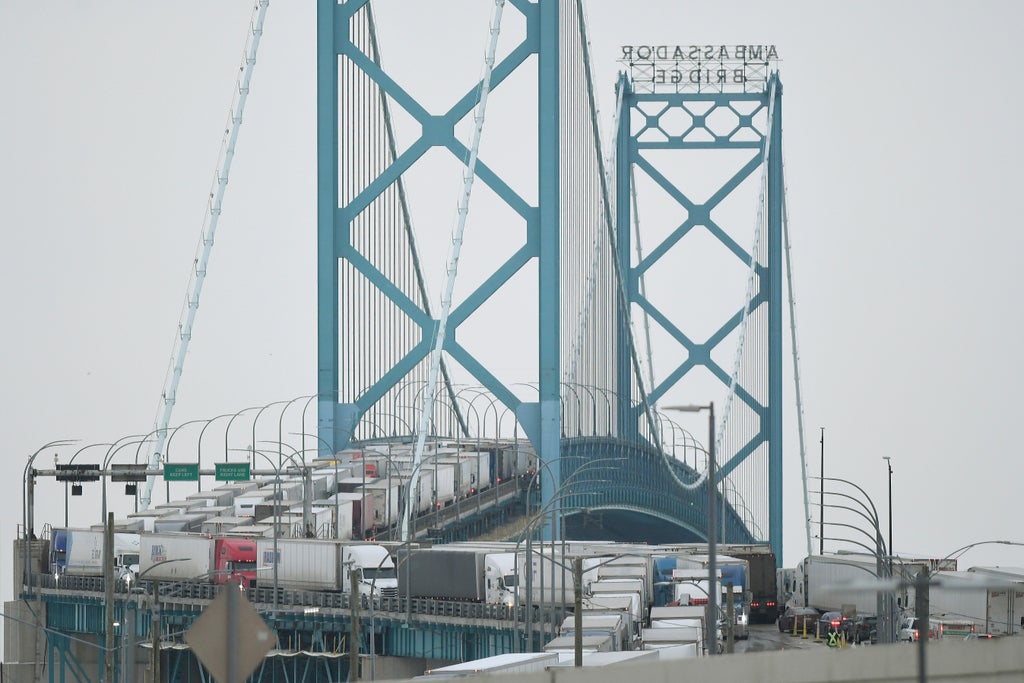 Aerial footage shows heavily congested Ambassador Bridge as truck convoy jams US-Canada border
Protesters in trucks opposed to Covid-19 restrictions continue to paralyze the center of Ottawa as similar demonstrations have now spread beyond the Canadian capital to border crossing into the US. The Emerson Port of Entry in Manitoba is the latest to be blocked.
The Ambassador Bridge that connects Windsor, Ontario, with Detroit was first blocked by trucks in both directions late on Monday, with the final access being shut off on Wednesday night.
As a crucial commercial link between the US and Canada it has quickly hit supply chains with car manufacturers including Toyota and Ford already announcing issues. Michigan Governor Gretchen Whitmer has demanded action calling the situation "unacceptable".
In Ottawa, residents are furious at the disruption and police have now threatened protesters with criminal charges. What progress was made in dispersing a small group of truckers has been countered by a slow-rolling convoy forming around the airport.
With access to GoFundMe cut off, the protestors have turned to other sources of funding and have reportedly been thrown a lifeline by a group of libertarian bitcoin evangelists.
Prime Minister Justin Trudeau has demanded the protesters go home, and the interim opposition leader Candice Bergen joined his call for an end to the stand off on Thursday morning.
In the US, the Biden administration is closely monitoring the situation, with a Department of Homeland Security bulletin warning of copycat protests hitting the Super Bowl in Los Angeles, and the State of the Union address in Washington, DC.
1644507750
Michigan Gov Whitmer demands action says bridge closure 'unacceptable'
Michigan Governor Gretchen Whitmer released a statement on Thursday calling on Canadian authorities to resolve the Ambassador Bridge closure.
"My message is simple: Reopen traffic on the bridge.
"In Michigan, our economy continues to grow because of our hardworking people and innovative small businesses. Now, that momentum is at risk. Commercial traffic is at a standstill at the Ambassador Bridge and heavily backed up at the Blue Water Bridge.
"The blockade is having a significant impact on Michigan's working families who are just trying to do their jobs. Our communities and automotive, manufacturing and agriculture businesses are feeling the effects. It's hitting paychecks and production lines. That is unacceptable.
"The Ambassador Bridge is the busiest land border crossing in North America, used by tens of thousands of commuters and truck drivers carrying hundreds of millions of dollars of goods every day. Countless Michiganders rely on this daily flow of goods and people to get things done.
"It is imperative that Canadian local, provincial, and national governments de-escalate this economic blockade. They must take all necessary and appropriate steps to immediately and safely reopen traffic so we can continue growing our economy, supporting good-paying jobs and lowering costs for families."
Oliver O'Connell10 February 2022 15:42
1644507390
Manitoba border crossing latest to be blocked
A new demonstration involving a large number of vehicles and farm equipment is now blocking the Emerson Port of Entry into Canada from the US on the border of the states of North Dakota and Minnesota, according to the Royal Canadian Mounted Police, which has officers at the scene.
"No traffic is getting through either northbound or southbound. The Port of Entry is shut down. Please avoid the area."
Oliver O'Connell10 February 2022 15:36
1644507150
Greater Windsor says bridge blockaders 'willing to die' for cause
The mayor of Windsor, Ontario is warning that things could get ugly quickly at the Ambassador Bridge where a convoy protest is jamming a crucial trade link between Canada and the United States.
"You have a number of people who are on the ground here, who are part of the protest group, who have outwardly stated that … they feel such a passion for this particular cause that they're willing to die for it," Mayor Drew Dilkens told reporters Wednesday.
"If you have people who hold that sentiment, the situation can escalate and become very dangerous for police and those members of the public in very short order.
"It's fair to say that all of us don't want to see people get hurt."
Oliver O'Connell10 February 2022 15:32
1644506730
Truckers try new tactic by circling Ottawa's airport
The trucker protesters are now trying a new tactic and are reportedly "slow-rolling" Ottawa International Airport.
A group of about 30 vehicles were seen circulating airport property.
Oliver O'Connell10 February 2022 15:25
1644506130
Protesters block only remaining access to Ambassador Bridge
As the blockade of the Ambassador Bridge enters day four, protesters have now blocked the only street leading to a side entrance onto the bridge.
Canada Border Services Agency now lists the bridge as temporarily closed. Previously a small trickle of commercial traffic was still getting through.
However, on Wednesday night the trucker demonstrators moved to shut off the Wyandotte Street entrance to the bridge, having blocked the Huron Church Road access since Monday.
CBC's Chris Ensign reports this morning that there are 10 vehicles parked as part of the protest blocking the Wyandotte entrance.
"A few transport trucks are caught in this. Driver carrying food to America says it needs to end, another with auto parts says they support it."
Oliver O'Connell10 February 2022 15:15
1644505230
Ottawa Police get small group of trucks to leave
The Ottawa Police Service have convinced 20 trucks to move on according to a statement. They remind other protesters of the message they issued yesterday warning of criminal charges.
Oliver O'Connell10 February 2022 15:00
1644504323
Conservative leader contender criticized
Canadian politician Pierre Poilievre has attracted criticism on social media after telling Canada's parliament on Wednesday that "freedom is on the march in this country".
The conservative's remarks appeared to support the ongoing "freedom convoy" against Covid mandates, which are not supported by a majority of Canadians and have seen supply chains and daily life disrupted.
Mr Poilievre's comments came in the wake of his announcement that he would run to be the next leader of the Conservative Party of Canada, after his leader stepped down last week.
Oliver O'Connell10 February 2022 14:45
1644502523
Super Bowl could be disrupted by US convoy, report says
The Department of Homeland Security (DHS) has warned police departments across the United States that similar demonstrations could occur to those happening in Canada and New Zealand.
It comes as US members of Congress have been vocal in their support for the 14-day demonstration against Canada's vaccine mandate for truck drivers. That includes Texas Senator Ted Cruz, and in spite of the economic disruption caused by blocking US-Canada border crossings.
The DHS also said it believes the threat of "freedom convoys" could not only disrupt supply chains, but also the upcoming Super Bowl and the State of the Union address, The Hill reported.
It remains unclear however if the protest will take place, with Facebook groups organizing convoys for February and March, it was reported.
Gino Spocchia10 February 2022 14:15
1644501323
French convoy drivers face 4,500 euro fines
Paris has banned a French "freedom convoy" of motorists protesting against Covid restrictions from entering the capital on Friday night.
Hundreds of protesters set out from southern France on Wednesday and plan to converge on Paris and Brussels to demand an end to coronavirus rules, inspired by truckers in Canada who have gridlocked the capital Ottawa.
The Paris police prefecture on Thursday said the protesters would be prohibited from entering the capital from 11 – 14 February, and motorists who violate the order risk two years in prison and a fine of 4,500 euros (£3,795), the police warned.
Gino Spocchia10 February 2022 13:55
1644500123
Reminder: How many Canadians are vaccinated?
Prime Minister Justin Trudeau said on Monday that an overwhelming majority of Canada's truck drivers were vaccinated against Covid, with as many as 90 per cent being so.
Despite the impact of the "freedom convoy" protests in Ottawa and on the country's border with the US, the figure suggests a small number of Canadian truckers are those taking part in the effective blockades.
"I regret that the Conservative Party and Conservative politicians are in the process of stoking Canadians' fears about the supply chain. The reality is that vaccination is how we'll get through this," Mr Trudeau told parliament earlier this week.
Among the wider Canadian population, almost 80 per cent of people are fully vaccinated against Covid. In the United States, that is as low as 64 per cent, and as a result the country has seen more resistance against mandates on vaccines and masks.
Gino Spocchia10 February 2022 13:35

www.independent.co.uk
George Holan is chief editor at Plainsmen Post and has articles published in many notable publications in the last decade.